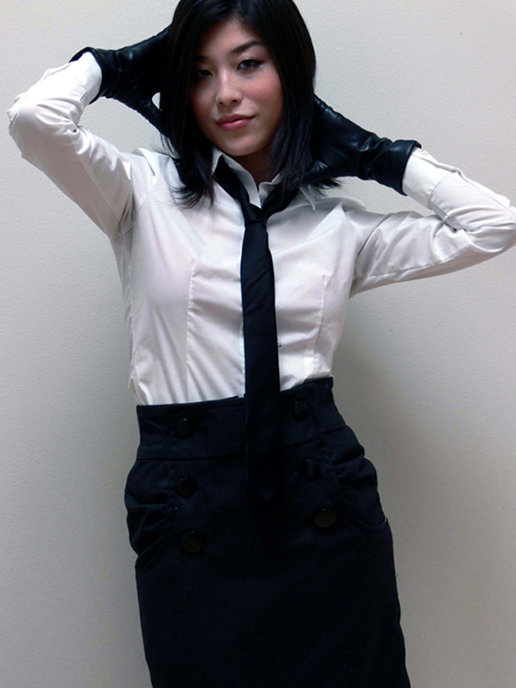 ShareThis
1. Where are you from and/or where do you live?
I was born in Osaka, Japan but grew up in sunny Los Angeles, CA my entire life. Recently, I moved to Denver, CO with my boyfriend for a change of pace and scenery. My dream is to move Paris, France and live a bohemian life full of art and beauty.
2. What was the 1st thing you made? How did you start sewing?
My first ever sewing class was at the back of a JoAnns near my house, and the first thing I ever made was a floor length green floral skirt with an elastic waist and a slit up the side. Hey, we all have to start somewhere! I started sewing because my mom used to sew outfits for us. She was pretty crafty too-always baking and making things. I'd always enjoyed making things and sewing was just a natural progression of that element of self-expression and creativity.
3. What role does sewing play in your life?
I'm the girl that would rather stay home on a weekend and work on a project than go clubbing, so sewing is huge to me. Not to mention I studied fashion in college so I practically lived in the school sewing room. To me, sewing is just part of the bigger picture of making things-I also love to draw, knit and illustrate. Sewing is vital for me though, because I love the human form and I love clothing. Everything goes hand and hand.
4. What is your favorite and what is your least favorite thing about sewing?
My least favorite thing about sewing is pattern drafting. It's very very technical and I don't really enjoy it. It's a vital part of the sewing process though, so I acknowledge that it's an important skill to have. Cut and drape is really everything in clothes.



On the other hand, my favorite thing about sewing is the moment I finish a garment and get to try it on. There really isn't a more accomplished feeling.
5. If you could make something for anyone who would it be and what would you make?
I enjoy making hand -made gifts for friends and loved ones, and do it often. My baby sister got a new dress for Christmas for one. But right now, if I had the resources, I would make my boyfriend a beautifully tailored wool coat. I love hand-tailoring and wish I could learn more about it.
6. What are you looking for on our site? What do you think should be improved and what do you really like?
I am looking for like-minded creative individuals with interesting ideas to inspire and be inspired by. College was the last time I was surrounded by creative people and I really enjoyed being around the energy of different artists and their ideas. It's a very productive and invigorating feeling.
7. What is your motto?
Life is Art. And conversely, "When there's a will, there's a way"- works for all sort of sewing problems, haha.
MissValentine0601 has made quite an impression on us through her incredible creations. Check out her ten favorite creations and keep tabs on her through her MySpace, Deviantart Gallery, blog and Etsy shop.