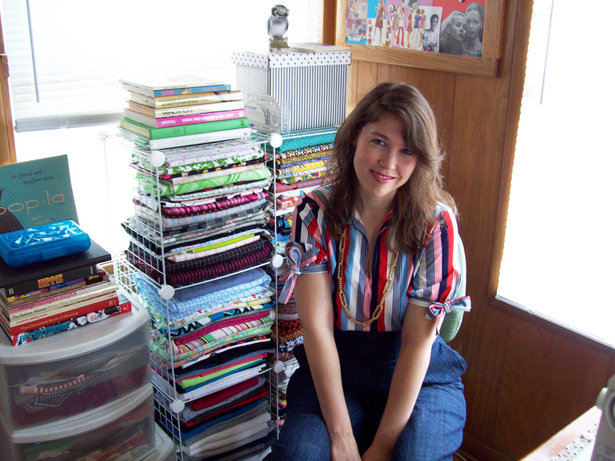 ShareThis
Where are you from? Where do you live?
I'm a transplanted Southern girl (born and raised in North Carolina) currently living in the Midwest (Springfield, Missouri). I'm currently a stay at home mom to my 17-month-old son Brydon, and in my spare time I run both a vintage sewing pattern shop and a small vintage clothing shop on Etsy.

Little MissDandy
How did you start sewing?
I didn't start sewing until my early twenties, although I remember always being interested in fashion. When I was a teenager, I poured over issues of Sassy magazine, vintage Betty and Veronica comic books and my mom's early 1970s high school yearbooks for fashion inspiration. I was obsessed with watching reruns of The Brady Bunch. I thought that Jan and Marcia's outfits were the absolute best, and spent many hours sketching and recreating their fashions on paper with colored pencils.
Diane Keaton in Annie Hall was also a really big deal to me. I remember going to Goodwill to find a pair of khaki wide-leg pants, vest, necktie and an oxford shirt to wear just so I could look like her. I set my interest in fashion aside while I attended college for a degree in film making and it wasn't until after college, when I lived in Los Angeles for a couple of years, that I really started prowling through thrift stores and vintage shops in a quest to stock my wardrobe with low-budget vintage clothes. After experiencing the frustration of rarely being able to find the style of vintage clothes that I wanted in my size or price range, the thought finally crossed my mind that I could actually make them myself……if only I had a sewing machine and a few vintage sewing patterns! To me, home sewing is the great fashion equalizer. If you see something in a store or on an haute couture runaway that you can't afford or don't have access to, odds are that, with a little ingenuity, you can make it yourself!
My favorite project in my BurdaStyle studio is the 1970s Floral Brushstrokes Dresss. I used a 1970s Butterick pattern designed by Jane Tise and vintage fabric to make that dress, and it reminds me of something that Valerie Harper as Rhoda might have worn.

1970s Floral Brushstrokes Dress
Describe your personal style in 5 words or less!
Vintage, whimsical, groovy, colorful and fun!
Do you have a style icon who inspires your sewing projects? Where do you go to get inspired?
I am always, always, always inspired by 1960s and 1970s fashion, style and pop culture. 1970s fashion has been much maligned but, really, how can one not open one's heart to high-waist wide-leg pants, oversized and oddly shaped collars and novelty print polyester fabric?
Right now I am drawing lots of inspiration from Marc Bolan and his glam rock style, Barbara Hulanicki's designs for Biba and 1970s-era Shelley Duvall, who was just amazing in 3 Women, a 1970s Robert Altman film that I saw recently. Vintage photos of my mom from the 1970s are also very inspiring to me; she had an entire wardrobe of the cutest empire waist baby doll dresses, it seems! I regularly haunt local thrift stores and estate sales for inspiration; I especially enjoy the challenge of incorporating discarded clothing and vintage fabric in my sewing projects. I get daily inspiration from BurdaStyle and other members' projects as well as from the dozens of incredible vintage images that I see everyday on my Tumblr dashboard.
What time of year do you find yourself most creative?
At the end of a long cold winter or long hot summer. Those are the times of year when I find myself most excited about planning future sewing projects because I'm ready to move on to the next season and bring some change to my wardrobe.
What's your sewing experience like?
The time that I have to sew is very precious and rare and I cherish every moment. My son wakes up quite early every morning, so I usually sew during his afternoon nap or at night after he has gone to bed. My sewing space is located in a corner of our fabulous 1970s wood-paneled den! And music is definitely a must when I am sewing….I've been listening to a lot of 1970s glam rock and power pop lately!
What is your dream sewing project?
Although it's progressing quite slowly, an ongoing dream and goal of mine is to have a completely handmade wardrobe. Right now I'm working on trousers and shorts, and will move on to tops and blouses next.
How long have you been a member of BurdaStyle?
I've been a member since May, 2010. I don't know why it took me so long to discover BurdaStyle, but I absolutely love it! I visit daily to comment on and draw inspiration from other members' projects. I also enjoy the downloadable patterns and the sewing techniques. I've been sewing for a while now, but I honestly learn something new every time I visit the site!
What is the most frustrating thing about sewing for you? What is the most rewarding?
The most frustrating thing for me right now is simply not having a lot of free time to sew. I have too many projects floating around in my head and far too little time to start and finish them! The most rewarding thing about sewing is finishing a design – something that is completely unique and one-of-a-kind – and the amazing feeling of pride when I wear it for the first time.
Check out her Top Ten Member Project Slideshow!