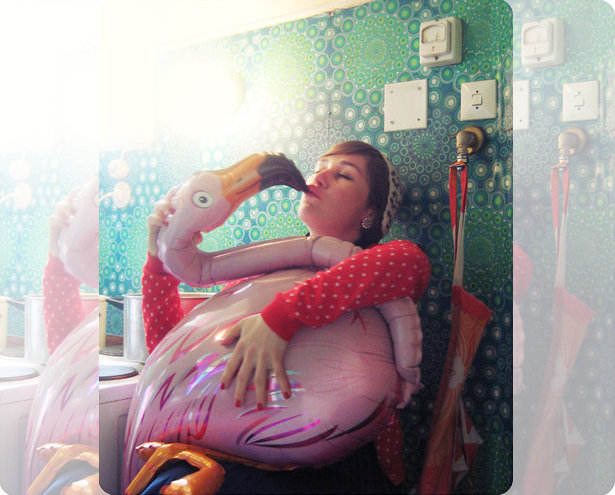 ShareThis
1. Where are you from and/or where do you live?
I was born and raised in Norway, and I'm just back from Sweden, and living happy days in the Norwegian capital, Oslo. Right now I have an internship as a photo assistant which is part of my Digital Media education at Hyper Island.
2. How did you start sewing?
My grandmother used to be tailor, and during her career she made womens clothing and costumes for the Norwegian figure skater Sonja Henie. Unfortunately she passed away before my interest for sewing awakened, but somehow I have taught myself by redesigning second hand clothes, reading books and asking people I have worked with at Husfliden, the retailer for bunad, the Norwegian national costume. I started buying patterns, and realized how much easier it was to make a garment from scratch than adjusting an old one. And now I have started to design my own patterns.


Norwegian figure skater Sonja Henie, via http://www.oldukphotos.com


My favorite project is definitely the bonnet in the project "Two dresses and a bonnet" which is one of the accessories in my MELISLOPPA SS 2010 collection. The granny squares, which are made of single ply Icelandic yarn, was something I made on a flight trip two years ago. Sometimes I think some projects need a little rest to mature, and one year later I had made up my mind, and picked up my granny squares and made a nice little bonnet during a lecture at school.


Two Dresses and a Bonnet, melisloppa's favorite project in her studio.


3. Where do you go to get inspired?
I love handcraft and old patterns, and everything that says "granny." Still I would say the clothing is more what grannies would have worn when they were young. Actually, I think you could name the style "Young granny." Also the name MELISLOPPA is quite funny. Directly translated from Norwegian it's simply "The icing sugar flea."


"Granny" Inspirations


4. Who inspires your sewing projects?
I really like the style of the Danish designer Stine Goya, but inspiration comes from many places. People on the street, magazines, window shopping in exclusive stores, turning garments inside out, watching Mad Men and classic movies like Breakfast at Tiffany's. And I must not forget to mention the Swedish radio programme STIL i P1, where you can sit by your sewing machine listening to biographies of the major fashion designers in history. Unfortunately it's only in Swedish.
I often get new ideas when window shopping, and turning garments inside-out is a excellent way to learn new techniques. And of course the internet, where a world of inspiration is just a click away. Vintage patterns and 50's Vogue editorials are among my favorites. And all the amazing and productive people at BurdaStyle.


Editorial Inspirations


5. What time of year do you find yourself most creative?
The dark winter is definitely the best time of year for being productive. The dark and freezing cold weather outside makes your sewing studio the best place to be.
6. Tell us about your sewing experience.
Sewing can be quite a repetitive activity, and to keep up the concentration I like being told stories and to know what is going on around the world. I like listening to the radio and radio plays, and sometimes I put up my computer with a movie, but that tends to be too much multitasking. I usually like sewing in the morning, but it all depends on the time available. Work at day, sewing in the evening. Work at night, sewing in the morning. Often I get tired and mess things up if it gets too late, and then it's much better to leave the project to the morning after, where you can start up again with a cup of tea and a clear mind.


Melisloppa's Sewing Studio in Oslo


7. What is your dream sewing project?
Making my own wedding dress is something I would love to do. Some day. In the future.
8. How long have you been a member of BurdaStyle?
BurdaStyle.com was love at first sight. I think it's been a year since we first met. In the beginning I was visiting every day, now I'm maybe not that active, but I still drop by as often I can to check out all the stunning projects that people all over the world create every day. Learning new techniques, improving my own sewing skills, and being able to take a peek into someone else's studio.
9. What is the most frustrating thing about sewing for you? What is the most rewarding?
When things go wrong, when your logic fails, and you have to start all over again. But the most important thing I have learned is to embrace your failures, because sometimes these failures may steer your project in a better direction, and the result turns out much better than expected. Planning everything in detail is something I find quite hard, and for me the best solutions most often appears when I have the project in my hands, being able to fold and model on my mannequin. Your idea might be three dimensional, but in your sketchbook your ongoing project is nothing but some lines on a piece of paper. And how a square and flat piece of fabric can be transformed into a three dimensional perfectly fitted garment, is something that never stops fascinating me.
Top Image: Åse with her Flamingo, named "Finn Flamingo."
See her Top Ten Favorite Member Creations!