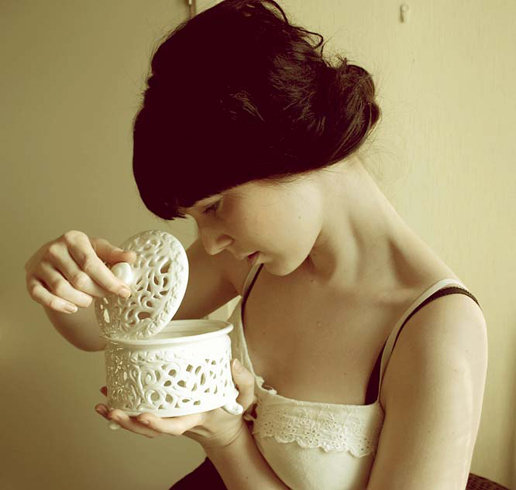 ShareThis
1. Where are you from and/or where do you live?
I am from Finland and I live in a town called Tampere. I moved here when I started high school and been living in Tampere almost two years now.
2. What was the 1st thing you made? How did you start sewing?
I think that the first thing I've ever made was some kind of costume for a doll or Barbie. We used to sew lots of things for toys with my sister! My mum has always sewn, knit and crochet a lot so I have grown up in a creative environment. After Barbies, I started sewing things to myself and made my first trousers. It took weeks until I finished them and I wasn't that pleased with the outcome, so I never wore them. :~>
3. What role does sewing play in your life?
Oh, it plays quite a role at the moment. I hadn't taken sewing that serious until last year when it became my dearest hobby! Now I sew almost every day and it's just something I need. It's the best way for me to relax. I have even thought that maybe I could make it for a living some day.
4. What is your favorite and what is your least favorite thing about sewing?
I love that you can create exactly that kind of clothes you like and they're unique. You'll develop all the time and sewing is very rewarding! I'm a student and it's is a great way to save money, too! Yet I haven't found any negative things.
5. If you could make something for anyone who would it be and what would you make?
I love Björk and her strange outfits she wears on the stage. I would love to design her some kind of huge dress with open back, lace and details.
6. What are you looking for on our site? What do you think should be improved and what do you really like?
I always get inspiration when watching others' creations! It's nice to get feedback from other sewers and see what they've made. I also love photographing so my two passions, sewing and photography, are related in BurdaStyle.
7. What is your motto?
I don't actually have any motto, but one wise lyric says: If you don't live for something you'll die for nothing.
Though Maryy doesn't have a blog, she has a photo gallery full of beautiful pictures. If you take a look at her creations you will see that her aesthetic runs through her work no matter what the medium. Thank you Maryy for all you incredible work!