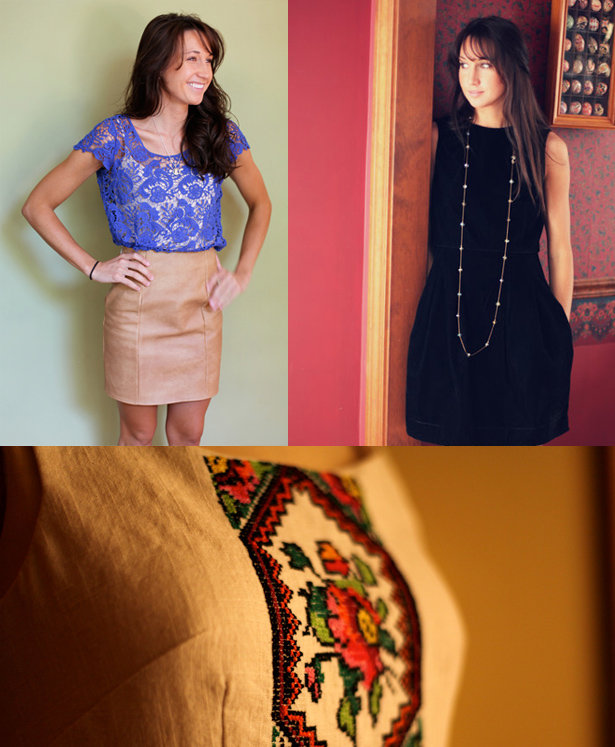 ShareThis
Meet Marusya Grace, a talented Burda seamstress, owner of Anagrassia, and the instructor of our upcoming web seminar on Sewing with Silks!
Can you tell us a little about yourself?
My name is Mary Grace and I'm the founder of Anagrassia and the Marusya Marusya blog. Many of my designs are influenced by my Ukrainian heritage and athletic background, so my style is a bit difficult to categorize.
After college I returned to my first love of sewing and attended design classes while working for theater productions as a seamstress. Although I have a particular interest in creating menswear, I presently work in the bridal world (and love it!).

a sketch of a new bridesmaid dress
Where are you from originally, and where do you currently live?
I was born in Northern New Jersey and grew up in northern Indiana where I presently reside.
Do you have a day job, besides sewing?
I'm a Funding Specialist for an estate planning law firm.
How and when did you start sewing?
My first teacher was my mom. Despite the fact that my mother rarely sews, her mother was a professional seamstress and she knows more than she is willing to admit. I'm always leaning on her for advice and input.
Do you prefer to work from patterns, or draft your own?
That really depends on who the garment is for, the pattern company, and how much time I will have to work on the project. For example, if the garment is for someone with an unconventional shape, I've learned it's easier to make their basic body block and adjust the pattern design from that.
However, I can honestly say I love Burdastyle patterns! If Burdastyle has a garment design I'm looking for, I will use it rather than drafting my own. Not only does
Burdastyle do a good job with sizing/patterning, their patterns don't have seam allowances, which makes it easier to adjust the patterns.
How would you describe your personal style?
Like I noted earlier, my style is difficult to categorize. But perhaps you could describe it as bohemian meets sporty/athletic style.
What are your favorite fabrics to work with?
I love to work with the natural fabrics, so silk, wool, cotton, leather and linen.
Any favorite sources for fabric you can share?
I buy fabric everywhere. There are lots of great online fabric stores, but nothing is better than fabric shopping in stores. My favorite stores are Fishman's Fabrics in
Chicago (they have great customer service), and Haeberman's in Royal Oak, Michigan. Someday I look forward to visiting my sister in Europe and doing a little fabric shopping there too!
Tell us about your sewing studio… what kind of space inspires you?
I'm very fortunate to have a designated sewing/studio space. By itself, it is not the most inspiring place, but I have no problem being inspired when I have so many beautiful fabrics, tools, and machines in one space. I also get to see the morning sunrise and evening sunset from either side of my studio space.
I'm quickly running out of space and look forward to moving into a new space in the future. My only requirement for the new space would be lots of light and wooden floors! (It's a pain vacuuming carpets!)
What's your sewing secret weapon?
You will have to sign up for my web seminar where I will share a secret or two! ;)
What has been your favorite project recently?
I'm in the process of designing new bridal pieces. I can't share them with you just yet, but here's a recent flower girl dress I made and love!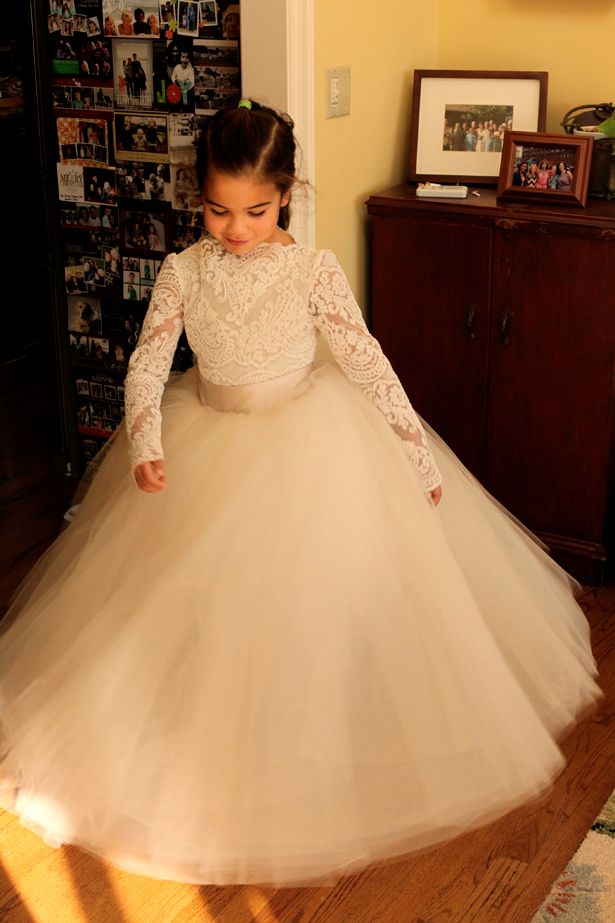 Marusya's flower girl dress
What's your favorite garment type or era to sew?
I like the 1920's flapper style, but I don't really have one particular style I draw from.
How do you bring luxury into your sewing?
I love sewing with beautiful (and expensive) fabrics! I also use couture sewing techniques and hand embroidery/stitching in my work.
Who are your top three fashion and style icons?
Chanel, Mira Duma, Yul Brynner. (My mom loved Yul Brynner and I grew up watching some of his films. So his name pops up in my head when I think of a male style icon.)
Anything else you'd like us to know?
I have a big, fun, & awesome family!
Thank you for chatting with us!
Sewing is a timeless art and craft, and we love seeing the heritage and love behind our members' work. Learn more about Marusya's style and how she works with those luxury fabrics in her upcoming web seminar, Sewing with Silks.