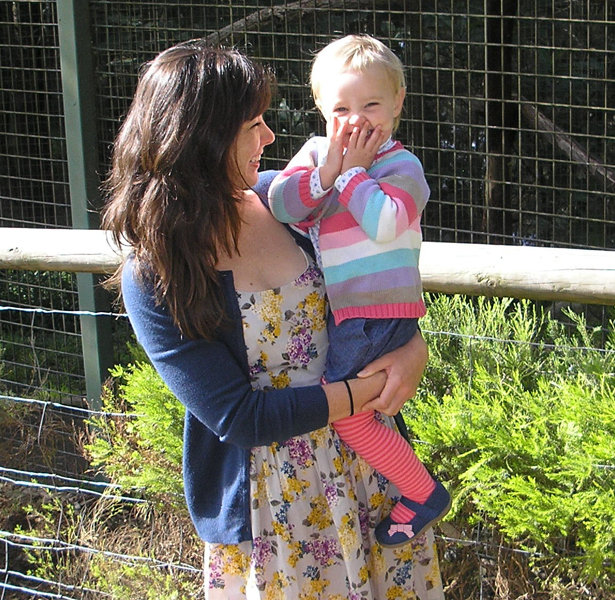 ShareThis
This week we share our interview with amazing BurdaStyle member marnieann.
Where are you from and where do you live?
I am originally from Perth in Western Australia and currently live on the other side of the continent in a small town called Bungendore. It is a lovely semi-rural town not far from Canberra, the capital city of Australia. I live with my fella, my two kids, an old arthritic cat and several lovely chickens. Bungendore is wide and grassy and there is a sense of the four seasons here as distinct from each other, which is often missed and blurred in other Australian places.




How and/or why did you start sewing?
I started sewing a year and a half ago because my friend was throwing away her grandmother's old machine…but gave it to me instead. I don't think I could have justified the expense of buying one when I wasn't sure if I would or could actually sew. I've always made and created things but always by hand and always on a small scale. I had no technical expertise and no one in my family sewed (or did anything much crafty at all). The gift of a machine provided an opportunity to just give it a go. And I loved the machine. I love that it is old and has it's own history. When I opened it up, carefully stored in it's case, it's wires wound tight and neatly tucked, it's faint oily smell and it's little drawers of presser feet and bobbins, some still loaded with thread, it felt like I was discovering something. I spent hours reading the manual, practicing stitches and working out how to use it but the sense of satisfaction was compelling. I was instantly hooked.
And the internet! Oh my goodness, there is a youtube tutorial or blog post for every sewing question. Being that I have no one else to ask I would often sew with my laptop next to me, playing how to 'insert a zip' over and over again until I got it right…ish.




What's your sewing secret weapon?
I don't have any secret weapons, I'm still so new that I'm still a bit surprised when a garment, actually something that can be worn, is the end result. I tend to hold it up a lot and marvel at it and am occasionally still a bit confused as to how I even got there. I am yet to make anything that doesn't have at least one mistake somewhere and frequently do botch jobs on the last finishing bits because it's late and I'm tired and I want to wear it tomorrow.
I avoid hand-stitching (because it will just slow me down), I can't work out how to make my machine do button-holes properly so I tend to avoid them and I'm really bad at doing that top-stitching thing at waistlines and such wherein you have to catch the seam allowance on the other side. I always miss bits. I have never made a muslin but am slowly coming to terms with the fact that I may have to start. Occasionally. If I want to sew with Liberty of London fabric and not cry if I get it wrong.
Tell us about your sewing experiences.
I most often sew at night once the kids are in bed and the dishes are done. I probably only get to the machine two, sometimes three nights a week but I'm getting better at making myself put the garment down and go to bed. Occasionally I sew at the weekends but my babies are small and it can be hard to get any sustained time at my machine whilst they are cruising around. The best thing I did was claim a corner of our sun room for my desk, my machine and my stash. The machine is so heavy and my time often so limited that if I had to set it up each time I sewed I'd never get anything done.




I'd like to be able to sew more; not just because I enjoy the process and the end product but also because I get so much satisfaction from seeing my skills improve. And there is so much support out there! I'm constantly amazed and inspired by the camaraderie of fellow sewists who take the time to review patterns, write tutorials and share their work. I particularly love when others share their mistakes – because halleluiah I'm not the only one who can stuff up a dress, do a wonky seam and hates unpicking.
Where do you go to get inspired?
I am most often inspired by the stuff other people sew. I spend an inordinate amount of time looking at sewing blogs, and on sites like Burdastyle. I frequently search for as many versions of a pattern I like before deciding what to do with it myself and have a few favourite blogs that I regularly check in on for more inspiration.
I won't spend the time making something unless I think I will wear it a lot. I like wearing dresses though I don't own many but have never been a tracksuit and t'shirt kind of girl. I walk or ride my bike everywhere almost every day and have taken time away from my career to be an at home mum so nothing I wear can be particularly fussy. But I like clothes and I still like looking good. Sometimes I wear red lipstick and paint my nails. Sometimes I wear my converse sneakers with a dress while riding my bike.




What is your dream sewing project?
Sometimes I imagine how fantastic it would be to be able to have the time, skill and budget to create costumes. Everything from an imaginary creature to an historically accurate gown to beautifully detailed dance and ballet costumes. But to be honest it's not something I think about that often. Really, the stuff that keeps me awake at night is the everyday stuff I want to make to wear. I will literally lay in bed thinking about this fabric with that pattern and what about that trim and on and on and on till I fall asleep. My dream sewing project is just to be able to make stuff I like. This year I have given myself a little push by pledging to not buy any new clothes for a year. I want to make more dresses, and wear them. I want to make more clothes and stop buying them, at least the stuff that's cheaply made by people who aren't paid enough for their skill.




What is the most frustrating and most rewarding thing about sewing for you?
The most frustrating part of sewing for me is not being able to sew all the time for as long as I want whenever I want to. The most rewarding part is simply making something that I feel good wearing.
If you were to give a beginner one piece of sewing advice what would it be?
I am a beginner! I reckon just give it a go. I love that the stuff I make is getting 'better looking' as I improve at finishing seams and putting in zips, that sort of thing, but it'll never motivate me as much as wanting to just wear it. So many of the clothes I have bought from a shop and loved are not perfect in some way, so it doesn't matter I don't think, if the seam you sew isn't exactly straight, or your hem is a little twisted. Just wear it like you mean it.
Don't forget to check out marnieann's gallery of member favorites.