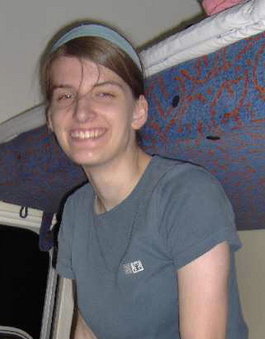 ShareThis
1. Where are you from and/or where do you live?
I'm from the Czech Republic, which is a very nice small country in the Central Europe and has almost everything, with some little exceptions like sea, big mountains or deserts. :-) I live in Cesky Brod, a small town near Prague.
2. What was the 1st thing you made? How did you start sewing?
That's something I know very well, because it became part of our family folklore. We used to have a big doll. One day (I could have been 3, 4 years old) I took a piece of fabric, made a thick burl of stitches in the middle of it, that made it shrunk a bit; surprisingly it stayed on the doll's chest when I placed it there, so I claimed it to be a top.
I guess the next things I made were, not very surprisingly, clothes for our fashion dolls. I also experimented with some plushies, though the first ones really weren't that nice… The very first thing I've sewn on sewing machine, of course with big help from my mom, was the medieval dress I posted on this site.
3. What role does sewing play in your life?
Being sort of an intellectual person, sewing is a great way to relax and do something manual for me. I also love seeing how a piece of fabric – especially when it's something recycled – turns into something nice and wearable or into something I can give to someone, like a plushie. And, of course, it's also a way to turn my everlasting dreams into reality – at least part of them.
I'm still a novice at machine sewing and I prefer sewing by hand, when it's not a big thing, because when I sew by hand, at least I always really know what I'm doing. And it's something I can do every now and then and stop and start when I need, unlike sewing on machine. Actually, I'm sewing a headband right now, in breaks during typing this…
4. What is your favorite and what is your least favorite thing about sewing?
Will you be surprised if I tell you I really like ripping off the seams? I like re-using things and this part of the process is what gives me nice, re-usable pieces of fabric. Of course, it's worse when I have to rip off because I did something wrong, but still it's not my least favourite thing to do.
However, my real favourite thing to do is finding matching pattern and fabric, finding a pattern that suits my idea and fabric that works well with it; or finding a pattern for one fabric from those piles of fabrics we have at home. And then the sewing itself, of course.
My least favourite thing about sewing are those moments when the sewing machine refuses to work as I expect it to work, and I have to stop sewing and find out what's the matter. Sometimes I get mad about the machine and finish it by hand…
5. If you could make something for anyone who would it be and what would you make?
Right now it's more of what I already promised to make and haven't made yet… but, well, if I ever find time and material for it, I would love to weave ponchos for some nice people from Sergio Leone Web Board, where I'm also a member.
6. What are you looking for on our site? What do you think should be improved and what do you really like?
I'm lookig here for inspiration, on the first place. Inspiration and tips. So this already works really well here. I like the <a href+"http://www.burdastyle.com/howto/search_by_category&quot;&gt;How Tos and Sewpedia, and love the idea of Open Source patterns, though I haven't used any of them yet. I guess I'll have a bit of problems with the seam allowances when I finally try your patterns – I'm used to the European style when one has to add them and can add them as wide as needed. I miss the possibility to see what pattern was used for what creation and to get notification about responses to my posts – but if I get it right, it's coming in July, so it seems it will be perfect for me.
If you want to find out more about MarmotaB, check out her member profile!
And: We want to make our blog entries the most relevant to you. Please tell us in the forum what questions you would pose! What are you interested to know from other users?