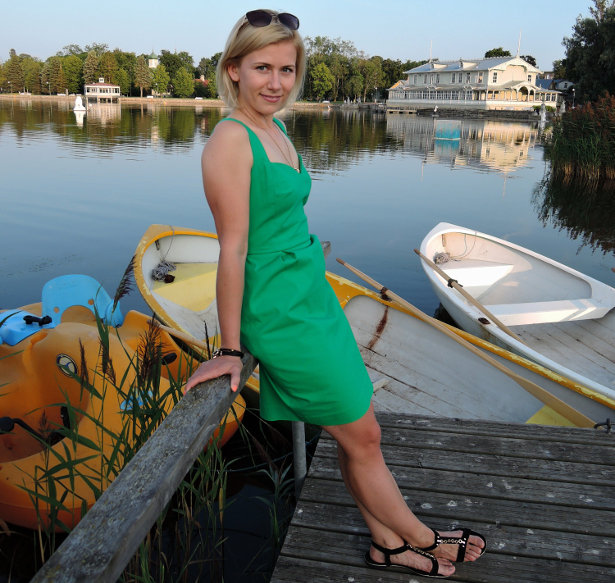 ShareThis
Our latest featured member is Mari-Liis Ööpik, also known as, zoaki in the projects section on BurdaStyle.com! She's been a member since 2009 and sews up the cutest dresses! Get to know her a bit better and what she does in life, aside from sewing.
Where are you from originally, and where do you currently live?
My name is Mari-Liis Ööpik, I am 33 years old. I am from Estonia and I currently live here as well, but I spent seven years away from my home country – from 2005 to 2012 I lived two years in Cyprus and five in Athens, Greece. During this time I started my sewing blog which is called Sewing in Athens. I have considered changing the name several times because I think it is quite misleading by now, but haven´t come up with something better either. Anyway, I am very happy to be back in my home country and I enjoy living in a small town of Haapsalu on the western coast of Estonia.

Do you have a day job besides sewing?
I am a physiotherapist, working with traumatic brain injury and stroke patients at the biggest neurorehabilitation center in Estonia. In addition to that I am also the head of the department of physiotherapy with over 30 specialists. There are times where the administrative tasks are very demanding but I don´t want to quit the clinical work either as both components of my job offer satisfaction in different ways.

How and when did you start sewing?
The first items I made were for Barbie dolls. When I was a little girl, maybe 9-10 years old, there was a booklet on sale in Estonia that included instructions for building a doll house for Barbie-sized dolls and several patterns for Barbie clothes. They were quite detailed, for example the coat/morning robe pattern even included a piece for the lining and the trouser pattern pieces were drafted as real, only on a small scale. I think this taught me a lot about sewing and understanding patterns. I then continued with garments for myself as a teenager, but dropped it in high-school as I had no patience and if I remember correctly, about three pairs of trousers in a row had the problem of one leg twisting around. Of course now I know the reason, but back then I got fed up and just stopped! Then one day already in Athens, it could have been in 2009, I stumbled upon the Burda Easy Fashion magazine, which includes patterns with separate pieces that can be cut out in the suitable size without tracing. I was suddenly overcome with a great urge to sew something and this is how it started again. I bought a cheap sewing machine from a discount supermarket to start with and although it is hard to believe, I am still sewing with this! It traveled with me from Greece to Estonia in my hand luggage! Until now I have been sewing either in the kitchen or more recently, in my bedroom. However, since we just bought a house together with my boyfriend, I will finally have my own sewing space!
Do you prefer to work from patterns, or draft your own?
I work with patterns only, but occasionally I might combine elements from different patterns together into one project. I wish I had the time and opportunity to learn more about drafting!
How would you describe your personal style?
Because of my job, most of the days I actually spend in jogging pants and a polo shirt complete with sneakers! Maybe this is the only downside of my job for me because I would really like to be able to wear dresses for work. I prefer more fitted styles. I have a suspicion that partially the latest fashion/trend of shapeless clothing is actually the creation of fast fashion brands – you can sell these baggy pieces to a wide variety of body types and shapes but it is much harder to sell pieces that have to fit well and don´t look nice on overweight people, for example.
I think my style can be called casual, because I usually wear comfortable flats or ballerinas and rarely heels, although I love them.

What's your sewing secret weapon?
Hard to tell, but some have commented that I have a good eye on matching fabrics and patterns. Weapon per se would be the seam ripper…. but that´s no secret to anyone who sews!
Who or what inspires you? Shop windows, magazines, vintage patterns…
I am not a fan of fashion magazines as they are mostly filled with advertisements and I never buy them. I also think that as I rarely follow hot trends in my projects, they don´t have much to offer.
Usually the inspiration comes from fabrics – this is why I find it impossible to order online. I really need to touch the fabric and play around with it a little bit and then I usually have a pretty clear idea, what to make of it.
However, sometimes it can also be a random photo or someone in the street wearing something that catches the eye and inspires me. I also love to see the creations of a well-known sewing blogger, Erica Bunker. I have discovered some great patterns and styles thanks to her!
What has been your favorite project recently?
Actually it is the latest project – the lace dress I made for my brother´s graduation day. It came out exactly as I had envisioned and it feels great to wear it!

If you were to give a beginner one piece of advice, what would it be?
Be patient, it pays off! Usually it is the best to avoid any shortcuts in sewing – later on you may deeply regret not having pressed that seam or corrected that line of stitches!
If you had all the fabric, money, and equipment at your fingertips, what would be your dream garment to sew?
I really want to learn to sew well-fitting jackets and coats. I have made some efforts, but I am not satisfied with them.
Anything else you'd like us to know?
I am doing a Master´s degree in Global Development and Management in Health Care and in one of the subjects we had to work on some business ideas and theories and try to tie them to a real-life case. I completely forgot about health care (as during the lectures the professor also mostly came up with examples from other fields) and wrote the report on Burda magazine and Burdastyle website. I passed, but he mentioned in his feedback that he should have been more careful in the wording of the task – he had not mentioned health care in the instructions either, so he could not really blame me!

If you could choose a lifetime subscription to any fashion magazine, what would it be?
Is BurdaStyle considered a fashion magazine? If yes, then I would be over the moon to have a subscription! As I mentioned earlier I don´t read any fashion magazines, so it would be hard to pick anything.
Keep up with Mari-Liis by following her in the BurdaStyle projects section here and also on her blog, Sewing in Athens!
Thank you, Mari-Liis!