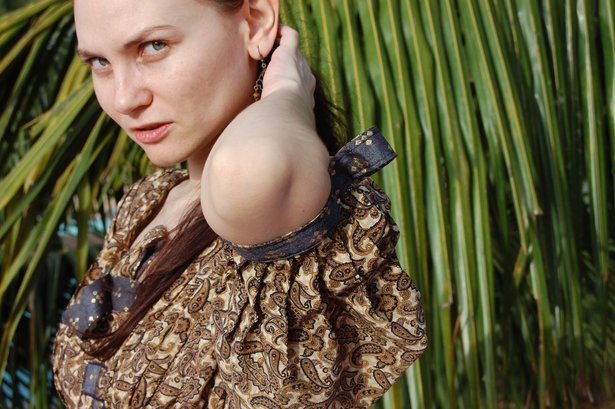 ShareThis
1. Where are you from and/or where do you live?
I'm from Lasi, the Romanian cultural hub city of 7 hills and from there I landed in the sunny temple state of Tamil Nadu, India.
2. What was the 1st thing you made? How did you start sewing?
I inherited sewing genes from my grandmothers, so it was just a matter of time till I started sewing. One of my grandmothers taught me how to knit by the age of 4 and that's also when i started to fervently fill notebooks with dress designs. In primary school I was filling my spare time with a bit of everything – fashion sketches, knitting with brushes (coz my mother used to hide the knitting needles from me – yes, I was the ultimate threat to useful thread, and yes I was that determined!). Also curtains were transformed into skirts, skirts into tops thanks to my voracious and obsessive talent:)).
Later after the 8th grade it got more serious, my sketches got more mature and diverse and in my college years I was painting dresses for days and days… Fascinated with the treadle sewing machine I inherited from my grandma, I learned by myself how to use it and even if mom was trying to be protective about her fabrics, me and a good pair of scissors would always find them!
My BurdaStyle studio reflects part of my last year's work, it's a story of experimenting, discovering and running with it:) I love that I dared work on bags and accessories also and added new flavour and glamour to projects that included recycled materials. It's hard to pick a favourite out of my blouse designs, its a different experience that leads to each one of them and I'm always looking forward to my next one.
3. What role does sewing play in your life?
It's quite organic the whole process, even when I don't stitch much I think a lot about clothes. Giving life to my ideas and then being surrounded by them is so fulfilling! When it comes to clothes, I put impressions and feelings that they give you above everything else – they create new perspectives and angles from which we see ourselves and the others, they can make or break relationships between people – they pull such fascinating dynamic strings in our lives! They always convey a message, which can be differently interpreted by the one who wears and the one who sees, depending on the experiential and perceptive aspects – like verbal messages! It's a language I definitely enjoy playing and experimenting with!
4. What is your favorite and what is your least favorite thing about sewing?
I love when a garment catches life and starts forming a certain impression in my mind – it's mostly a moment of peace and recognition of all the things I invested in it. My least favourite thing is getting stuck, when it happens projects get to be dead ends and then it's hard to lift my spirits again:)
I prefer to passionately work directly with the fabric like a sculpture or painting. I see clothes a little like babies: we never know how they will turn out but still we take that chance, without trials or room for "errors" :))
5. If you could make something for anyone who would it be and what would you make?
Hmm, I'm not sure, the only thing I can think of now is that I'd like to make more and more diverse clothes with soul, for more and more people who would appreciate them – if a little makes me happy, a lot makes me fulfilled!
6. What are you looking for on our site? What do you think should be improved and what do you really like?
The idea of a royalty free collection of patterns is wonderful, I guess it makes the world a less guilty place as BurdaStyle patterns have spread all over the world and are at the base of so many garments!
I like that the site feels like home, since lately I have dedicated my life to sewing I've also become addicted to the site – it is so motivating and the idea of interacting with other people passionate about sewing is great – I wouldn't mind a chat feature and more contests on different themes which would allow all members to win!
7. What is your motto?
I am hardly a motto-person but these are a few that brightened my day(s):
"Never give up on something that you can't go a day without thinking about."
"Life isn't about finding yourself. Life is about creating yourself."
"Imagination is more important than knowledge. " (Albert Einstein)
"Man cannot discover new oceans unless he has the courage to lose sight of the shore." (André Gide)
"Throw your heart over the fence and the rest will follow!" ( Norman Vincent Peale)
"You gotta dance like nobody's watching, dream like you will live forever, live like you're going to die tomorrow and love like it's never going to hurt. " (Meme Grifsters)
Check out her top ten favorite member creations!