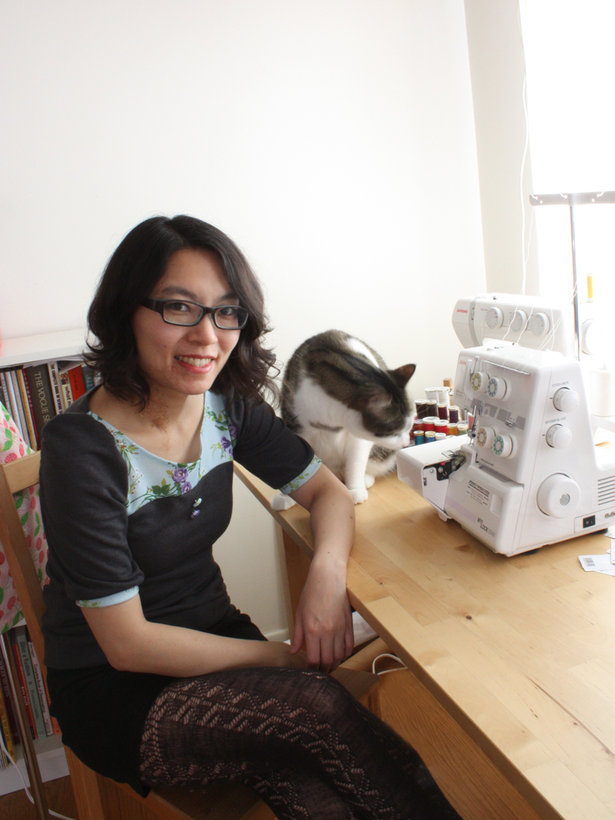 ShareThis
1. Where are you from and/or where do you live?
I was born in Hong Kong but have lived most of my life in Edmonton, Alberta, Canada. There are a lot of young crafters in this city and a variety of venues (markets, craft fairs, independent businesses) that sell handmade goods. I really appreciate the DIY spirit here, especially having come from a highly commercial culture like Hong Kong's.
2. What was the 1st thing you made? How did you start sewing?
The first thing I made was a patchwork dress to wear to the Edmonton Folk Music Festival. That thing took forever to make, weighed a TON, and was totally shapeless, but I wore it with pride.
After the patchwork dress, I didn't start sewing regularly until about five years ago. I had bought a sewing machine for $20 at a garage sale and used it to modify some Björk concert t-shirts that were too big. I was thrilled. I thought, "Whoa, I can make anything into a halter top!" Then I took out my vintage dresses that didn't fit and started modifying those—the world became this amazing place where I could buy a muumuu and make it fit. Then I began taking classes, and I'm still
learning. I'm hoping to start fashion school next September.
My favourite piece in my studio is the wood-panelled dress. The idea evolved from a conversation with my friend Sheri in which we discussed making a dress out of wood panelling. We debated whether it would be possible to sit down in it, and where the hinges would go, and if drawers could be somehow incorporated…then I got the wood-grain printed fabric for my birthday, and the dress was born. I really think it looks like a piece of IKEA furniture.
3. What role does sewing play in your life?
I'm always coveting outfits that I see in the street, on the web, in old movies, so you could say that sewing is a form of wish fulfillment for me. It's nice to be able to see or imagine something and then make it—in theory, anyway. I'm not an expert, so sometimes the process is painful and things don't look the way they did in my head. But it's worth it when an idea does work out.
Sewing is also a nice way to get through the long, cold, Edmonton winters. When it snows for days and days, I like to make summer dresses and dream about sunshine.
4. What is your favorite and what is your least favorite thing about sewing?
My favourite thing right now? Serging knits. I LOVE jersey, I love how forgiving it is, and I especially love running it through my serger super fast and having a shirt or dress finished in a couple of hours.
My least favourite thing is making bias tape. It looks beautiful for binding seams, but I really hate all the measuring, and piecing strips of fabric together, and making sure it's at the correct angle to the grain…ugh.
5. If you could make something for anyone who would it be and what would you make?
I'd make an outfit for my niece. In high school, I was obsessed with a high-waisted, yoked black skirt with suspenders that I had seen in Seventeen magazine, which I begged my aunt to make for me…and she did! I wore it with a crisp white shirt and fedora. I'd like to make a tradition of this and sew something for my own niece, but I don't know what it will be yet. She's only a year old now, so I'd be curious to see how her sense of style develops. I hope she won't just be a "label" girl—I'd be a little sad about that.
6. What are you looking for on our site? What do you think should be improved and what do you really like?
I come to BurdaStyle for inspiration. I like clicking through the new projects and finding amazing pieces that make me wonder, "Wow, now how can I do that?" The fact that the members are there to offer an encouraging comment or share a technique is fantastic. This is a very supportive community.
I think the mechanism for uploading project photos could be improved. I find it a bit frustrating sometimes that I can't upload several images first and then adjust the order and select the main photo afterwards.
7. What is your motto?
My motto is something my sewing instructor likes to say (in her Dutch accent): "If it doesn't look goot, make it look goot!"