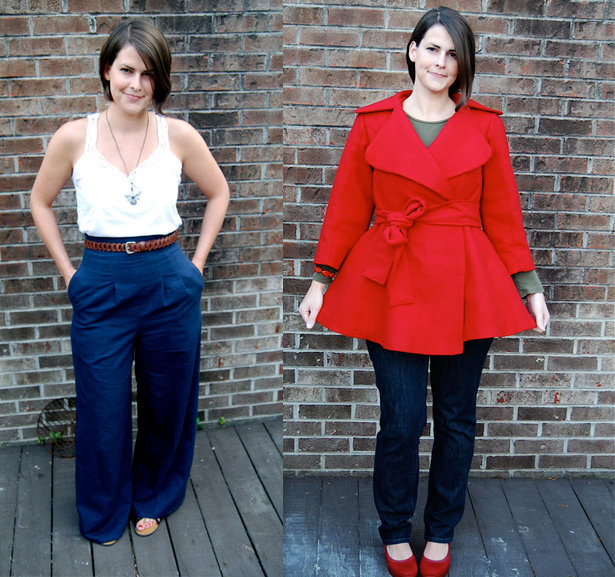 ShareThis
Where are you from?
"I live in Greenville, SC and I am an elementary school art teacher by day. I teach every grade at my school, four year old kindergarten through fifth grade. It's a great job—busy, but very rewarding. I help kids make art all day long. I dabble in drawing, painting and printmaking myself. I'd love to illustrate a children's book one day. At night, I sew fanatically. When I'm not actually sewing or cutting something out, I'm planning what I'm going to sew next. I love to make things. My mom is also an art teacher/artist, so I grew up immersed in all sorts of creative art projects and craftiness."

"You know you had a sweatshirt like this, too"
How did you start sewing?
"I took a sewing lesson when I was eight. I learned the basics and made an elastic waist skirt. I absolutely hated it. I remember having to unpick a mistake and that was it. I wanted nothing else to do with sewing. Then, almost two years ago, my husband came home with a sewing machine and the crazy idea that he was going to make a tipi. The rest is history. It all came back to me. I suddenly had the patience to sew. I've been sewing nonstop since.
I love looking back at my studio here on BurdaStyle because I can definitely see my progress. I joined BurdaStyle shortly after the beginning of the tipi venture and it has been an invaluable resource. I visit nearly everyday and I love to see what other people are up to. I've learned so much through online resources. I started a blog six months ago for purely selfish reasons. I like to talk about things I make. The online sewing community is just awesome. I'm tickled that everyone who sews is so incredibly generous and nice. (Why is that?) I've been pleased with a lot of things I've turned out lately, but the project I'm most proud of is my Lady Grey. I learned so much during the process and I still can't believe I actually made it."
Where do you go to get inspired?
"I love to laugh, so I like it when clothes make me smile. I don't exactly have a style icon, but I find inspiration a lot of different places. I'm not the most fashionable girl in the world, but I do love to talk about color. I'm a little obsessed. Part of it is a side effect of the day job, I'm sure. I think about color combinations all the time. I look for color inspiration in art and everyday life. Henri Matisse is one of my favorite artists and he was a master colorist. I married an artist/designer man who is even more obsessed with color than I am. You should see us try to pick a wall color.
I'm also inspired by the kids I teach. They are amazing and hilarious. They constantly remind me not to take myself too seriously. My husband is also a great source of inspiration. I think we both initially bonded over our love of art, but we couldn't be more different when it comes to style and preference. He has great determination while I can be pretty lazy. He pushes me to work harder and take pride in the craftsmanship of my work, both art and sewing."




"Portrait of me painted my super talented husband"



What's your sewing experience like?
"I'm excited to show my sewing space! It's not the most attractive space right now, but it is totally functional. It's brand new, too. We moved in to a house this past summer that has a gigantic sunroom on the back. We knew the sunroom would be a perfect studio for both of us. We've been working hard on renovating the rest of the house so I've only recently set up my sewing area. I used to sew on the coffee table. Now I have space. It's wonderful. And the best part is that when company comes over, I just shut the door to the sunroom and no one has to see the mess. I sew a little bit in the evenings, but most of my sewing is done on the weekends."




"I sew under the watchful eye of White Cloud"


What is your dream sewing project?
"I'm very in to furniture at the moment. I'm working on a project right now for a friend's nursery. I would say my dream sewing project would be to learn proper upholstery. I'd love to be able to upholster a couch or recliner. Just think of all the options. I have supplies for silk painting in the studio right now, too. I'd love to make a dress from completely hand painted silk one day. And I'm on a mission to make a really great pair of pants."




Matisse Inspiration


What is the most frustrating thing about sewing for you? What is the most rewarding?
"I almost always sew something on backwards or inside out. Never fails. Like everyone else, I hate unpicking. The most rewarding thing about sewing is wearing a garment I've made. It's so much fun to say, I made this."