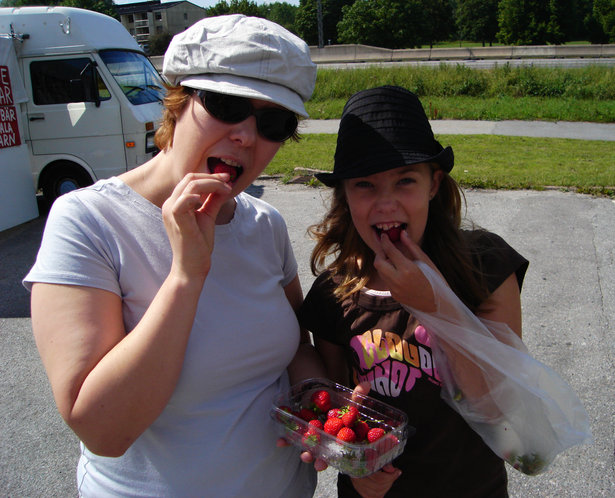 ShareThis
1. Where are you from and/or where do you live?
I was born in Romania in a city (Oradea) only 20 km from the Hungarian border; many people who live there are hungarian, my family as well, so my mother tongue is hungarian. I learnt romanian later at the childrengarden and basic school.
I moved to Sweden when I was 20 years old, so my passport and my university degree are swedish. Much later, when the idiot at Scania told me I didn't have the right education when solicitating for a job as engineer in scientific computing (I am a MSc in guess what? Scientific Computing!!) I gave up on both trying to find a job in Sweden and my precious education.
I took a job in the pharmaceutical industry as modeling & simulation scientist (pharmacokinetics) in Germany in 2004. It didn't klick though with my (actually dutch!) boss, so I started working and living in the Netherlands, Nijmegen in 2005 and do that ever since.
2. What was the 1st thing you made? How did you start sewing?
My first clothes were made for my three 'daughters' (i.e. dolls, they were Barbie-like) when I was something like 8 years old. So I was making up stories about what happened with my daughters, telling them to my grandma (who gave me the dolls) and making clothes for them. At the age of 10 I thought well, if I can make clothes for my girls than I could try to make something for myself? I saw grandma's sister sewing simple things on her pre-war machine with a foot pedal, so … So I went to the shop and bought myself a piece of nice pink linnen. I measured myself. I made a pattern of a blouse with raglan sleeves. I cut the fabric and sewed it by hand. Of course I never heard of moving ease at that time, so the blouse turned out to be too small. So I figured out adding a diamond-shaped extra piece under the arm at the armhole would make it wearable. I proudly wore the thing a couple of times! I never heard either of finishing the seams, so it decomposed before I grew out of it. I didn't sew anything more in twelve years. I started again when I met a friend who was sewing and got my 'old thing' (=my first machine, a Singer Melody in 1990) from my parents-in-law.
3. What role does sewing play in your life?
It's my absolute favourite hobby and I am getting more and more 'serious' about it in the sense of wanting to improve my skills up to the professional level. I started taking a basic course in pattern making and sewing techniques; I really enjoy the new skills I got with the course (although I'm not very happy with the teacher, I quitted her and will start with somebody else soon) and I just want more, more!
I spend most of my spare time in my sewing corner, I can spend a lot of time in getting details right like moving a seam 1 mm if I think it would improve the fit. Ironically, the better I get with my technical skills the more obsessive I turn with my garments.
I also decided for a half year ago to sew all my clothes (well, as many as possible). I only bought a … goose-feather(? don't know the proper English) jacket on sale since then.
4. What is your favorite and what is your least favorite thing about sewing?
I love to stand in front of a beautiful fabric and figure out what I would like to make from it, find a fitting pattern/design. I also like to draw and cut out the pattern when it's my own design (but copying something out of BWoF is just a boooring necessity). I LOVE to put the scissors in the fabric, this is IT, no turning back and changing my mind from this moment on, a particular piece of clothing is being born here and now! Sewing the pieces toghether is ok, but I already start getting impatient to see it ready. After the first fitting I kinda loose interest, I already know how the end result is supposed to look like, it's ready in my head; the very end – correcting the fit, putting in lining, buttons is a pain in the …, I really have to disciplin myself to get anything ready. That's why I need to have more projects ongoing in parallell, between 3 and 6 is usually ideal (when I have more nothing will get ready within a reasonable time).
5. If you could make something for anyone who would it be and what
would you make?
I am already making some things for my family (husband and daughter), but only from ready patterns so far; I would like to make personalized block patterns that fits them and make my own designs according to their ideas, i would like to be able to make
EXACTLY
what they want.
I am dreaming of doing it even on a larger scale, I would like to be the tailor of the village if I would live for a couple of hundred years ago, make tailored clothes for more people, many people with different shapes and sizes and … Are time travels really impossible?
After retirement I would like to have a small tailor shop (but let's get realistic, in these days nobody wants to pay for handcraft; also with each generation the tolerance for badly fitting clothing increases as long as it's the latest hot fashion). Earth calling, earth calling! … Ok, landed.
6. What are you looking for on our site? What do you think should be
improved and what do you really like?
Inspiration, fresh ideas. Food for my ego. I'm not in for the free patterns really (I subscribe to both BWoF and Knipmode and started making my own patterns lately), but they are a nice extra, a complement.
The bug problems are ennoying and I'm not so much for the advetisements either, although I understand the need of keeping the site going.
I like very much the idea of sharing, I think it's great that we start having other members than the Burdastyle team sharing their patterns (Lauriana, Mlssfshn, looking forward for JJ's).
7. What is your motto?
Be yourself, there are enough others.
An extra – my friend Claes' (this is so fun, I have an akward sense of humor)
Cheer up, the worst is yet to come!
Learn more about Lilo and see the many creations she's made for herself, her daughter, and even her husband by viewing her member profile!