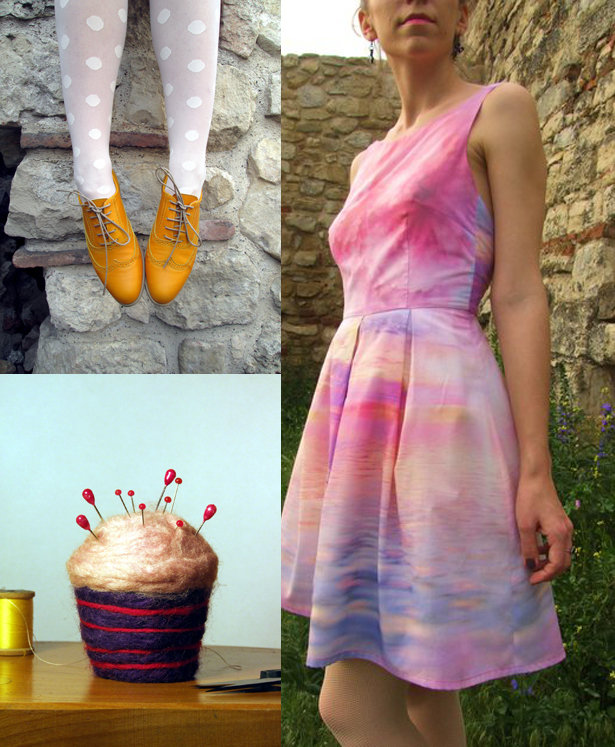 ShareThis
Our latest featured member is Lejditea, aka Tea! Find out more about her beautiful dresses, life as a freelance archaeologist, favorite patterns, and buying Burda patterns on the black market.
Tell us a little about yourself.
Hello, my name is Tea. It's not a nickname or something I want others to call me. My sister Dina and I were lucky to have mom who gave us these cool names instead of standard Serbian ones.
Where are you from originally, and where do you currently live?
I was born in Belgrade (then capital of Yugoslavia, now Serbia) and I've spent my whole life here. It's my favorite city in Serbia, and the best place to be (if you don't have anywhere abroad to move). As an archaeologist, I spent months in other towns and villages in the country but I'm always happy to come home.
Do you have a day job besides sewing?
My whole life was always about hobbies. I finished high school for woodcarving, and after that studied archaeology (many people consider that a hobby!). Nowadays, I'm a freelance archaeologist (it sounds better than an unemployed archaeologist) spending all my free time making DIY projects..
How and when did you start sewing?
While I was growing up I watched my mom sew. That's how I learned in theory how to trace patterns from Burda magazines, make a circle skirt and some other basic stuff. When I was in high school, I decided that it was time to learn how to sew. My mom explained to me how to use her sewing machine and my adventures started! I must add that at that time, in Serbia, Burda magazines were black-market goods. Everything was in German, and that's why I still don't have a habit of reading the instructions. Just looking at the pattern pieces, I can figure out how to put them together. I didn't know anything about thread tension on the sewing machine and that stuff, so my mom's Singer often drove me crazy. After sewing my prom dress, there was what I like to call my "hiatus period" in my sewing until the beginning of 2010 when I made a comeback. With discovering the BurdaStyle site, and a lot of great sewing blogs with tutorials, it was way easier to improve my sewing skills.

Tea's mother at her sewing machine, 3-year-old Tea in a dress her mother made
Do you prefer to work from patterns, or draft your own?
I can say that I prefer patterns to drafting. I'm very lazy when it comes to drafting and Frankenstein-ing the patterns, and I delay those projects until I feel 100% OK to experiment.
How would you describe your personal style?
I'm not sure if my style can be placed in any category. I try to look fun and colorful, even in my darkest moods. And I love to wear dresses, that's why I sew them all the time.
What's your sewing secret weapon?
Remnant bin! I believe that half of my fabrics are finds from the remnant bins. It's always fun to dig through those piles of fabrics and find great surprises.

Tea's sewing corner and most recent family member, MacMalibu
Who or what inspires you? Shop windows, magazines, vintage patterns…
My main inspiration comes from my fabric stash and Burda patterns. When I make a perfect match of the two, I can start a project. Of course, that process is helped with other creative members on BurdaStyle and Kollabora who's work I like to see. And last, but not least, one of my favorite students and good friend Snave (here known as kelerabeus), with whom I can talk about sewing for hours, exchange patterns, inspirations etc. Now we are also a good team for doing photo shoots of our projects.
What has been your favorite project recently?
Here Comes The Sun was project that I really enjoyed making. I'm so happy with the way that dress turned out. Also I adore my Pink Elephants dress. These two projects were on hold for a long time, I didn't start sewing until I figured out every little detail. Maybe that's why they are so special to me.
If you were to give a beginner one piece of advice, what would it be?
Have patience, you'll make a lot of mistakes in the beginning. But after a while, with experience, you'll get better at sewing and mistakes will be less visible (in my case they never go away). And may the force be with you!
If you had all the fabric, money, and equipment at your fingertips, what would be your dream garment to sew?
Well, I would like to get my hands on indie sewing patterns: Deer & Doe, Megan Nielsen, Republique du Chiffon, and many others. For most of us in Serbia, prices for them are too high, and that's why we don't use them. If an average indie pattern is about 10 euros, here at that price we can buy three current issues of BurdaStyle magazine and have some money left for an older one. Maybe one day our situation will get better.

True Romance dress, Heartbeats dress
Anything else you'd like us to know?
I name my projects after the titles of songs I'm listening to at the moment, or after the ones I love.. That's why sometimes my projects have strange names.
Good to know! What's your sewing soundtrack right now?
I'm soooo happy that last.fm has brought back free listening of music on their site. Now I can easily discover tons of new bands only by listening to (for example) "Bloc Party and similar" station. Bloc Party and Kele Okereke are still No. 1 in my world.
If you could choose a lifetime subscription to any fashion magazine, what would it be?
It would definitely be Burda Style magazine! Burda has forever been a sewing magazine in our home. And Vogue, it's a classic that will always remind me of my mom.
Thank you so much for talking with us! Your dresses are always an inspiration.
Check out more of Tea's projects on her profile.