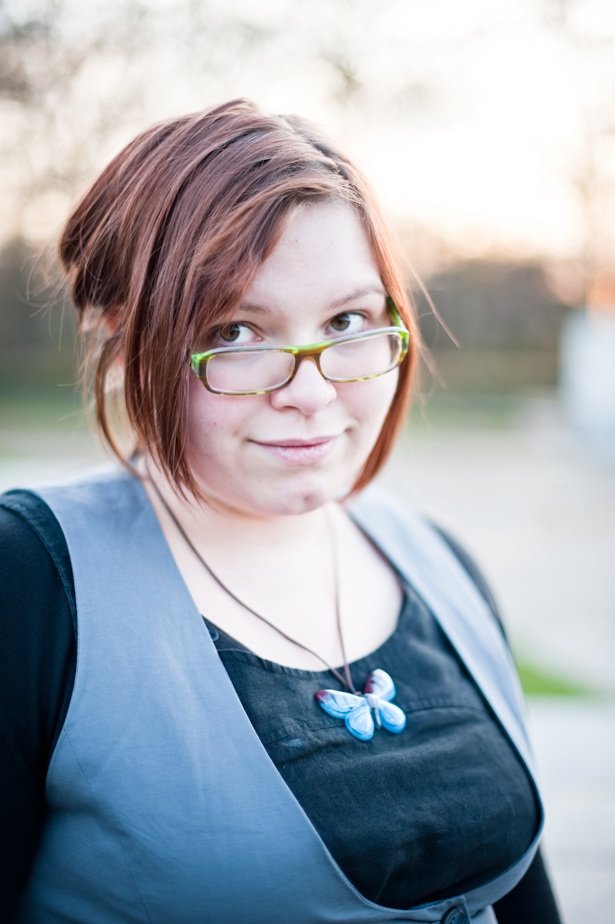 ShareThis
1. Where are you from and/or where do you live?
I am a European girl. I come from Belgium and after a while spent in Ireland, I now live in The Netherlands, in Tilburg.
2. What was the 1st thing you made? How did you start sewing?
I have three first things… Does that count?
My first hand sewing happened when I was 4 or 5. My Grand Ma' was a seamstress, and when she looked after me, I would look at her too. She taught me the basic hanstitch and I made basic Barbie dolls tube dresses (no hem, and a belt in old nylon from broken tights)
For 20 years, nothing. Then, last Halloween, I decided to make my Fiona dress (from Shreck) with green IKEA curtain fabric. I did two huge rectangles, sew them together, and then I pinched uneven darts on myself.
For a few months, nothing! After receiving my first sewing machine, I started my first project this April 2010. It is on this website. After ripping way too many stitches, I was really proud of the end result. And I still enjoy wearing that dress.
3. What role does sewing play in your life?
It is my first real passion and brings me so many things!
To start, I now live far from my family and sewing is something that brings me closer to my Grand Ma'. I love those moments when she tells me what I have to do, on Skype. Last month, I was finishing bridesmaid dresses at her place, and she helped a lot, handstitching the hem with her old damaged fingers. Of course, at moments, I wanted to strangle her, as she checked everything I did, and told me I should not do it my way, but her way… I managed to control myself.
Also, sewing is something I can get lost in. It relaxes me and helped a lot for the past monthes to make me feel good, when I was having a not so funny time.
Most importantly, it gives me the opportunity to dress, as I want, with no size restriction. I became an expert in pattern sizes upgrades.
4. What is your favorite and what is your least favorite thing about sewing?
I love the feeling I have when I wear my first muslin. It is the start of everything! When I write down the changes that need to be done, what to do with my fashion fabric, and the steps I am going to take next.
I hate, really hate ripping stitches. First, it is d@$*# annoying! Second, it (most of the time) means that I have done something stupid. And finally, it can damage the fabric…
5. If you could make something for anyone who would it be and what would you make?
Monica Belucci! I love her curves! I would go for something between white and golden. It would be a long draped dress that shows her shoulder and a little bit of cleavage.
6. What are you looking for on our site? What do you think should be improved and what do you really like?
I look for inspiration. I love browsing through the projects and see what other people create. I also really like the free patterns because they are such a huge help for newbies. What is great, is that Burdastyle makes me feel like I belong to a community.
Improvements? Well, I would love a more intricate search option (location, size, rating,…). I would also love it if more curvy women went out there and showed the community that they can sew great things that don't look like potato bags (like in various shops).
7. What is your motto?
Have fun with it!
Follow laurwyn's adventures in sewing on her blog.
Check out her top ten favorites slideshow.