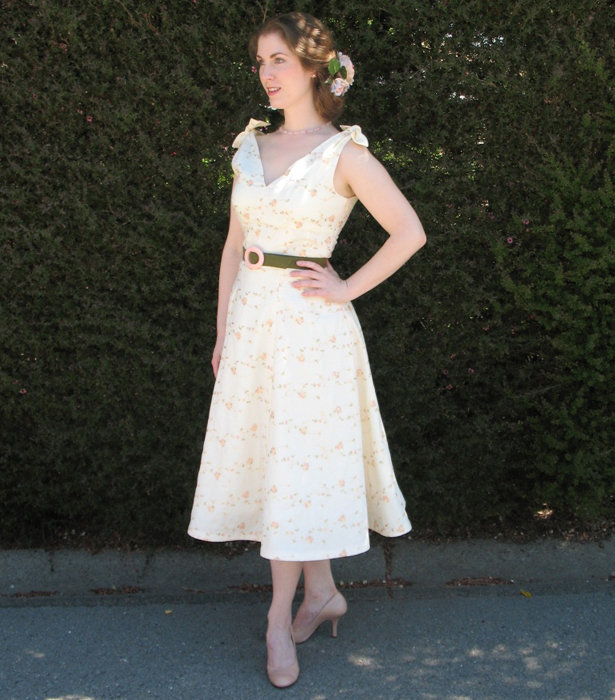 ShareThis
Where are you from and where do you live? What do you do other than sewing?
I currently reside in the city of Novato, in Marin County, California. I grew up in Marin County, and have lived here my entire life (excepting a brief stint at school).
I am an equity actor, but have not been having much luck in that area of my life lately. This just means that I have more time to spend sewing! To pay the rent, I work part-time as a legal assistant for two family lawyers.

lauramae's family photos
If we were to come to your town, where would you take us?
Because I live in the Bay Area, there are many, many wonderful things to see and do. I have never done most of the touristy things, like walking across the Golden Gate Bridge, or touring wine country, which is silly, really. If you are in the area, I would highly recommend catching a Smuin Ballet performance – they are absolutely incredible!
As for sewing/notion stores, I will admit that JoAnn Fabrics comes in handy, but I do loathe the amount of polyester fleece that has taken over my local store…
In an effort to avoid the big chain stores, I have been trying to support smaller businesses and love finding treasures on Etsy.
I am across the Golden Gate from Britex Fabrics, a Mecca for all things sewing related. I could spend an entire day browsing their button counter…
They have an online presence for a limited amount of their products, which is great if I am in desperate need of some millinery netting.
One of these days I am going to get to the Alameda Point Antiques Faire (I am always inspired by Mena of The Sew Weekly and the amazing treasures she finds there). In all honesty, I tend to be lazy about exploring new venues. I want to spend my time sewing and knitting!
How did you start sewing?
I got the sewing bug very early on. However, I was not making garments – there was something about a sewing machine that scared me. Instead, I would spend hours working on counted-cross stitch designs. Many of these projects were inexpensive, portable and could be purchased, with everything needed, in one simple kit. I can remember visiting my grandparents back east and discovering Frank's Nursery & Crafts. This was my first experience with large scale craft stores and, as a young girl thoroughly devoted to all things creative and crafty, it was heaven on earth. I also hand-stitched a family of dolls out of cloth scraps using a lovely book, Dollhouse People: A Doll Family You Can Make, from my local library. I used to check that book out again and again to look at the wonderful pictures and pour over the instructions.

lauramae's beautiful cross stich work.
Now, I spend most of my time sewing and knitting clothing that I can wear. There is something wonderful about looking at a closet that is at least half full of self-stitched garments that have been made with care.
What or who are your inspirations?
If I had to choose a few select style icons, I would have to include Sarah Jessica Parker, who taught me that not everything has to match perfectly. In fact, outfits get a whole lot more interesting when different textures and patterns are involved. Cate Blanchett always looks stunning and her fashion choices are always spot on, in my opinion. And I wish I was as tall and beautifully put together as Nicole Kidman.
And yet, if I had to choose to raid someone's closet, I would have to pick someone in Hollywood from the 1930s, 40s, or 50s. Vivien Leigh and Ginger Rogers must have had the most exquisite boudoirs, complete with the perfect wardrobe and fainting couch.
Inspiration is everywhere I look, from movies and magazines, to old black and white family photos, to people walking down the street. This past year, I have become truly addicted to many of the sewing blogs out there, and I am amazed each day by the creativity, talent and generosity of spirit these individuals share.
What's your sewing secret weapon?
My secret sewing weapon is giving myself a deadline. While I prefer not to be too stressed about finishing something, making an end date for a project gives me something to work toward and helps to push me forward in the creative process.

lauramae's halloween costume, with her little Valentino.
My favorite trick involves rayon seam binding. Since I do not have a serger, I have fallen in love with using these beautifully colored bindings to finish my seams. It does not add any bulk, and I love the old-fashioned look it gives to the finished product, even if I am the only one who sees it!
Describe your sewing experience.
I am lucky enough to have a spare bedroom that makes up my sewing room, and I cannot imagine what I would do without it. I have always used one of those cardboard grids for my cutting surface, but working on the floor was becoming a major pain, so I purchased an Ikea table. The height was not right, but a recent addition of bed risers to the table legs has made the table just about perfect for my needs, not to mention providing extra space for my storage cubes that house all of my notions.
I am a "I would rather be sewing/knitting/creating" kind of person. It really does not matter the time of day. I am a night owl, but having natural light in the room while sewing is a definite bonus, and I do get more accomplished during the daytime hours.
What is your dream sewing project?
My dream sewing project would be made in a couture house in Paris with access to all the know-how and accouterments that those amazing men and women have at their disposal! I am not sure what the particular garment would look like, but it would probably be an evening gown of some kind.
How long have you been a member of BurdaStyle? What keeps you coming back?
According to my profile, I have been a member since November 22, 2010. I will admit, though, that I did not put much thought into my username. I was just so excited to be a member that I did not want to take the time for creative inspiration to hit.
On average, I would say I visit the site five times a week – actually, that is probably pretty conservative, and some days I keep coming back for more.
I am so thankful for all of the inspiration that comes with this online community. I am no longer the only person I know that sews the majority of her own clothing, or can spend hours perusing the button or notion aisle of a fabric shop. While I have mostly been a wallflower in the online sewing community, I have just started my own blog, and cannot wait to get more involved!
What is the most frustrating thing about sewing for you? What is the most rewarding?
The most frustrating thing about sewing would have to be time, or the lack thereof. I always have ten or fifteen projects in my mind, but not enough free time to construct them, or enough money to fund them (perhaps this is a good thing, or my closets would overflow even more than they do at present).
The most rewarding thing is creating something of quality that fits properly and is (for the most part) exactly as I imagined it. I browse stores these days and nothing jumps out at me, or if it does, the construction is shoddy and the price tag way too high. Sewing allows me to bridge this gap.
Discover lauramae's top ten favorite member projects!