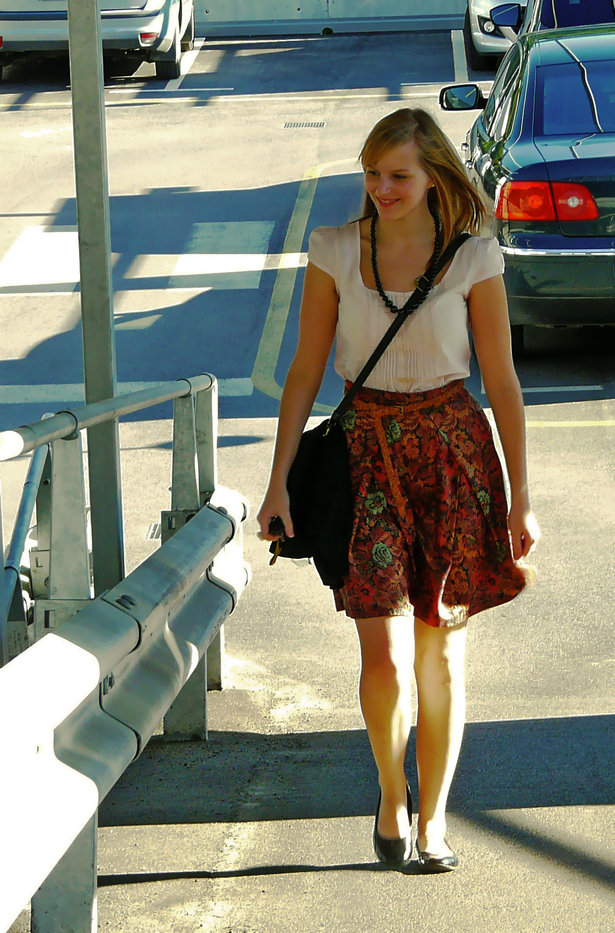 ShareThis
1. Where are you from and/or where do you live?
I come from Slovenia, Central Europe.
2. What was the 1st thing you made? How did you start sewing?
My mother used to sew clothes for me when I was little. No wonder that I have been so enraptured with the thought of sewing my own clothes. I was about 12 years old when I made my very first bag, but it was hand-stitched. I started sewing with my mother's sewing machine in summer 2008, when we finally took it to the repair shop. Soon I discovered BurdaStyle and bought my first Burda Mode magazine. My favourite project in my BurdaStyle studio is Pink & Red dress with a bow. I made it for the Coats & Clark Pink & Red Fashion Show back in January. One thing I remember the most is that I was taking the photos in the middle of the night, just to publish the dress in time. :)
3. What role does sewing play in your life?
Sewing is my favourite hobby, it makes me happy. I wanted to apply to a fashion design school, but I changed my mind. I think it is difficult to be a fashion designer, financially above all. It would be a dream job, though.
4. What is your favorite and what is your least favorite thing about sewing?
I love seeing how a garment is taking shape as I am sewing the pieces together. What I don't really like is tracing the pattern pieces and cutting the fabric. It is so time consuming.


Laura's sewing space in Slovenia
5. If you could make something for anyone who would it be and what would you make?
Currently, I would love to sew something for Cheryl Cole.
6. What are you looking for on our site? What do you think should be improved and what do you really like?
I am looking for some inspiration, fresh ideas, cool patterns and new friends. What I really like about BurdaStyle is that members can show others what they have done, they can get advice and they can learn new things. I love the site in general, I would just improve the photos category, it is too different from the site, it shouldn't open in a new window. But this is just my humble opinion. More contests for international members would be great, too!
7. What is your motto?
In life: Every cloud has a silver lining. It reminds me that there is always something good in bad times. In sewing: One learns by one's mistakes.
Check out her Top Ten member creations slide show!