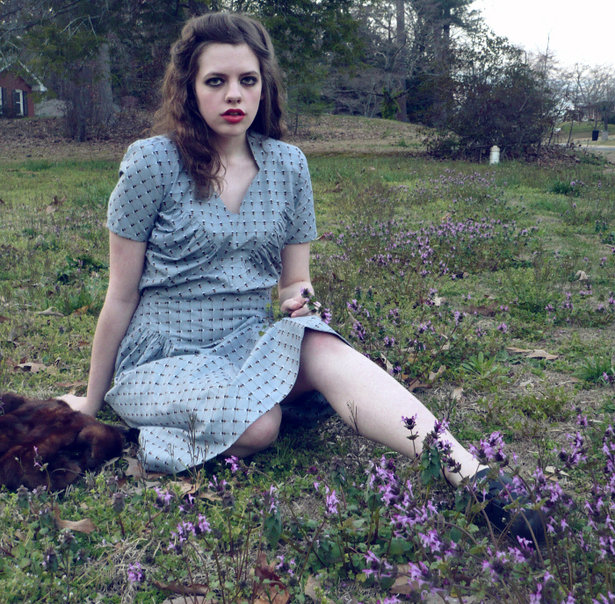 ShareThis
Where are you from and where do you live now?
My name is Morgan. I'm a 19 year old American girl. I've lived in the state of Georgia, outside of Atlanta all my life. I have finished high school and am currently working on getting my GED as I've been home schooled from 3-12 grade. I dream of someday going to design school or majoring in Fashion and Design. I started my own business last year selling handmade doll clothes online.

Little Morgan with her mother's sewing machine
How did you start sewing?
My mom has encouraged me to sew ever since I can remember. I started out crafting with things out of her sewing drawers: like gluing beads and pins to a piece of lace, or cutting up old socks for Barbie dresses. She let my creativity run wild, even if it meant sacrificing some of the things in her stash. I used mom's old Kenmore sewing machine for the first time when I was 4 or 5, to make a pink gingham doll picnic-blanket with some crazy decorative stitches all over it. I always loved fashion whether it was picking out my clothes, or looking at the pattern books in the fabric store with mom. When I was 15, I completed my first pattern and machine-sewn project, when I wanted to make my own Jack Sparrow pirate Halloween costume. Since then, I have been a sewing maniac.
It's hard to pick the favorite project in my studio, but I guess I'd have to go with my Red & Blue Medieval Dress. While it isn't the best-sewn costume I've ever made, I loved designing it. I made it for a costume contest. What's funny about it is that I had planned an entirely different costume, even going so far as to buy yards of expensive dupioni silk for it: but it just didn't feel right. So, a week before the deadline, I changed patterns, fabric, and design. I was in the fabric store for hours, trying to find the right fabric. I ended up choosing a plain tan linen and periwinkle blue broadcloth. Then when I got home, I dunked the linen in two whole bottles of red dye and dunked the broadcloth in gray. The colors I got were amazing (even if I drove my mom crazy with my hogging of the washing machine).
I was sewing in the dining room at three in the morning the night before the deadline. I watched vacuum-cleaner infomercials while setting in the grommets. Then I woke up the next day and went right back to furious sewing. Finally, my mom had to stop me and say: "If it's not cosmetic, then stop doing it: because it's sunset and if you don't take pictures, it's going to be dark!" I slapped on some makeup, my sister laced me up in the dress, and we ran outside to take photos. The result was a really beautiful picture with the red sunset shining on me. It's a good thing I was so late! Then of course, the best part of the story was that after I submitted my entry, I was selected as one of 24 finalists, out of the hundreds of entries they had. I didn't place, but that was okay; because even as a runner-up, I won a book, a free pattern, and a certificate for "The Outstanding Award for Creative Use of a Pattern". That certificate made me feel so proud.
Describe your personal style in 5 words or less
Vintage, Fantasy, Detailed, Indie, & Historical.
Do you have a style icon who inspires your sewing projects? Where do you go to get inspired?
I have so many style icons that it's impossible to narrow it down to just one, so I'll name a few.
Classic movie stars inspire me. Ginger Rogers, Fred Astaire, Basil Rathbone, Barbara Stanwyk, Norma Shearer, Cary Grant, Ingrid Bergman are some of them.
Bette Davis is a big icon, because her style is so chic and easy. She might wear a pair of jodhpurs and a nice blouse, with oxfords; or just as easily, an evening gown with a thousand sequins and a two-foot train. Everything she wore was so detailed, and so edgy. That red strapless dress in "Jezebel", or the coming-home party dress in "All About Eve" with the split sleeves, fur cuffs and pockets: every outfit was a stand-out outfit.
Another icon is Lauren Bacall. She owned the slinky side of 1940's style. Like in the film "To Have and Have Not", when she wore a satin evening dress with big shoulder pads, a stick-skinny skirt and a bare midriff… Bacall: "Give her my love." Bogart: "I'd give her my own if she had that on."
Really anything from the 1940's is great, even though I love all different periods of style.

Retro inspiration
Movie costumes in general are very inspiring. I love the fantasy/period costumes in Star Wars, The Chronicles of Narnia, Pirates of the Caribbean, Ever After, First Knight, Emma, Sense & Sensibility, Pride & Prejudice, etc.

Cinema inspiration
Of course, historical costuming has a huge influence on my style: whether it's the 15th century, the 18th, or any other period. Four years ago, I got "The Kyoto Institute's Fashion" book for Christmas, and I've been educating myself in costume history ever since. Because it's something I really enjoy, I've been able to absorb a lot. I can look at something and tell what era it's from just by the cut and style: and I love that so much. I want to know everything there is to know about it.

Very retro inspiration
What's your sewing experience like?
I usually sew in my room, using the small dresser beside my bed as my sewing table. It sits in front of a big window, and I like to look out when I'm sewing. I have a computer nearby, and I like to look at design/fashion images on it, for inspiration. Usually I cut out paper patterns on my bed, and cut out fabric in the open floor space. While I'm sewing I either listen to radio shows, or music from my iPod (which can vary from movie soundtracks, to alternative rock, to classical, depending on my mood). I keep an ironing board open at the end of my bed (which has really become more of a catch-all surface—a place to keep fabric, scissors, or extra buttons).
My Siamese cat "Scarlett" is also a player in my sewing experience. She's a fabric-loving kitty. Whenever I lay out fabric on the floor to cut it out, she runs in from where ever she is and plops right down on it. She loves to rub her face on it and roll around on the material (especially if it's soft like fleece or flannel). My family calls this ritual "christening" the fabric— like she's giving my project her blessing. Maybe it's good luck, because whenever she does it, everything seems to sew together better!

Scarlett the cat
How long have you been a member of BurdaStyle?
I've been a member of BurdaStyle for over a year, and I'm hooked. I love the community and the inspiration I get from everybody. It's a positive place to share what moves you, and every one is so encouraging. I visit the site everyday: sometimes multiple times a day. Some people obsessively check their email, or face book… I check BurdaStyle.
What is the most frustrating thing about sewing for you? What is the most rewarding?
The most frustrating thing about sewing is having to learn things through trial and error. It's terrible when you have an image of something in your head, and what you sew together doesn't match. It's hard when you make a bad mistake, or when the pattern you use doesn't fit right. Sometimes I get so fed up with a project that by the time I finish it, I hate it for a few days. Then I have to put it away and take a step back until I can overcome the frustration over it not being perfect.
The most rewarding thing is when you learn something and improve your skills without realizing it. When you make something, and you look at it, and you're like: "Whoa… that looks really good. I can't believe I didn't screw that up!" It's great when you look back at your learning progress and realize that you have been getting better and better. Sewing your own clothes is so rewarding, because you get to express just what you want to, and you get to bring your creative vision to reality.
Someone once put me down, telling me that I was just a "homemaker" and basically implied that I was no good for anything but "sewing or whatever". That person had been suppressing my creativity for a long time, and had been pulling me away from doing what I enjoyed. When I removed that person out of my life, I began to grow my wings; and slowly I became comfortable with doing what I wanted again. Now looking back, I regret those years I wasted trying to fit in, by discounting my interests. My advice to everyone is that no matter what someone say to you (even if they are supposed to be your friend), if you have a God-given talent or gift, don't let them stop you from fulfilling that. There is nothing worse that living your life as somebody else.

Mini costume replicas from Chronicles of Narnia and Star Wars!
Check out her top ten member project slideshow!