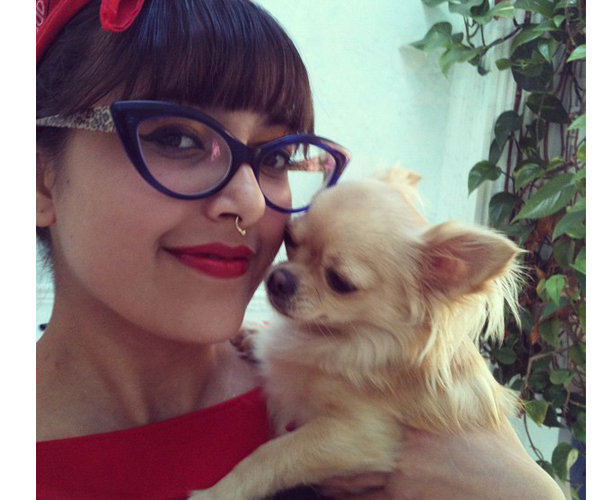 ShareThis
I hail from the concrete jungle of Melbourne's Northwest, a stone's throw from the ever-lit International Airport. I have lived here my whole 20 years and 10 months of this incarnation. Before my time, the subdivision on which my house was built was a drive-in movie theatre.
The street names are Paramount, Columbia, and Forum. It's no freak accident that I've ended up being enchanted by the film industry, writing short scripts since age 9, now studying the trade professionally at Swinburne University. I am mostly interested in Production Design, encompassing my love of quirky costumes and set construction, as I'm sure you may have noticed by the type of dresses I enjoy creating. When I'm not dabbling in visual aesthetics I write music, short stories and monologues. I am a trained jazz and cabaret vocalist, though trying to overcome my irrational fears regarding singing in front of others after forgetting the words during my a Capella solo before a not-so-adoring crowd of 2,000.




How did you start sewing?
I have always been a crafty kid, so putting things together is no foreign notion to my 8 fingers and 2 thumbs. My beautiful grandmother who is no longer with me was an avid sewer, banging up dresses in a matter of hours whenever there was a dance or a date on the cards for the evening. She knitted until her hands writhed with carpal tunnel, and loved me unconditionally until her limbs stiffened, and her eyes lost their glow. She was the greatest support any creative soul could yearn for, allowing me to dye her swirly white mop fluoro pink, line dancing with my friends at my birthday parties, and openly discussing the matters of sexuality, petty point, and hysterectomies with anyone that would listen. I digress; she influenced and shaped me into being the colourful, nonchalant, loving pulp that I am today. I know how proud she would be to know how often I was picking up her old trades. In terms of why I sew, apart from the great fondness I have of loose compliments and bedazzled looks from passersby, I literally can't find the things I want to wear anywhere. And when I do they would cost me enough that I could make myself five dresses for the same price. C'est economique!




What's your sewing secret weapon?
I'm not sure I have a secret weapon. In terms of the speed of which I create things I tend to not care so much for the actual construction but rather how it looks on the outside. I am more fussed about having something new to wear than the achievement of executing a more skilled design. I always have a pair of pinking shears ready to go, and interfacing for my little boo-boo patch ups… my sense of style has always come naturally. I just make what I like to wear!

Tell us about your sewing experiences.
I can't specify a time when I do not have music playing at home. It is either pouring out of my computer speakers, or squeaking out of my pathetic little record player, which for some reason only finds Electric Light Orchestra agreeable. My sewing takes place in various areas of my house. Floors, tables, chairs, to much of the dismay of my poor mother. I sew at all times of the day and am more than happy to sit on my rump and stitch incessantly from 9am to 2am. Sometimes I forget to eat.




Where do you find your inspiration?
I am mainly influenced by films; costumes, art direction, etc. If I see something I like then I will probably come up with my own interpretation. Tim Burton's films are probably my greatest source of inspiration. 1950s and 60s style clothes always win my heart over. Of course, a lot of member projects pull my attention, and I often find myself planning almost exact copies, as sometimes I just can't be bothered being too original. My sewing role models are all people I know personally – family members, family friends… I've grown up with many people around me sewing, including my mother, who took lessons however feels she has no talent in the area.

My dream sewing project would be a high profiling costume for a feature film that does incredibly well at box office and I can sit pretty on my reputation as costume designer extraordinaire for the rest of my days.




Tell us a little bit about your experience on BurdaStyle.
I have been active with this account since November 9, 2010, according to the information on my profile. I did, however, have a more ancient account, which was used solely for purchasing patterns and lurking member projects. My username is actually the name I was tossing up when I was considering burlesque performance. I have a penchant for space related things, thus Laika the space dog, and the fact that I collect Blythe dolls, Doll. It also sounds as "like a doll". I like the site's community, the friendliness and helpful feedback demonstrates a kindness of people. I also find myself getting inspired by certain members and projects and come up with plans of attack as to how I can intertwine these ideas with my own garments. I constantly have BurdaStyle open in a tab on my browser, which I refresh every few hours of delicious procrastination.

What are your favorite BurdaStyle and burda style magazine patterns?
I have bought a myriad of patterns from the site, but nothing comes to mind that I've actually created. I do love the Larissa motorcycle jacket, which was the first pattern I ever purchased. I am still mustering the courage to give it ago.

What is the most frustrating and rewarding things about sewing for you?
I do believe any boyfriend of mine shall require unpicking skills as my temper gets the better of me when I muck up. I have all the patience in the world for sewing until something goes a little wrong. I also don't particularly like cutting fabric as this is the more mundane part of sewing, and mundane just ain't my thing! The most rewarding is putting on a finished garment that fits perfectly, and of course the aforementioned compliments and such from people who bask in my glory for all of five seconds. Working at Spotlight in the dress department means I am forever administering advice to novice sewers. Usually the first thing I do is take a scrap piece of paper and give them the BurdaStyle URL, followed by "don't stress, it's not as hard as it looks!"



Check out the gallery slideshow of laikadoll's favorite member projects.