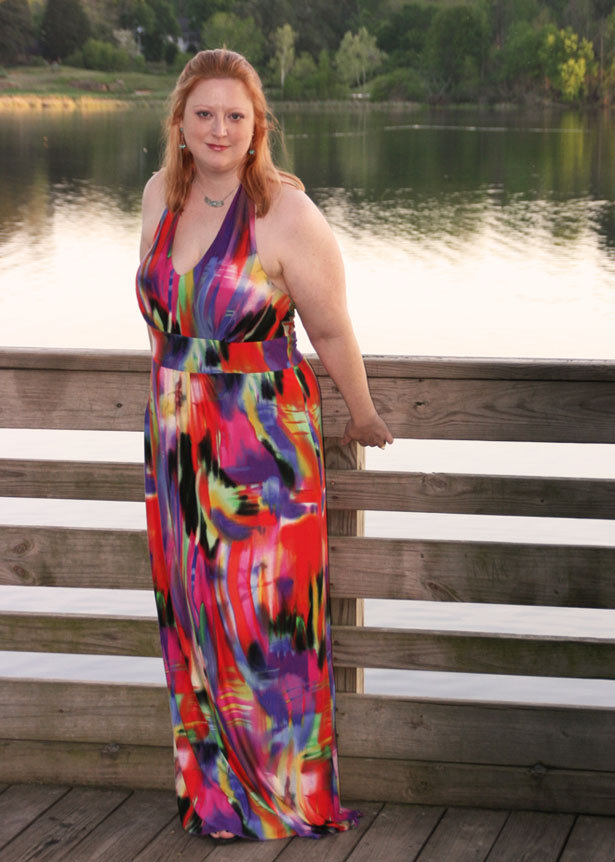 ShareThis
What is your dream sewing project?
My dream project is to make a perfectly tailored dress suit out of vintage Chanel silk tweed (in black/white) that Mom left to me when I inherited her sewing stash. I'd love to make it a cross between that '40s utilitarian style with a structure suited to my curvaceous figure.
The next big thing to make is a silk and lace dress inspired by modern runway looks.
Where are you from and where do you live? What do you do other than sewing?
I was originally born not far from San Jose, CA but we moved around a lot because of my father's job. Eventually we ended up settling in the suburbs of Atlanta, GA. and I've lived here now for almost 20 years. So, despite being a transplant, my roots here are pretty deep. My husband and I have been married for 11 years, and I have a 10 year old son and 8 year old daughter. For my 'day job' (I work graveyard shift), I work for a major telecommunications company.

A little ladykatza with her parents
Outside of sewing, I play a lot of table top role playing and board games. I also love to cook, garden, read and dabble in amateur photography. Usually, I end up sacrificing cleaning to have time with family. There's very rarely a dull moment in my house.
If we were to come to your town, where would you take us?
The best fabric store in the Atlanta area is Gail K Fabrics. It's a mom and pop shop that is like a treasure hunt. Even when I go in there with very specific goals, I always walk out with something else. Their stock is literally packed from floor to ceiling.
My favorite antique shop is called Big Shanty Antiques & Gifts. I always find awesome hats and costume jewelry there, and the occasional vintage pattern/fabric score.
If you were to visit in the summer I would take you up to Lake Allatoona at Red Top Mountain for a picnic and swimming.
Tell us about your sewing journey.
My basic knowledge of sewing came from my mother. She had been a victim of polio and had such a weird shape that she had to sew almost everything she wore. Because her arm and leg would fatigue so quickly, she would have me lay out and cut the patterns for her. This is where I learned about the importance of laying the fabric on grain, and how to maximize fabric potential. She made all of my Renaissance Festival costuming. I never really got behind the sewing machine though, and it would be years before I would try it for myself.

ladykatza's mother.
I started to truly get into sewing about five years ago when I was trying to put together a Gothic Lolita outfit for Dragon*Con. I had combed the internet for a video of how to install a zipper and could find nothing. A couple of disastrous attempts using the Big Four patterns and I gave up for a while. Fast forward a couple years and I decided I wanted to make a straight skirt. Once again I went googling in search of a tutorial and, low and behold, the internet had exploded with sewing!
And here is where what Mom had taught me and what I wanted to do for myself started to combine. Through the happenstance of what I call "link surfing," I found BurdaStyle and several of its members' blogs. Here, there was a wealth of information sharing about tips, tricks, great patterns and, best of all, book reviews.
That's how I started sewing, but I continue to sew because it is almost impossible to find anything in the stores that fits well. Unless, of course, it's made out of knit. I love knit and sew with it frequently, but I find myself wishing for skirts, blouses, and suits that are tailored. Since I have broad shoulders, a large bust and, well, lots of curves, tailoring is not something I can buy or afford to have made — so I sew.
I think my two greatest accomplishments were making a Victorian corset, and my '40s dress. Both were projects that required the greatest amount of new knowledge to accomplish.
Who or what inspires you?
In the realm of designer inspiration, I love Oscar de la Renta and Ralph Lauren. I've heard them referred to as 'safe and a bit old', but I've always had a classic taste for clothes. Because my body type is more Sophia Loren than Audrey Hepburn, I prefer the tailored, clean looks. This doesn't stop me from branching out, however. That is the beauty of being able to sew your own clothes.

Some of ladykatza's inspirations.
My big "Style Icons" list is a bit long. I love Hedy Lamarr, Katherine Hepburn, Sophia Loren, Dame Hellen Mirren, Paloma Faith and Christina Hendricks. Lately, I've been using Pinterest as a mood board.
What's your sewing secret weapon?
My secret sewing weapon is a great reference library. As I already mentioned, the online sewing community has helped me put together a very well-edited library. My proverbial "sewing skeleton-in-the-closet," though, is I often use embellishment to hide botched seams and hems. I haven't had to do this so much recently, but it's always a good stand-by.
What is your sewing room like?
My sewing and office area are combined. I take up half the sunroom, the other half being our library and computers. My husband and I are both computer nerds and so we have one for each household member. This is where the family hangs out and I try to catch sewing time whenever I can. Friends often come to hang out and talk, too. If it's the middle of the night and I'm the only one awake, I love to listen to music or have silly sci-fi shows playing on my computer.

ladykatza's sewing room (via her Flickr page).

ladykatza's inspiration wall (via her Flickr page).
How did you find BurdaStyle and pick your username? What keeps you coming back?
I've been a member of BurdaStyle for three years now. My username has been my online moniker for almost 15 years now. Like I said, I'm a geek and a nerd and proud of it! I visit almost every day, though sometimes once or twice a week. I love looking through all the member projects to see how people interpret patterns, bring vintage styles modern or make contemporary looks fit them.
What is the most frustrating thing about sewing for you? What is the most rewarding?
The most frustrating thing for me is a lack of time, or large blocks of time. I often have very ambitious ideas that I want to make right now, yet it takes so long to make them happen.
The most rewarding thing is finally completing a well-made project that looks so lovely hanging in my closet.
Discover ladykatza's top ten favorite member projects!