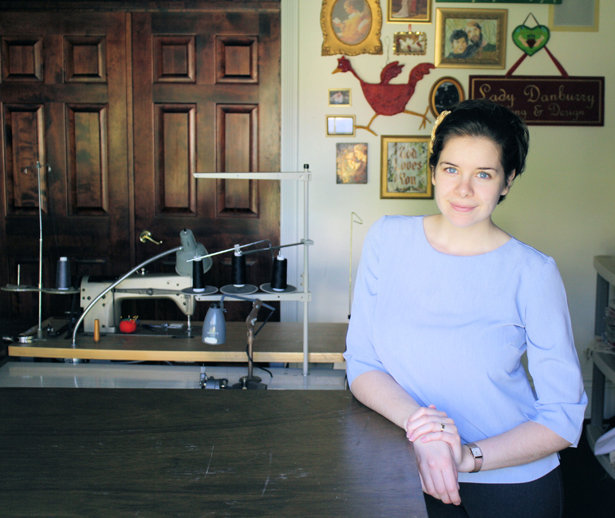 ShareThis
Where are you from and where do you live? What do you do other than sewing?
I'm from Highland, Utah, and I'm actually living in my childhood home, my parents moved away, and my husband and I were appointed the caretakers. Other than sewing, I really like to cook, garden. Currently, I'm trying to exercise regularly, but I just hate doing it. I also used to own a tailoring shop that I sold just a month ago.

A young LadyDanburry!

LadyDanburry's beautiful home.
If we were to come to your town, where would you take us?
First, we would go for a drive in the American Fork Canyon. It's basically my back yard, and it has the best mountains you'll ever see. Next we would go to Communal restaurant because it's my favorite. Then we would go to Deseret Industries. It's the best thrift store in the whole state and it is where I get most of my vintage fabric and buttons.
How did your sewing journey begin, and makes you continue to do it?
When I was growing up, my mom was a costume mistress for a ballet company, so I was always around [sewing] machines and fabric and clothing construction. She taught me how to thread a machine when I was about six, and it has just come naturally to me since then.

LadyDanburry as a princess.
I sew because I love it. It's just how my brain thinks. Also, I've never been able to fit properly into store-bought clothes. Now that I've been doing it for so long, and I'm fast enough, it's usually less expensive to make my clothes.
My biggest sewing achievement is running a tailoring shop all alone for two years. I sewed an average of 11 hours on weekdays, I altered just under 5,000 men's suit, formal wear for two wedding seasons and all the other stuff, as well.
What (or who) inspires you?
Most of my projects are vintage inspired. Lately, I've been loving Faye Dunaway and Katherine Ross. My husband and I love to watch old movies, and I usually see specific details in the costuming that send my head spinning and that I want to incorporate into my own wardrobe.

LadyDanburry's moodboard.
At this very moment, my biggest inspiration is my seven-month old niece, Ellie. She's the cutest baby I've ever met and I just want to make everything for her. Also, I've been feeling really inspired by the change of season.
What's your sewing secret weapon?
My main secret tool is a brand-new sharp razor blade. I get a new one out of the box every morning. It's brilliant for taking things apart, so I use it mainly when doing alterations.
My next trick is tailors chalk. Everything is precisely marked and prepared before I start a project, and it makes the whole process move like a factory. The biggest thing for me though, is that I don't start a project until I have the whole plan plotted out in my brain. That way, I don't get half-way through and realize it isn't going to work. The construction process is usually what I think about when I'm falling asleep.

LadyDanburry's sewing room and sewing machine
What is your sewing experience like?
I always have Pandora playing. Lately, I've been listening to Pedro the Lion, The Cure and Pat Benatar. I have a studio in my house where I do everything. My mom built the tables and the amazing fabric storage shelves. I am an all day sewer. Once all my real-life responsibilities are accomplished, I basically live in my studio.

LadyDanburry's fabric collection

LadyDanburry's photo collection, in her studio.
What is your dream sewing project?
My dream sewing project would probably be Halloween costumes for my kids, if I ever have any. That seems like pure magic.
How long have you been a BurdaStyle member? What keeps you coming back?
I have been a member of BurdaStyle for [about six] months. I chose my username, LadyDanburry, because it has been my design name for years.
My favorite thing about the site is that it literally covers the whole world. The first week I joined, I was telling my husband how amazed I was that there were people my age doing exactly what I do, in Taiwan, Germany, The Czech Republic — everywhere, really. I check BurdaStyle every morning before I start working.
What is the most frustrating thing about sewing for you? What is the most rewarding?
The most frustrating thing for me is jersey stretch knit. I hate it so much I won't work with it. I won't even wear it.
The most rewarding thing is wearing something I've made, or having someone else wear something I've made. It just makes me feel like a real person.
Discover LadyDanburry's top ten favorite member projects!