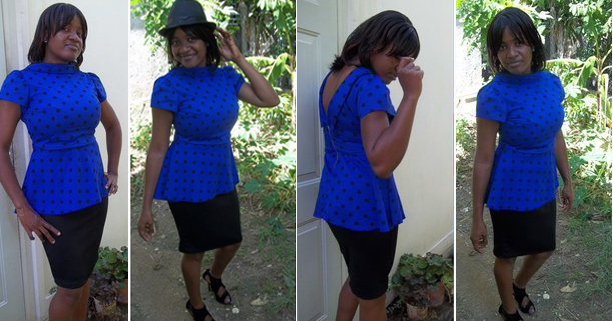 ShareThis
This week we share our interview with amazing BurdaStyle member kisses.
Where are you from and where do you reside?
I grew up in Kingston, Jamaica and I still reside in that beautiful country. Jamaica is a tropical island where the land is green and the sun shines almost everyday except when there is a storm or some different weather at sea. It is made up of an exciting mix of art, music, restaurants, great sportsman and sportswoman.




How and/or why did you start sewing?
I've grown up in a craft inspiring environment; my mother, grandmother and auntie are real craft persons which have inspired and encouraged me a lot. At age 10, I used to sew clothes for my dolls and constantly watch my mom to see how she cuts and executes a style. Sewing was my mommy's only source of income and she always expressed a sense of accomplishment when she made a piece of garment and her customers were very pleased and satisfied with the results.
In 2003, I seriously became interested in sewing because I don't like to look the same as everyone else. I always strive to look different and aimed to stand out from the crowd. For instance, you would buy a piece of garment and wear it out and coincidentally at the same time someone has it on. From that time I clearly knew I wanted to sew my own clothes and it was from there that I went to a 12 weeks garment construction class in 2004.
In, Jamaica I am a computer technician where I fix computer related problems. I am a 'DIY' kind of girl where I try to fix a given problem without relying too heavily on a tradesman. I will sit for hours trying to come up with a solution to the situation.
Sewing is my life, I fell head over heels in love/obsessed with it. There and then I found my true passion, which is an amazing feeling. I always have something to look forward to and get really excited. I am always thinking about the next style in my head, surfing the internet the [every] chance I get for the latest trends and anxiously awaits on the next burdastyle magazine.
I love sewing so much that I am considering taking my hobby and turning it into my second career as to become a fashion designer. I so want to enter Project Runway in the future.




What trick or technique do your sewing projects always tend to include?
I really don't have a sewing [secret] weapon. I do not consider myself a fast sewer because I want all my projects to look really professional, like it was store bought. I love when my clothes are very neat inside and out and getting the perfect fit. People [often] say, "Where did you buy that?" and I say, "It is all me, I made it." They [are] so surprised at the finish work.
I try different techniques that I see on BurdaStyle, presently I am now constructing my own label to put in my garment[s] to add that finish touch.
I challenge myself each week to make a new garment despite the little time I have whether it is a dress which I love making. My sense of style comes naturally and I will choose a lot of design elements from different style and make it into one.
Tell us about your sewing experience.
Presently, due to lack of space, I currently sew on my counter top in my kitchen. When I finish sewing I have to pack up the machine back into the box and place it under my table. This is very hectic and frustrating at times but I have to make up my mind to do it and in the end I am rewarding me with some awesome garment.
It is my dream one day to have a room just for sewing where I would have all the tools readily available and not packed away. I would locked myself in there and just sew away listening to quality relaxing music. I am so working on that dream… Only time will tell.
I mostly do all my drafting and cutting on Sunday evenings when I can put my cutting board on two blocks in my back yard because I don't have a permanent space for it. Then on Fridays I will sew the style that I had cut the Sunday before.
I will sew anytime of the day once I have time on my hand. I work a regular 9 – 5 job from Monday to Friday. I can't wait for Friday to come and work to be over so that I can hurry home to start a new project to wear to church on Saturdays. I stay up the entire Friday evening into night and finish that project even when my eyes start to bleed from tiredness and I am so determine not to stop until the garment is finish.
If, for some reasons, I don't go to work I try not to waste the day. I quickly muster up a style and begin executing it.




What or who inspires your sewing and style?
I really don't have a particular style icon. At times I like how Halle Berry, Jennifer Lopez and other women dress. I like the designer [label] Alexander McQueen, the sense of style is so different. All designers have something to offer so I will take from each of [them] and formulate my own style. I like things that pop or will give a style an added look such as a pretty sleeve, unique neckline, clean lines, cuts or how it shapes. I am a lover of fabric so most [of the] time the fabric comes first and the design second. I can find myself standing in a fabric store for hours staring at one print while my brain starts to manipulate the style. I always try to aim for quality fabrics as this will help to make the finished design look very posh and expensive. Quality does not have to be expensive it means that the fabric must have good thread count and able to bring forth the design that you create.
My inspiration comes from just about anything: places, people, magazines television shows such as Project Runway, Project All Stars and movies in general. Not to leave out the internet where daily inspiration and ideas for clothes are constantly changing and the trends come like clock work. My favorite magazine, burda style produces something unique every time as well as other companies such as Simplicity and Vogue.




What is your dream sewing project?
There are a lot of dreams in my head, such as making my own wedding dress, but the biggest one is to be able to design my own fabric and then construct the style. The other dream that I want to see materialized is to create my very own handbags, purses and shoes. Oh la la shoes, can you imagine? That would be great!!!
What is most frustrating and most rewarding about sewing for you?
The most frustrating thing about sewing for me is when I see a style that I like and it took me hours to figure out the execution or finding a mistake too late and a lot of time is wasted… I am currently challenged right now because Jamaica is lacking in having quality polished looking expensive fabrics in the store. They mostly stack satins and I am not really a lover of satin.
The most rewarding thing is when I go through all the heartache and the result is just superb and Ilook in the mirror with pure happiness and utter the words, "I made this." It is a feeling most cherished – a style being imagined and dreamed of, now materialized and one of a kind. It is not in any store and cost way less.

If you were to give a beginner one piece of sewing advice what would it be?
Patience is everything, start with a simple project and then gradually challenge yourself each time around.