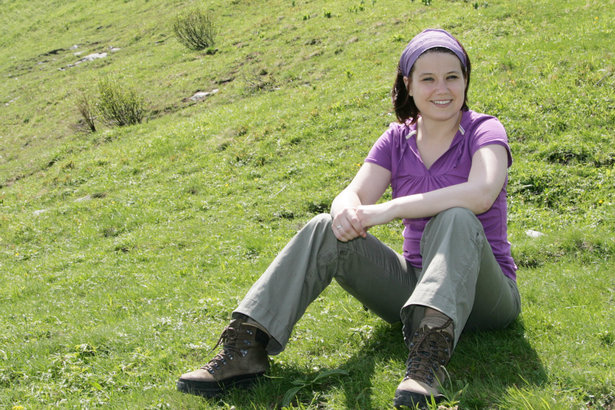 ShareThis
This week we share our interview with amazing BurdaStyle member kihli
Where are you from?
I'm German, I grew up and spent most of my life in several places in Bavaria, but moved to Switzerland about five years ago. Now I live in a small town near Zurich. I enjoy it a lot, as there I have the beautiful city of Zurich but also the mountains with its nature nearby.
<Tell us a little about your sewing history and experience.
When I was a child, my mother used to make dresses for my sister and me by herself, so home sewing was always quite familiar to me. I also made a few doll clothes myself, which I sewed by hand, until I learned the very basics of machine sewing and "serious" garment sewing in school. Since then, the possibility of making my garments by myself was always in my head, but my parents didn't allow me to sew much, because of my not so brilliant grades in school. So, one of the first things I did after finishing my studies was buying my own sewing machine and starting to sew garments. Not always successful, but I've learned a lot by trying and trying again… After three years, my sewing machine, which was a rather cheap model, broke down. Then I got a new Bernina sewing machine for christmas and that's when I started to sew a lot. I always have a sewing project going on since then. Besides sewing, I love to bake (and eat) cakes, I enjoy reading and I play the violin. But of course it's not so easy to do all those things, as sewing takes most of my free time.
Sewing is the secret weapon! I'm a short person, so store-bought clothes often fit me badly. In Germany and Switzerland, there are very few possibilities to buy petite size clothes, you mostly only get the standard sizes. But having clothing that fits and is not too long makes a huge difference! This is what I care most of: that the garments I'm making do fit me properly (although this is not always an easy task). I found out that I look best in dresses, too, so this is what I sew the most: dresses to wear for any occasion and for every day.
I sew whenever I have an hour of free time. I have my own sewing room – it was supposed to be our living room first, but quietly and somehow automatically it became my sewing room – so I there is no need to put everything sewing related away between sewing sessions, so I can easily restart sewing and continue with my sewing project, even if there is only little time. I like to listen to the radio or some music while sewing, and if I have some hand sewing to do I also watch movies alongside. Really a relaxing experience that distracts me from everything else!
Where do you go to get inspired?
I adore the styles of Audrey Hepburn and Jackie Kennedy, but for my own projects, I mostly get inspired by other members and projects here on BurdaStyle, as well as on sewing blogs. The sewing community also helped me to find my own style. There are so many different styles possible when you can make your garments yourself! Now it sometimes happens to me that I find the garments in the stores to be rather boring and uninspired. I also get a lot of inspiration by vintage patterns. I have a lot of them, some of which I plan to sew up one day, and some only to look at because they are so beautiful. Recently I started to collect old German sewing magazines, too. I think I constantly get a lot of inspiration, but unfortunately there is by far not enough time to realize only half of all the ideas!
What is your dream sewing project?
The dream sewing project for myself is actually a pair of jeans! So far, I've been too frightened to try it, as I find it very hard to get a good fit in pants, but it is on my planned projects list for this fall and winter. It would be so cool if I wouldn't have to buy these anymore, and sew up a pair of them in an afternoon instead!
Another dream sewing project – which will probably never get to realization – is to design and make a great outfit for an old lady of today (thinking especially of my German grand-mother). In Germany, elder people mostly dress in very inconspicuous clothes in light grey or beige colors, often too big for more comfort. This is so typicall that there exists it's own, predicative expression for that style of clothing: "rentnerbeige", it could possibly translated to "retiree's beige". But I still think that it must be possible to make comfortable, beautiful clothes for the elderly which reflect their dignity and experience of life!
What is the most frustrating and most rewarding thing about sewing for you?
The most frustrating moments in sewing are mostly technical difficulties, when a certain technique doesn't work out. For example, I still have problems with jersey neckline bindings, they always look wonky and distorted, I hate that. And I still am not able to sew in a normal centered zipper by machine. I don't know why but it always turns out with the fabric stretched out and the two sides shifted against each other. Really frustrating.
Another frustration topic is when I have a garment finished and then I notice that it looks boring, or doesn't flatter me, or the style is just wrong for me. Luckily, that does not happen often. On the other hand, this is the most rewarding thing about sewing: when I have a garment that totally reflects my style, looks good, and fits perfectly: this makes me really proud.
If you were to give a beginner one piece of sewing advice what would it be?
Take your time, [find] a pattern and fabric that you love, and just do it!

I did "infect" two of my friends with sewing fever. They had never worked with a sewing machine before, and first, they didn't believe that they could make a garment all by themselves, but I told them how and helped where necessary, and each of them made a beautiful dress that fits. Now, both have their own sewing machines and are working with them! My experience is that you don't need a big knowledge of sewing to start making your own garments. Even if the very first garments will not be perfect, they will be at least wearable, and one is getting better with sewing very quickly. Connecting with other sewing enthusiasts, via the BurdaStyle community or sewing blogs, helps a lot though. I learned a lot by that, and I also think it's pretty cool to connect with like minded people all over the world, to help out with sewing problems and to get inspired!
Check out kihli's 10 favorite member projects in the gallery Featured Member Favorites: kihli.