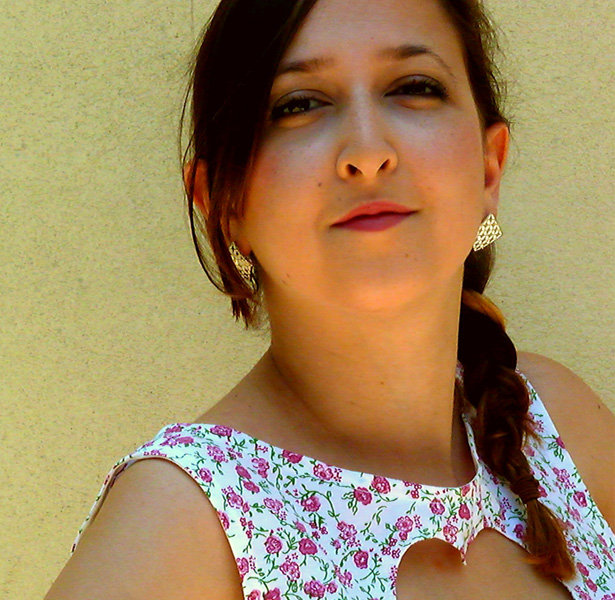 ShareThis
This week we share our interview with amazing BurdaStyle member Kess.
Where are you from and where do you live?
I live in the south of Israel. As many of you know, Israel is a very "lively" place to live in. For example, the area I live in has been under a barrage of rockets for the past years, it takes some getting used to, but we're kind of used [to] that state of mind, much like Americans are used to living with hurricanes (which I can't imagine!). There's something really unique about living here, there's a sense of unity that exists because of the security situation and how small Israel is, and it kind of makes you feel like a part of something, and I love that feeling!
I was born in the US but I've lived in Israel most of my life. I do pay frequent visits to US which help me maintain my English, and allows me to buy more and more sewing books for my growing sewing library.
Sadly, the sewing community in Israel isn't as developed as it is in other parts of the world and there aren't big fabric and notions stores where I can buy supplies.There are only little bazaars that don't keep track of the kind of fabrics they have and their quality. I really hope that the sewing wave will eventually reach this area!




How and/or why did you start sewing? Do you have any other hobbies besides sewing?
I went to a quilting class in one of the summers I spent in the US and I loved it! I had an amazing teacher who inspired me to push myself creatively and we ended up meeting every summer so sew together until she regretfully passed away three years ago. You want to know the crazy thing? The first time I looked at a sewing machine I immediately knew how to thread it. I know it's pretty intuitive, but I look at it as a sign that I was made to sew! Or at least it makes me love sewing even more.
I stopped sewing for a while, and went back and forth with sewing, like a mad woman to not touching a sewing machine at all. I even went to the length of buying a sewing machine of my own, but after a few months of vigorous (and honestly, pretty terrible) sewing I covered the sewing machine up and didn't touch it for over a year.
Two years ago, I came across the online sewing community and was immediately pulled back into the vortex of sewing and didn't look back. Who knew there was such a huge community of people that loved to sew and loved to share techniques and ideas? I feel so fortunate to be part of it! Not only does it give me ideas but it [pushes] me to try new techniques and improve my knowledge of fabrics, fashion and sewing history.
I can honestly say that at this point, I don't think my sewing is terrible at all! I'm really proud of how much I grew (sewing wise. My waist has grown as well, but I'm not very proud of that) and how much I've learned in the past two years. I learned everything either on the internet or from books – it's amazing what the written word can do!
I feel like sewing is more of a way of life for me than just a hobby, every time I see someone wearing something interesting I immediately look at it profusely (and sometimes embarrassing myself, I'm sure) to figure out exactly how everything is sewn, I spend a lot of my time thinking of new ideas and I am embarrassed to even think of how long I spend on the internet looking at other blogs and sewing inspiration.
I'm thinking of making a career out of sewing, but it's too early to say, as of now, I'm trying to learn as much as I can and enjoy myself!
I have a lot of other hobbies, I paint, sing, play music, but as all of them are quite "artsy" I find that it's difficult to focus on more than one thing at a time, as it's difficult to be creative in so many fields at the same time. The only thing I do regularly and I don't know if you can call this a hobby, is reading. I LOVE it, and I really can't do without it. My favorite kinds of books are books that teach you about other cultures or history through their stories. I just finished "A World Without End" by Ken Follett, it's about the Middle Ages and I find it fascinating to learn about that time through stories that I can connect to (and I am SO thankful I live nowadays).




What's your sewing secret weapon? What trick or technique do your sewing projects always tend to include?
My sewing secret weapon? Being ok with not everything turning out perfectly. I think that accepting that makes learning new techniques and trying new ideas SO much easier. I try and convince myself not to be over critical with my work (I still struggle with that) and accept the fact that next time my technique will be better (if not perfect.)
Technique? Self-made bias tape! I love it and I think it gives the garment such a beautiful handmade look to it! (when I sew with slippery fabrics I use TONS of starch on the fabric and then proceed to make the bias tape). I also LOVE fabric covered buttons! It's such a unique touch to clothing and I just love the soft vintage look it creates!
I would say that my sewing niche is the very common vintage girly looks that a lot of sewers seem to be drawn to. I don't know what about it is so appealing to sewers (maybe that the garments back then were so much more intricate and detail oriented?) but I definitely have a vintage quality to the clothes I sew (except for the occasional silver shirt). I'm mostly attracted to garments that have details that RTW clothing usually doesn't have: unique collars, embroidery and special buttons.

Tell us a little more about your sewing experience.
I cut my fabric on the dining room table (which is a huge update compare to cutting it on the floor) and I sew in my bedroom. I have this big long and narrow desk that I have my serger and sewing machine on. If I ever think of investing in more sewing equipment I think the first thing I'll buy is a cutting table with a huge rotary cutting mat.
I listen to audiobooks while I sew! I've noticed this especially helps me when doing tedious tasks like matching stripes and hand sewing buttons (or taping 30 page PDF patterns ahem ahem). I'm currently listening to the Harry Potter series (for the 300th time) but I am open to other recommendations!




Where do you go to get inspired?
I get most of my inspiration from the internet. I follow quite a few blogs and I love to see what other sewers are making and follow (and take part) in discussions about sewing. There are so many tutorials and ideas out there! One of my favorite things to do is find a picture of a garment that I like from a movie (usually period movies) or just a piece of clothing that's out of my price range, and try and draft it myself! I try not to "copy" it but add my own take to it, but the challenge of making something I crave come to life it thrilling!
A few weeks ago I saw "Mrs. Pettigrew Lives for a Day" (great movie by the way!) and I saw this beautiful blouse that Amy Adams wore in the end of the movie that had this overlapping tie front and I immediately decided I had to make it. Check it out here! I now have it in my closet and have worn it a few times. I just think it's so cool that as sewers we can bring back styles and ideas that we like that aren't necessarily in fashion or can be made in RTW.

What is your dream sewing project?
My dream is to make my own wedding dress.
Even though I am still quite young and don't plan on getting married any time soon, I do find myself thinking about it and groveling over other sewer's wedding dresses (though I haven't gone as far as planning it!). I'm quite afraid I'll lose my nerve and never actually sew my own dress, but a girl can hope!
I also kind of wish [get] to go to more fancy events that will give me a reason to wear fancy dresses I sew. I don't know why, but I haven't had one single event since I started sewing seriously, I try not to think too much of it (I know this doesn't imply great things about my social life). I have a friend who's kind of a celebrity here in Israel and I'm going to make her a dress for an event, I've been planning it for a while as I want It to be glamorous and special, so it seems that as of now I must live through her!




What is the most frustrating and most rewarding thing about sewing for you?
The most frustrating thing for me is that I always think that projects will be a breeze and sometimes they turn out to be quite a struggle. Even though I don't lose my nerve, I kind of get frustrated with myself for taking so long. I rarely plan for projects to be longer than a day or two – even though they almost always are, you'd think I'd have learned! I also sometimes try to rush things at the expense of doing things patiently and correctly.
Like I said before, I'm usually inspired by a piece of clothing I see and then I run to try and draft it myself and sometimes don't think things [through] thoroughly. For instance, a few weeks ago I saw this beautiful wrap dress on a clothing site and decided to make my own version. While sewing, I ended up changing things and only after I sewed a few very important (and long) seams did I try the dress on only to realize that it looks like a bathrobe. The only way to fix this is to rip out the seams, as that is the last thing I want to do, it's sitting in my fabric pile. I've finished at least three project since then and I can't face picking it up!
I love drafting my own patterns, I usually get inspired by an existing garment and I enjoy figuring out how to turn it to a two dimensional pattern. It's my favorite part of sewing! I have my own bodice sloper that I created and I base everything on it, so it's like I have my own custom made patterns!
Also, another part of sewing that I love are the compliments (oh come on! You know you do too!). I love that people are so amazed that I actually made a garment myself; it's such a great feeling! About two months ago I was visiting Princeton, New Jersey, and I walked into a boutique wearing a shirt I made. I started talking to the owner of the boutique and then out of the blue she said she loved my shirt and asked me where I got it! I WAS SO EXCITED! I told her I made it and somehow I ended up making a few shirts for her to sell in her store. This was such a great sewing moment for me!

If you were to give a beginner one piece of sewing advice what would it be?
Be patient! I think this applies to sewers in all levels but especially to beginner sewers – not everything will turn out perfect, and even if you make a mistake (and I promise you will!) it's a learning experience. I apply this to myself as well – don't be over critical of your work and accept that sewing is always a learning curve and your life will be much easier, try and enjoy the process rather than stressing over the results.