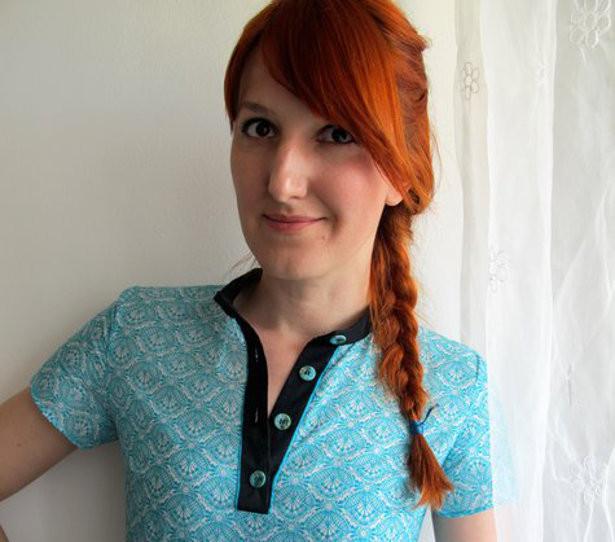 ShareThis
Meet our newest featured member, Vesna Popovic, also known to the BurdaStyle.com community as, kelerabeus. She quirky, cute and has the coolest fire-engine red hair we've ever seen. Get to know more about her, how she learned to sew and what creatures she most like on and off her clothes.
Tell us a little about yourself.
My name is Vesna and I come from Serbia, a small Slavic country in Southeast Europe. In Slavic mythology my name stands for goddess of spring which I think is very awesome, although my favorite season is Autumn. I love cooking, cold weather, coffee, comic books, Florence + the Machine and any movie featuring Gyllenhaal siblings ever made.
As much as I claim that I don't believe in horoscope it seems that I'm a textbook definition of Capricorn – stubborn, opinionated and altogether not an easy-going person at all. I also have a cat that is almost as stubborn as myself.

My sewing corner, where I have to fight my cat for the chair. She always wins.
Where are you from originally, and where do you currently live?
I was born and raised in a small village in eastern Serbia, I moved to Belgrade when I was 19 and I live there ever since.

My favorite make from this summer, a dress made with pattern from 1990. Burda
Do you have a day job besides sewing?
I'm an archaeologist which, I'll admit it right away, sounds way cooler than it really is! A couple months a year I work on excavations, knees and elbows deep in dirt and usually under the worst weather conditions possible. And that's the fun part, since for the rest of the year my job consists of filing endless pages of fieldwork documentation and processing gazillion finds that came from excavations (and a backlog of them that accumulated over the years). The most common reaction I get from people when they hear what I do is: "That was my dream job growing up!", which I kinda understand – Indiana Jones made it look way more awesome than it is in a real life :) Although to be honest, it still is kinda awesome and I love it.

My old Barbie doll and part of her wardrobe, everything is made by 10 year-old me!
How and when did you start sewing?
Growing up I was always a very crafty child – my mom thought me how to knit, crochet and do embroidery and I loved it all. But what I was most obsessed about was definitely sewing – my Barbie doll was the only toy I was interested in and I was making her all sorts of outfits all the time. Also, my aunt is a seamstress and my mother spent years working in a sewing factory, so sewing was always present in our family. The sewing machine I'm working on today is the one that my grandpa bought for mom around the time I was born. Little did he know that, fed up with all the sewing she did for her work, mom wasn't very enthusiastic about continuing it at home – growing up I believed that the machine was broken since that's what she was always claiming in order to get away from hemming the curtains and my father's jeans. It wasn't until years later when I showed interest in sewing that the truth was revealed and my mom got exposed, but by then nobody cared that much anymore anyway (dad included :))
Through my teenage years I had multiple more or less unsuccessful attempts of making my own clothes and it wasn't until January of 2009. that I started sewing for real. I needed a winter coat and I didn't have the money to buy one, but I did have sewing machine and black wool fabric in my mom's stash. So I borrowed Burda magazine from a friend, went home for Christmas holidays and sewed myself a coat. Back then I wasn't yet aware of sewing blogs and online tutorials – my only source of information were instructions from the magazine! The coat turned out quite nice (considering it was the first one I ever made!) and I wore for the next two winters. That was my first time working with a pattern and I was hooked immediately. I started collecting Burda magazines, buying fabrics and sewing all sorts of stuff – and I haven't stopped ever since.

My young and beautiful mom from her days in sewing factory.
Do you prefer to work from patterns, or draft your own?
Oh, definitely working from patterns! I never really learned how to properly draft a pattern from scratch, and I won't lie – that sounds a bit intimidating to me! On the other hand, I have mastered the art of frankensteining and I have no problems with making anything I want based on some basic patterns. By now I have several tried and true patterns that I use as slopers whenever it's needed.

Some of my favorite pieces are my foxy sweater and shirt, where I combine my love for sewing and embroidering.
How would describe your personal style?
I love feminine and slightly vintage oriented silhouettes with cute and interesting details, and that is what I'm wearing 90% of the time. Often I get stopped on the street by nice older ladies just to complement me on my outfits, so I guess that pretty much sums it up. I'm not a very modern girl I'm afraid :)
In sewing I gravitate towards intricate designs and I love making outerwear. I'm the biggest fan of colors and I wear them ALL. At once if possible. I also love florals, stripes, polka dots and all kinds of novelty prints. Show me anything with foxes or cats printed on it and chances are I'll squeal.

Fabric shopping is my favorite part of sewing!
What's your sewing secret weapon?
Just patience. I'm a really slow sewer (and I mean REALLY slow) but I came to terms with that. Whenever I try to rush things I end up making mistakes, so I learned that the smartest thing to do in sewing is to just take my time. And also determination – due to my natural stubbornness I have hard time with giving up on things which translates a LOT into my sewing. If I started making something, come hell or come high water I will find a way to make it work and finish it. Otherwise it'll haunt me forever!

I love to make a sketch before I start a new project, this on is for a winter cape – one of my dream projects.
Who or what inspires you? Shop windows, magazines, vintage patterns…
Pretty much everything – sewing and fashion blogs, television, magazines, people on the streets. Browsing through Instagram and sewing blogs is always a sure way to kick start my sewing mojo. Also, I watch A LOT of TV shows (too much probably) and I love to draw my inspiration from their wardrobe. For example, lately I'm very much into Mindy Lahiri's closet – I want to recreate every single one of her outfits!

Here are details from the wedding dress I made for my friend Olga and tiny dress I made for my niece Simeona, both contenders for the favorite things I ever made.
What has been your favorite project recently?
A year ago I sewed and hand embroidered a wedding dress for one of my best friends and that is, hands down, the favorite thing I ever made. Also, this June I became an aunt to a most beautiful baby girl and I quickly realized that making tiny clothes is the most amazing kind of sewing! So I predict a lot of tiny sewing in my future and I have a feeling that every one of those projects is gonna be a contender for my favorite one.
If you were to give a beginner one piece of advice, what would it be?
Don't underestimate yourself! People are often intimidated by the mere idea of making their own clothes, believing that is far more complicated than it is. Starting with simple and straightforward things like pillow cases and tote bags is just fine, but I'm not sure how much will that inflame your passion for sewing or inspire you to take on another project. Challenge yourself from the start and choose the projects that excites you, not the ones that you're told are in your capability range – if tote bags is what you're passionate about that is totally cool, but don't start with simple squares of fabric just because you believe that you're not capable for anything more complicated! When it comes to sewing I honestly believe in power of challenging yourself, from the very beginning.

My favorite trench coat – I made it by frankensteining several Burda patterns and drafting some additional pieces on my own.
If you had all the fabric, money, and equipment at your fingertips, what would be your dream garment to sew?
I really love outerwear and I enjoy making it, so if I were given all the resources in the whole wide world I would love to make the most amazing tailored winter coat or even better a cape, with the help of all fancy and classic tailoring techniques that I have never used before bud I would really love to learn. It would be EPIC.
Anything else you'd like us to know?
I gravitate towards very feminine and ladylike looks, probably in unconscious attempt to compensate for the fact that I'm not very dainty nor sophisticated girl by nature. I'm tall, clumsy and not really graceful at all I'm afraid – I'm known to stumble and fall a lot and my legs and arms are usually covered in bruises all year long. Some of my friends have this theory that my feet are too small for my frame (I'm 177cm tall and my shoe size is 38) which affects my overall stability. I kinda like to believe that's the explanation, so you know – it's not my fault :)

My vast collection of Burda magazines.
If you could choose a lifetime subscription to any fashion magazine, what would it be?
Well, this is a really easy one :) That would definitely be BurdaStyle, no doubt about it. Honestly, here in Serbia we don't have as big choice of sewing magazines as in some other parts of the world, so from the start I was always oriented on Burda, almost exclusively. And I think using Burda patterns from the early stages has shaped me as a seamstress and influenced my attitude towards the sewing in a lots of ways, and for better I believe. It's no secret that Burda instructions are not the most detailed ones and that they leave a lot to be desired, but personally I love that! I love that Burda made me think instead just blindly follow the instructions, made me research and figure out different techniques and ways to do something, and above all made me fearless and open towards all kinds of projects. No dumbing down, no hand holding, no fuss, just properly drafted patterns. I need nothing more than that.
Stay in touch with Vesna by following her BurdaStyle community profile, kelerabeus! Thank you, Vesna, for the peek into your personal life, we loved getting to know you a little better!