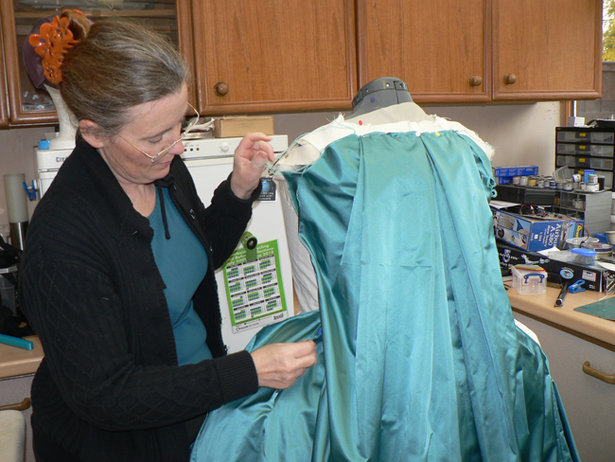 ShareThis
1. Where are you from and/or where do you live?
My parents were both Scots, and while as a child I followed my father round with the RAF, I consider myself still a Scot. I now live far from home as a ex-patriot, in the South of England, perched almost on top of the North Downs in Kent, opposite a cherry orchard half way between London and Dover.
2. What was the 1st thing you made? How did you start sewing?
I have no idea! Lost in the mists of time… The oldest surviving bit of my sewing is an embroidery made for may grandmother when I was about five. I first 'sewed' with my maternal grandmother, standing between her feet at her grandmother's treadle machine in the kitchen in Kirkcaldy, pumping the treadle with one foot and being steered by Granny's hands on top of my own.
3. What role does sewing play in your life?
It's essential. A day without sewing of some sort is incomplete.
4. What is your favorite and what is your least favorite thing about sewing?
I suppose my least favorite thing must be unpicking! Especially if it is of a mistake I have made… My favorite thing is seeing a completed project I have designed go to a delighted customer.
5. If you could make something for anyone who would it be and what would you make?
I'm already making it: a poppy red wedding gown for the daughter of a close friend. The only thing that might delight me more would be to make one for my Goddaughter, or, eventually (please God, many years from now!) for a future daughter in law.
6. What are you looking for on our site? What do you think should be improved and what do you really like?
Information about things new to me, and a way to pass on the knowledge I have accumulated.
The forums are seriously unintuative to navigate and to post pictures to. And the method used to upload patterns is dreadful! Both need considerable improvement for the end user: the members.
7. What is your motto?
Keep sewing: it's fun!
Check out Kate's amazing historically inspired creations. Learn more about Kate on her blog.