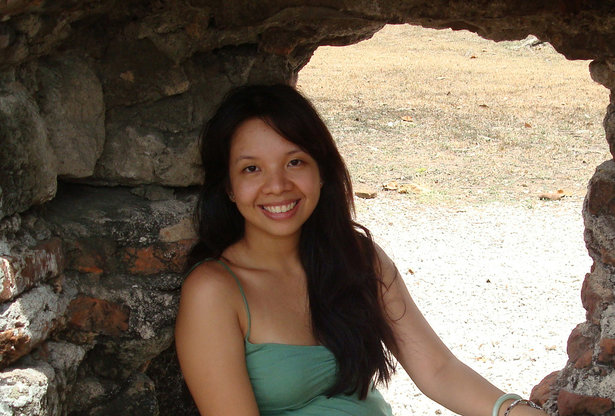 ShareThis
1. Where are you from and/or where do you live?
I'm from a very small country called the bridge of the world and heart of the universe: Panama. (Not Panama City, Florida haha). I was born and lived here my whole life, although people usually think I'm from some part of Asia!
2. What was the 1st thing you made? How did you start sewing?
It's kind of a funny story. I used to watch my mom using the sewing machine a couple of times to repair or alter some clothing, but I NEVER paid attention to it. Some time later, my sister who is 5 years younger than me, told my mom that she wanted to learn to sew and asked me to join her in the classes because she didn't want to do it alone. My mom asked a friend who is a dressmaker to give us some classes and she agreed. So within the first classes I began to fall in love with sewing. Unfortunately we had stop classes because of school and college. The funny part: my sister now doesn't like sewing! My very first project was to do a simple black pencil skirt with my own pattern. I enjoyed doing it so much just like every piece I do now.
3. What role does sewing play in your life?
Believe it or not, it relaxes me. My career sometimes can be very stressful, so I try to take some time to sew. I like to create and make things with my hands so I do have other hobbies that I love; like doing mosaics and stained glass, though sewing is a very useful and fulfilling hobby. I'm trying to always have a new project to do and dedicate some time of the week for it. I think there are two things that keep me sewing: my love for fashion and BurdaStyle. Since I discovered this site, I've improved a lot.
4. What is your favorite and what is your least favorite thing about sewing?
My favorite part of sewing: planning the project, choosing the fabric, assemble the pieces, see the whole project taking shape and of course wearing it or see it being worn or used. My least favorite part: cutting the fabric, TRANSFER the pattern's marks and iron, but anyway those things have to be done!
5. If you could make something for anyone who would it be and what would you make?
Definitely, a gorgeous prom dress for my sister, yes the one I mention before; she is graduating this year from high school and I will love to make it for her; also a shirt for my boyfriend (well, that could be my next project!) and for me, I will love to do a flowery vintage dress.
6. What are you looking for on our site? What do you think should be improved and what do you really like?
Inspiration, ideas, and new things to learn. Everyday I have the habit to check my emails, my Facebook profile, some blogs and BurdaStyle. What I love? The constantly new things you upload to the site, and the community. Everybody here is so supportive, encouraging each other and sharing their ideas, opinions and doubts, that's what I really like. Improves? Pretty much nothing, but I would really like to receive a notification or something when somebody writes a comment or opinion about my creation.
7. What is your motto?
Maybe. "Be grateful". Usually we are so "busy" and we forget to pay attention to those little things that make us happy, those things that we have to be grateful for: be able to watch a sunset, good health, the people that care about you, being with your family or be able to eat three times a day (or even more!!). Many of us are very fortunate and we need to live being grateful for those things, not regretting all the time for those things we don't have and certainly, we usually don't need. Yeah yeah, I know that I might sound corny but it's so true.
To see Karencilla awesome creations click here Make sure you see her incredible skirts and bags! Her fun, pink JJ shirt is something not to be missed. She also has pictures of some incredible beaches on her profile, these will warm you up on the coldest rainiest day.