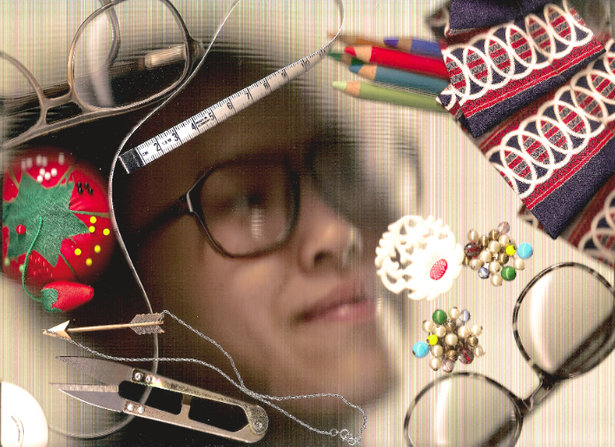 ShareThis
1. Where are you from and/or where do you live?
I'm originally from Japan, and I currently live in Brooklyn, NY. I am going to school, majoring in graphic design.
2. What was the 1st thing you made? How did you start sewing?
The first thing I made was an animal-shaped felt pochette for a community fair when I was like 8 years old. I made a few of them, and they were all hand-sewn. And the first thing I made with my mom's sewing machine was a little dress for a door ornament. Then I was hooked into making my own clothes about 10 years ago, from skirts, at first. I measured myself and came up with a simple A-line skirt, which I still wear at home. Nobody around me sewed anything (not even my mom), so I have taught myself pretty much everything I know about sewing so far.
3. What role does sewing play in your life?
Since I got my own sewing machine 4 years ago, I've really been hooked on making clothes. There was a pretty simple reason for making my own clothes – since I am short, I have problem finding a good fit. Sewing allows me to have so many possibilities and freedom for what I wear, and it's definitely much cheaper than buying products on the market. I learn something from each project. It has even changed my perspective on life style, and I feel satisfied when I can choose and create what I want. I think it's kind of funny that I'm more excited to go into fabric stores than into clothing stores. Making things has nurtured my eye for quality in everything as well.
4. What is your favorite and what is your least favorite thing about sewing?
My favorite part is imagining what I can make. I'm excited when I find a nice fabric or pattern, and start thinking of what I can make with it.
My least favorite part is tracing a pattern (or the calculation if I don't use a pattern). I usually spread the fabric and pattern on the floor, and it's such tedious work I'm still not used to (and not so pretty).
5. If you could make something for anyone who would it be and what would you make?
I just made dresses for my mom, one of which was with silk fabric her boyfriend bought for her from China. She didn't know what to do with it, and so she asked me to make her a simple dress. I want to make more for her in the future. But my dream is to make clothes for my future daughter. (I think I will make things even if it's a boy, but ideally, it would be a girl!). I think I would go crazy if it ever happens!
6. What are you looking for on our site? What do you think should be improved and what do you really like?
I am looking for inspiration and ideas, and I think BurdaStyle is serving that purpose for me well. I like the fact that members are active in commenting and rating, exchanging ideas and tutorials. There are so many talented sewers and designers out there, and even when I get jealous, it's so encouraging.
I've been a member for a couple of years now, and I have seen minor and major changes. I don't think I'm fully utilizing the site, but I think it would be nice if there was a list of terms about sewing for quick reference – like a sewing dictionary.
7. What is your motto?
You are what you make.
Click through kaiju's top ten member project slideshow!
Find inspiration in her studio