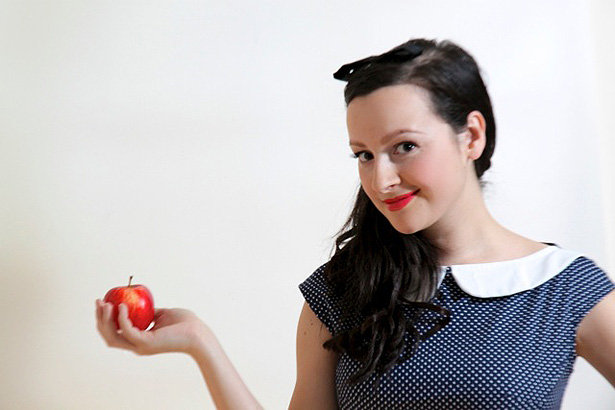 ShareThis
Where are you from and where do you live?
I grew up in the country part of Victoria, Australia and moved to the crazy-beautiful city of Melbourne, Victoria, Australia 11 years ago. Melbourne is a city made up of an exciting mix of art, music, hidden restaurants and amazing coffee, and is magically able to produce four seasons in one day.

A baby JuliaBobbin.

"My brother Genaaron, myself and my mum. I still pull that ridiculous face."
What do you do other than sewing?
My fabric and sewing addiction is funded by my full time job at the U.S. Consulate, where there's never a dull moment! When I'm not at work or looming over my sewing machine like a modern day Phantom Of The Opera (with the cape but minus the mask), I like to hit the salsa dance floor with my husband, read a good book or twenty, eat more food than I can burn off with exercise and have a good old 'chin-wag' with my good friends and family.

"Me and my handsome husband Robin."
If we were to come to your town, where would you take us?
If I got to play host to a BurdaStyler, I would take them out through the hidden lane ways in the city, where magic (great food/wine/coffee) happens mixed with live music and a excellent range of top-notch cuisines from all over the world. We would then catch a tram to visit one of the many markets in Melbourne, where stalking through the stalls makes you forget time. Victoria is the Garden state of Australia, so we would then trek off to the Royal Botanical Gardens for a bit of 'oohing and aahing' and a frolic in the grass.
I would also have to take you to the famous suburb of St. Kilda for coffee and cake, and then salsa dancing outdoors at the Sea Bathes along the beach.

St. Kilda Beach

Coffee and a good read.
After we are fed and watered, we would head off to the very many amazing fabric stores that Melbourne has to offer. A few of my favorites are Tessuti Fabrics, Clegs and The Fabric Store.
How did your sewing journey begin, and what keeps you coming back to it?
The first time I sat down at a machine and sewed (incredibly slowly) two pieces of fabric together was August 27, 2009. I turned up to my first sewing class held weekly on a Saturday morning from 9-11am and I was nervous and ridiculously excited. The class was (and still is) with the incredibly talented Vikki Leigh Martin who is relentless in teaching the correct couture techniques. Two hours a week of sewing however was not enough, and so I soon started experimenting and exploring at home using the Internet, blogs and instructive sites, such as BurdaStyle, to aid my learning and inspiration. Before I knew it I was sewing more than 10 hours a week and my hunger for sewing and learning grew more and more intense!
I first decided I wanted to sew after being fed up with clothes not fitting me properly. Like most of us, each part of my body is a different size and so commercial clothing has never properly fitted my hourglass/pear shaped frame. I was also desperate for the types of beautiful vintage inspired clothes that you just never seem to find in stores to purchase. Inspired by my grandmother and my mother, who both knew how to sew, I decided it was time to give the art of sewing a go.

"My grandmother Betty. What a spunk!"
I had always been into arts and crafts and dabbled in many different hobbies, but I was completely taken by surprise at the depth of which I fell head over heals in love/obsessed with sewing. I didn't see it coming! In fact it seems the more I sew the more intense my desire to sew becomes. I knew I'd finally found my true passion, which is an amazing feeling. I always have something to look forward to and get excited about!
My greatest sewing achievement so far, which I'm still pinching my self over, is when I won the 2011 Tessuti Awards! I still get butterflies in my stomach when I think about the moment that I learned that I had won the awards! I'm almost certain that I've permanently damaged my vocal chords after screaming/hyperventilating/crying hysterically when finding out I had won. I had entered the competition to set my self a challenge to push my sewing skills.
I spent oodles of time looking through the Tessuti Fabric store and obsessively drafting and re-drafting billions of ideas for a dress. Winning the Tessuti awards is one of the most amazing things that has ever happened to me and will be something that will always make me feel warm and fuzzy, even when I'm old, hobbling around with a walking stick and starting sentences with 'Now when I was your age…'
Where do you find inspiration?
I am constantly inspired by many people rather than one particular person. I am inspired by classic cuts and shapes that emphasize the female form. Because of this, I am obviously quite influenced by vintage styles, as they seem to capture the essence of a female shape. I love three dimensional shapes and subtle details like pleats, ruffles and lace. Every day when I look in a magazine or on the internet I am inspired by new ideas and features, whether it be the pretty sleeves on an otherwise not exciting dress or the placement and style of buttons on a celebrity's winter coat. I am very inspired by fabrics and colors. A lot of times the fabric comes first and the design second. I can stand in a fabric store for hours staring at one print while my brain starts buzzing with ideas.

Some of JuliaBobbin's inspirations.
What's your sewing secret weapon?
One of the techniques I try to always follow (mostly) is to force myself to make a muslin first before making a garment so that I can get the fitting just right. It takes extra time, but it ensures a great fit.
The common thread (get it?!) with most of my dresses is that I add a lace trim on the lining hem. I love adding extra little pretty details on the inside of a dress that are just for me.
Tell us about your sewing experience.
I live a very busy life with work, friends and love, and so I have a set time when I do my sewing. I always sew on Friday nights after work, and all day Saturday. Whenever a social event collides on one of these days (which is quite often) it takes all my effort not to throw a tantrum. My sewing time is sacred! On Friday nights, I sit in silence in my sewing room (why does that sound creepy?) and sew until my eyes feel like they're bleeding. I then usually sit in front of the telly and do my hand-stitching.

"Me getting my first ever sewing machine (wearing the first dress that I'd ever made) and my sewing room."
On Saturday mornings, I attend a sewing class which is made up of six people and goes from 9 a.m. to 11:30 a.m. This is by far my favorite way to sew. I love my sewing girls; we sit and talk about all sorts of inappropriate things that shouldn't be talked about at 9 in the morning. After that, I drive home and sew some more until my husband comes home from work, and if I've finished an outfit, he so kindly takes the photos for me. The man has skills!

"One of the many piles of fabric in my sewing cupboard."
Ultimately, my most productive sewing time is in the morning, when the sun is shining through my sewing room and my brain is actually functioning at some sort of normal speed. I find I do most of my unpicking and mistakes in the evening when my brain starts turning to liquid.

"'Betty and Bobby' in my sewing room"
What is your dream sewing project?
My dream sewing project is a full bodied, time consuming old style Hollywood glamour gown. You know, the one's that make you want to slowly descend down a grand stair case while a randomly placed (and well dressed) large crowd below ooh's and aah's at your entrance. Something that involves a ridiculous amount of time, numerous sewing techniques and an embarrassing amount of fabric. A gown that would make you want to feature it in a glass cabinet in the lounge room (how very Miss Havisham!). It would give me such pleasure to create such a beautiful gown and take my time on it. Highly impractical, as I'd probably never have the chance to wear it, but I could always look back at it and go 'wow, I made that!'
How long have you been a member of BurdaStyle, and what keeps you coming back?
I have been a member of the BurdaStyle family since March 14, 2011 and have stalked the website obsessively every minute of every day since. The first time I logged into the site I couldn't stop flicking through other peoples projects and patterns. My ears practically started smoking from the sensory overload!

"My first ever BurdaStyle post!"
I love how connected the site makes me feel to the rest of the sewing community. It is such a relief to be surrounded by supportive, like-minded people, and I get such a thrill out of seeing people's comments on my projects. Many of my garments have been inspired by projects that I have seen on Burdastyle, and I have also learned a lot about sewing through the Burdastyle community, as well. BurdaStyle makes my obsessiveness with sewing feel normal, and gives me a platform to indulge my inspirations and creations.
I also love looking through other members projects, especially looking at the projects from when they first joined BurdaStyle and seeing the progression of the projects they are now posting as their knowledge and skill sets increase. You get to witness other people's sewing journeys, which never ceases to amaze me.
How did you choose your username?
I chose my name JuliaBobbin easily enough; my first name is Julia so that wasn't exactly incredibly imaginative of me, and I've always loved the sewing bobbins in my machine. They are the little quiet underrated achievers that hold our stitches together, and look so pretty all lined up in my little bobbin holder.
What is the most frustrating thing about sewing for you? What is the most rewarding?
One of my biggest disciplinary problems is when I approach the end of the construction of a garment. Being obsessed with dreaming up new projects, by the time I'm almost finished a garment, I've already made a list of about three new things that I'm desperate to start sewing. Because of this, I find it really hard to completely finish a garment, things like sewing the blind hem on a skirt, sewing down the final buttons and slip-stitching pieces on the inside of the garment. To avoid me rushing onto the next project and missing the vital parts, I try to do as much of these fiddly bits before I've finished putting the pattern pieces together whenever possible. This means that my final action on an outfit is something like sewing on a sleeve.
I also find I have to constantly remind myself to make sure I sew a muslin first. I know it's the right thing to do, but when I get excited about a project it's so hard not to just zip straight into the real fabric and get started!
The most rewarding part of sewing is finishing that garment, trying it on and doing a nerdy little dance in front of the mirror when you realize you've done a good job and it looks good! When I'm particularly happy with how something turned out, I usually put on an upbeat song on my iPod and dance around the room to it in my new outfit. Big geek-out. My husband's pretty convinced I'm nuts or at least headed that way.
And of course, my favorite sound in the world: the sound of a jaw dropping when someone comments on your outfit and you tell them you made it.
Random Person (RP): "I love your dress, where'd you get it?"
Me: "What this old thing? (false modesty) Oh thank you, I made it!"
[Sound of jaw dropping]
RP: "No way!"
Me: "Way!"
Discover juliabobbin's top ten favorite member projects!