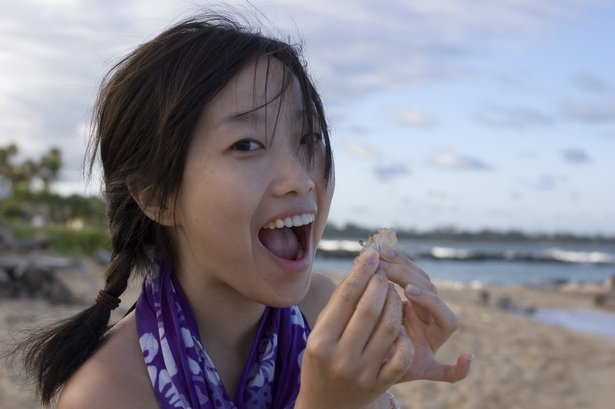 ShareThis
1. Where are you from and/or where do you live?
I am from the Silicon Valley in the Bay area of US. I had been living here for the past 9 years. I grew up in China and Singapore.
2. What was the 1st thing you made? How did you start sewing?
The first thing I made was clothing for Barbies when I was 10. And then I moved onto sewing teddy bears and soft toys when I was 16. The first real clothing I made was the red skirt I posted here last year. When I was little, my dad (yes, my DAD is awesome! :D ) used to sew up beautiful clothing for my mom and me, so I guess I got a little sewing tendency from him. I always wanted to sew real clothing, so after I graduated from school last year, I started sewing real clothing.
3. What role does sewing play in your life?
I love making things, and I have gone through phases such as soft to making, paper craft, jewelries, etc. I just can't seem to relax! I am also very small, so its hard to find clothing that fits me. So sewing is a practical hobby that is fun, and it helps me relax after work.
4. What is your favorite and what is your least favorite thing about sewing?
I love shopping for fabrics, sewing them up, making cute details, and wearing them! If I have to pick something I don't like, maybe it is the cutting of patterns and fabrics. I wish I had a cutting monkey!
5. If you could make something for anyone who would it be and what would you make?
Once I get good enough, I would attempt to make stuff for my family and friends :) It would be really cool to make a fun family "uniform" that is not tacky ;)
6. What are you looking for on our site? What do you think should be improved and what do you really like?
I was first attracted to BurdaStyle by the freebies. And slowly, I got addicted to the user creations — its so inspiring to see everyone's creations! I work in engineering, so I don't personally know anyone who sews (except for one of my friend, whom I'm coaxing into sewing), so this place is somewhere my sewing-personality can feel at home. This site is awesome, I love everything about it — creation uploading, how to interface, free/cheap pattern downloading… you name it! But the most important part of BurdaStyle is the encouraging users and the warm community.
As for improvements, maybe it can have a way to list users by location, so that I can look for people who sew near me and ask them things like, where I can find a good local fabric store! Also, it would be nice to have some sort of notification when someone leaves a message on your creation or wall. And fixing small bugs here and there!
7. What is your motto?
Have fun! That is the most important part of sewing!
Juebejue's incredible creations have such beautiful lines; She makes elegance look so effortless!