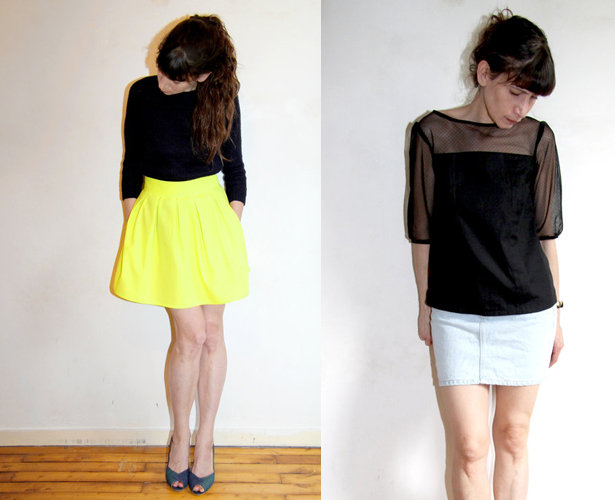 ShareThis
Meet JoliesBobines, our Featured Member for June 2013!
This week we chat about French style with BurdaStyle member JoliesBobines. Take a peek at her adorable studio and classic style!
Tell us a little about yourself.
In real life my name is Julie. Sewing is really my passion; I love clothes and creating my own with fabric I choose. I also create jewelry and make decorations, and I'm passionate about photography. I am a mother and my daughter is 4 years old. She's started taking a taste of my world and sharing my passions with me (what she can!).


Where are you from originally, and where do you currently live?
I am a real Parisian! I've always lived in Paris and I love my city!


We are so jealous! What's your day job, besides sewing?
I am a graphic designer.


How and when did you start sewing?
I started sewing at 20 years old when I met a friend of my parents, she's a corset designer for haute-couture and shows, and she took me under her wing for a few months. (She's now director of the School of Corset of Paris). A few years later, I took sewing classes in the evening, after work, for 2 years. Then my daughter was born. After a short break of just being a young mother, I really got into sewing. Then, I opened my blog a few months ago and it was a révélation, I love that!
Do you prefer to work from patterns, or draft your own?

I dream to be able to create my own patterns. After strictly following the patterns, I've started now to turn away, to transform and reinterpret the them.


How would you describe your personal style?
I don't know if I have a particular style. I like what is simple, but at the same time with a beautiful fabric and more detail. I particularly like gathers and pleats. I love bird prints, ethnic (but it can change of course!), or plain fabrics. I have a real passion for fabrics.


What's your sewing secret weapon?
Maybe my curiosity, my passion for fabrics. And my taste for clothes since I was very young… 3-4 years old! I have a basic sewing machine and an overlock machine. I think I'm more patient and very persevering, but also a little obsessive! I love challenges. I never give up and I can start all over again if I'm wrong (thank you, seam ripper!).



Who or what inspires you? Shop windows, magazines, vintage patterns…
I am inspired by the street, blogs, magazines. My Pinterest, I recently opened, is full of ideas. I look every day at the community blogs (where I am), as well BurdaStyle, but also Thread & Needles, Kollabora, Hellocoton, Abracadacraft etc … Facebook too.


You're a pretty prolific sewer… what's your favorite project recently?
It's difficult to make a choice! I am very, very happy with my dress Bustier love Sessun. But I am also happy with my pencil skirt, the yellow fluorescent skirt COLORS, the top Mathilde No colors & satin, the Minna Silk and lace up, the Elisalex dress, Colette patterns like Macaron dress and projects for my daughter too….


If you were to give a beginner (like me!) one piece of advice, what would it be?
Above all, never get discouraged and do not seek perfection in the beginning. We progress with each new project. Patience is a very important quality. Start with simple projects like the Salme pleated top or the Sureau dress by Deer and Doe, for example.


If you had all the fabric, money, and equipment at your fingertips, what would be your dream garment to sew?

Wow, that's my dream! I have many, many projects even without all that ;) I want to make the dress Dolce Vita (Burda 02/2011), but with the back open (I've seen this beautiful dress recently in member projects) and many, many, many, other patterns!


Thank you so much for talking with us!

We'll be back next month with another interview. We love meeting our members, and hope you all do, too!

Happy sewing!