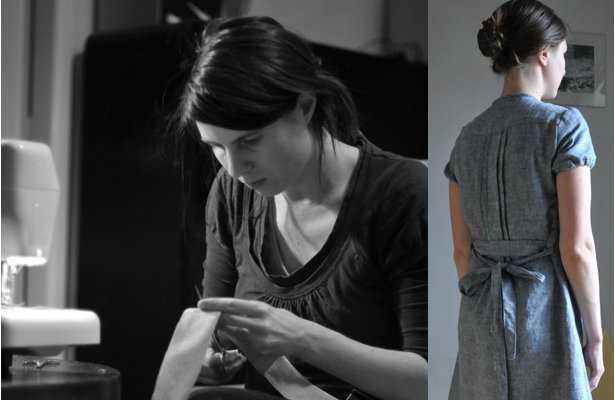 ShareThis
I started sewing when I was about 12, making doll clothes and around the age of 15 I made myself some simple dresses and bags with the help of my mother. After that I stopped sewing for some time. After my first child was born, I felt a strong need to make and create things.
I wanted to do a thousand kinds of projects at once. I started sewing again, enjoying mainly sewing clothes for myself. I love that sewing is very practical, I can make something I need and use. I made my first trousers recently, which makes me proud and I hope they will be very practical!
What do you do other than sewing?
I´m from Czech Republic and come from a village about one hour away from the capital, Prague. Now I live in another small village, also not far from Prague, just in a different direction. Most of my time is occupied by my two daughters, 3 years and 6 months. I enjoy painting a lot, it´s something I put my heart in and something I´d like to get better at. I used to make illustrations for two small magazines (only one now), and I make dolls out of clay. I have a blog about art, inspiration, and the simple joys of life.
Where do you go to get inspired?
I go to the internet for inspiration and ideas for clothes: Burda Style, Pinterest. Frida Kahlo inspires me a lot, also painting-wise. From the many lovely blogs there is Anna of Graceful Lady, whom I find very stylish. History inspires me, I enjoy clothing exhibitions – my favorite fashion era is the 1920s. I also love dolls of all kinds and children´s clothing inspires me a lot even for myself.
What's your sewing secret weapon?
I can´t think of any secret weapon or trick… I hate zippers and often try to omit them, mostly in dresses. I don´t take sewing very seriously; I don´t plan to learn many advanced techniques and don´t enjoy working on something for a long time. There are always many other things I like to do, so I usually only work on something that´s simple and (hopefully) fast to make. Yeah, I´m a lazy seamstress and not a very patient person.
Tell us about your sewing experience.
I wish I had a room only for sewing, painting, and making in general, but I do all of this in our living room at my table. Lately, my work area is becoming quite messy, with fabric, paintings and the rest around. I would love to buy an overlocker, but I have no idea where I would put it. Anyway, we´ve always lived in small places, so I´m lucky to have my table and my white cabinet beside it where I store most of my belongings.
I almost never listen to music, as I like silence. That´s maybe a bit of a problem with sewing, as the machine is quite noisy. Therefore I try to sew during the day, if possible, because in the evening I like to enjoy the quiet (tracing patterns etc. is ok in the evening).
My dream sewing project would be a winter coat. I have an image of it in my head: pink, with a hood, slightly babydoll-ish, maybe a bit of a dufflecoat style, maybe something more fitted at the top and looser in the skirt. I also know exactly where I would buy the material! But it is very expensive and my time is very limited, so I keep dreaming the dream… for now.
How long have you been a member of BurdaStyle?
I have been a BurdaStyle member for about three years now, since September 2009. My username is my childhood nickname I was called by my parents. I love that BurdaStyle is a constant stream of inspiration, great clothes and interesting people. When I think about what to sew next, I often like to look at my favorites. I visit daily, always looking forward to seeing new projects.
Michelle and Dress with Gathered Rectangle Skirt and Cap Sleeves are my favorite patterns. They are easy and flattering styles and I plan to make them again.
What is the most frustrating and rewarding thing about sewing for you?
The most frustrating thing about sewing for me would be that I am almost never able to make anything exactly the way I wanted. I admire the professional looking and beautifully sewn clothes on BurdaStyle; mine usually tend to have what I would call a carefree finish. On the other hand, it´s very rewarding to be able to make something I love. It´s a great thing to think of a garment, a shape, a color you´d like to achieve… and then make it and wear it.