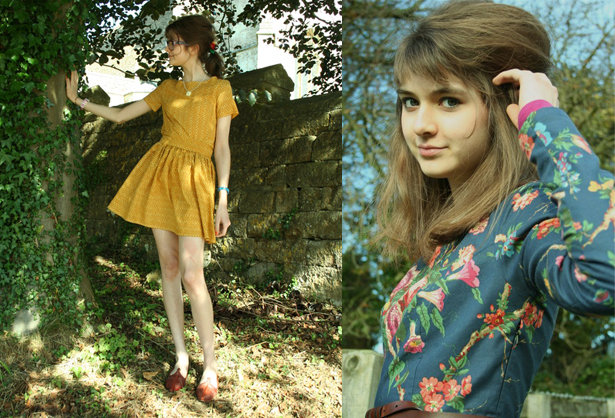 ShareThis
1. Where are you from and/or where do you live?
I live in a tiny village in South Gloucestershire, UK. There is not much there in the way of shops…or anything really. I seem to spend most of my time on the bus at the moment, in search of civilisation. But that is fine; whilst you cannot sew in a moving vehicle, knitting is ideal, which is another of my hobbies. I've recently starting studying Fashion Design at college, which is great. Doing what I love everyday is like a dream.
2. How did you start sewing?
I taught myself to sew earlier this year and have completely fallen for it. It followed a time when I had been quite ill and really needed something to inspire me again. I think it all began when I discovered the incredible online sewing and fashion community, such as BurdaStyle and the many craft blogs connected to it.
Ever since I was a little girl, creativity has been a big part of my life. My mum is an artist, though it isn't her profession, and my Grandma is never seen without her tapestry or knitting. She taught me to knit at the age of four and her vast collection of sewing accessories means that trips to the haberdashery need not be too often (my purse breathes a sigh of relief!)


Little iroiro!
Over the past few months, I have definitely seen my confidence and sewing skills develop. My first projects were all from Japanese pattern books, but now I like to draft my own patterns as you really can make something totally unique.
My favourite project always seems to be my most recent creation! At the moment it is my vintage-inspired blue floral dress. I made it for a trip to London and was spotted by a Sunday Times photographer, who took my photograph for a feature in the paper. It seems slightly surreal, my creation being featured in a national newspaper.


Vintage-Inspired Blue Floral Dress
3. Try to describe your personal style in 5 words or less
Hmm…that's a difficult one. I would probably say: 'quirky', 'feminine', 'vintage', and hopefully 'cute'.
4. Do you have a style icon who inspires your sewing projects?
I am literally inspired by anything and everything. When an idea strikes me, I tend to get a little overexcited and have to sketch it immediately. Rarely do these ideas actually become a real garment, but they all feed into inspiration for future projects.
I love scouring the internet for inspiring images and always carry my camera with me, so my inspiration folder is bursting full. Japanese craft books like Pattern Magic and the Stylish Dress Book series provide a never ending source of beautiful images and I definitely spend far too much time on websites like Etsy.com and TokyoFashion.com. Vintage clothing, dressmaking patterns and homeware are favourites of mine too, particularly the 50s and 60s. There is something so romantic about wearing vintage…what is its story? What has it seen? The shapes from that era are so flattering too.


Iroiro's inspiration board


Inspiration
5. What time of year do you find yourself most creative?
As I have only been sewing since May/June, I cannot be too sure. Right now, I miss making all those pretty Summer dresses, and there is certainly more time for sewing in the long Summer break, so I may have to say then.
6. Tell us about your sewing experience!
As there isn't a designated place for sewing in my house, I tend to have quite a disjointed process. The pattern drafting and cutting generally happens on the floor, where I can have the TV on or listen to music. One of my New Year's resolutions was to learn Japanese so I have been listening to a lot of language podcasts as well. I then sew and serge on a cramped table at the end of my bed, and have to run to the other side of the house to the iron, for pressing. Most people say that sewing is a relaxing hobby for them, but for me it can be pretty exhausting! My favourite time to sew is the morning and afternoon, but being at college all day means most sewing tends to happen in the later hours.


Sewing table treasures
7. What is your dream sewing project?
I have always secretly dreamed of joining the circus and making costumes for the performers. I would love the challenge of creating extraordinary and unique outfits, whilst having the allow movement for the performers. Another dream job would be sewing costumes for my favourite band, of Montreal . Their live shows are almost like a circus performance and to be part of that would be incredible. This is definitely an area I would like to look into after I finish my fashion course.
8. How long have you been a member of BurdaStyle?
I have been a member of Burdastyle since I began sewing in late May. What I like most about the site is the supportive community and creative atmosphere that you just can't miss. I have been so overwhelmed by everyone's encouraging comments, and am constantly amazed by the incredible talent of some of the people on here. I usually visit the site a couple of times a week to read the new blog posts, see featured projects and browse for inspiring creations, but sometimes I pop in a couple of times a day!
9. What is the most frustrating thing about sewing for you? What is the most rewarding?
Like everyone else, I find unpicking the least enjoyable thing about sewing. However, if I go wrong, I am prepared to sit down and unpick every last stitch. I find I have immense patience whilst sewing or knitting, and this is because I know I would never wear anything that wasn't perfect. I want people to ask where I bought my clothes from, and not for it to obvious that I made it. Of course, the best part is finally wearing the garment and receiving a compliment .
Check out iroiro's Top Ten favorite member creations!