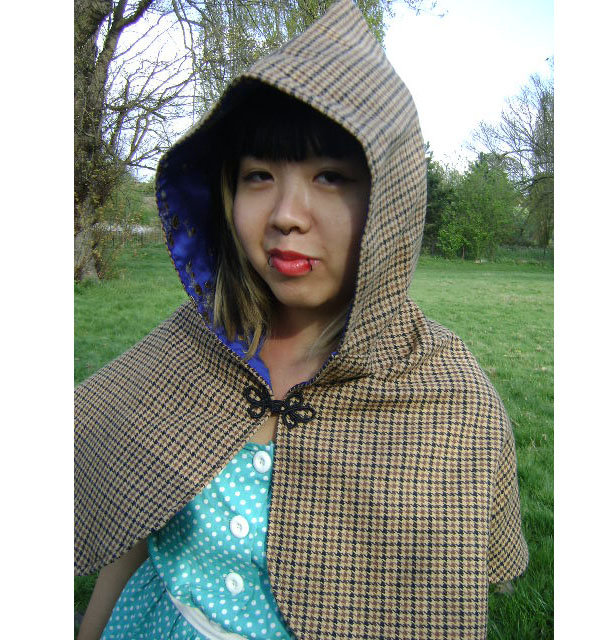 ShareThis
What's your sewing secret weapon?
A deep breath and a good pair of scissors.
Where are you from and where do you live?
I was born on the tiny island of Singapore. My father's job took us to far-flung cities, so I grew up in the UK and Australia. My lovely husband and I are living in London at the moment.

A little integerclub, with her dad!
What do you do other than sewing?
My day job is being a consultant to a travel website. Working from home means I get to stay in my PJs all day and eat dessert for breakfast. It also means I get to spend more time on what I consider my real job – making/sourcing/restoring items for my Etsy shop and weekend stall in Brick Lane.
When I'm not in front of the computer or sewing machine, I can usually be found in the kitchen, either baking or working on new recipes.

Items in integerclub's Etsy shop
If we were to come to your town, where would you take us?
Where to start? Well, the Victoria and Albert Museum is great for inspiration, and a wonderful place to while away a few hours, especially if you're interested in how fashion has changed throughout the years. Cloth House in Soho is stuffed to the rafters with beautiful fabrics. Be prepared to spend quite a bit if you wander in here! Op-shops (charity shops/ thrift stores) and car boot sales are great for finding beautiful vintage fabric and old curtains, which can be remade into fabulous dresses. I'm particularly fond of the mid-week market in Wimbledon, where the vendors have all sorts of items on sale, from the mundane (disposable razors) to lovely antiques.
How did you start sewing?
My mum used to sew a lot of my dresses when I was younger, and I remember being fascinated by the whole process. I had sewing classes in school, but hated them so my mum had to finish up most of the projects on my behalf. I started sewing in my late teens, mainly out of necessity. As a 'petite' person (ok, ok, I'm short!), most trousers and skirts are usually too long for me. Sewing also meant that I could alter the clothes I picked up in op-shops myself, without having to rely on mum or pay someone else to do it. I think there's still a long way for me to go in terms of techniques, experience etc., but I'm pretty proud of learning to insert a fly front zipper!
What (or who) inspires you?
I like the style of glam rock musicians, such as Marc Bolan and David Bowie, as well as old ladies. I think so many old ladies look great. They wear whatever they want to because they're not too concerned about being 'trendy' or keeping up with what's considered cool. They just wear what they like. It's very fearless, and I find that very inspiring! I also love Miss Lemon's outfits in the TV adaptations of Hercule Poirot. Her outfits always look so sophisticated, yet incorporates quirky little touches like bows and geometric collars.
What's your sewing experience like?
I sew on a vintage wooden dining table in my living room, positioned in front of the window so there's plenty of natural light to work by. My favorite time to sew is just after waking up in the morning. It helps me to settle down and arrange my thoughts for the rest of the day. I feel a lot more productive when I manage to do a little sewing before breakfast, even if it's something simple like sewing up a couple of seams.

integerclub's sewing machine

integerclub's thread stash
What is your dream sewing project?
Right now, I've been thinking of making a bird-like cape with lots of silk and other beautiful fabrics. It's inspired by my new copy of The Life of Birds by Quentin Blake, full of fantastic sketches of birds and bird-like beings.
What brings you to BurdaStyle, and what's the story behind your username?
I've been a member since May 2010, and I really love the sense of community that is found here. Sewing can be such a lonely hobby sometimes, so it's wonderful to be able to discuss it with others and discover new sources of inspiration. It's also a great source of sewing tips. I feel like I've learned so much more about different techniques since joining. My username comes from a silly little counting game that my friends and I made up when we were bored.
What is the most frustrating thing about sewing for you? What's the most rewarding?
The most frustrating thing is probably spending hours working on a piece, only to find that it looks absolutely ghastly on you when you've finished it. On the other hand, it's wonderful when something fits you perfectly and you step out with a bounce in your step. It's an added bonus when others tell you they like it, and ask to take a photo of you!
Discover integerclub's top ten favorite member projects!