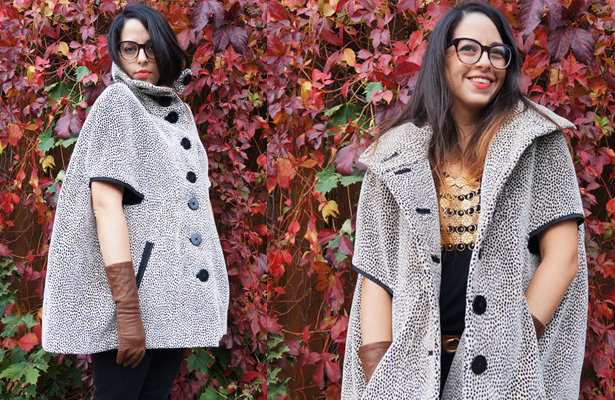 ShareThis
This week we share our interview with amazing BurdaStyle member heatherlou.


I've sewn basic things since I was a little kid. I used to make pillows and Barbie outfits and always modified clothes when things needed minor alterations. However, in the summer of last year I made a dress from a pattern for the first time and it kind of exploded my brain. I've always been really into fashion and it suddenly occurred to me that I could stop drooling over the good stuff in Vogue and start making the good stuff myself. I made a vow to stop buying new clothing and it's been pretty much the best year of my life; learning how to sew beautiful clothing is easily the most empowering thing I've ever done.

I grew up in Windsor, Ontario but I've been in Montreal, Quebec for over 10 years now (which is the best place to be a sewist in Canada – the fabric and notions shopping here is really fabulous). I'm pretty obsessed with all the domestic arts; I cook, bake, can, knit…. In general, I think most people who like to make things like to make ALL of the things. If I could smith my own knives and weave my own wool, trust me, I would.




Do you have a sewing secret weapon?

My secret sewing weapons are probably my rotary cutter, pattern weights and [a] cutting mat. Cutting fabric is my least favourite part of sewing and now it goes soooo much faster since I switched from cutting with scissors. Since I'm still learning so much, I'm not sure I have any individualistic flourishes just yet (although I do love contrasting hem tape and serger thread). Lately I've been getting more consumed with quality and hand sewing; beautiful insides make the outside feel even more magical (same goes with humans, right?).

Tell us about your sewing experience.

I cannot abide silence. My brain needs chatter. I have about 15 podcasts I listen to religiously; it feels a lot less lonely and isolating to be sewing in your studio for hours when you have hilarious and intelligent people telling you stories while you work (I cannot say enough good things about How Was Your Week with Julie Klausner – she's super-humanly funny). When I'm not listening to podcasts, I may be singing along to music or rewatching old episodes of shows like Buffy that I don't need to focus 100% on.




I try to keep my sewing to my dressing room/studio but I'll often move my machine to my dining table when I need to spread out. I will sew after work but my ultimate favourite sewing time is Saturday and Sunday afternoon when the light is good and the teapot can continually be refilled.

From where or from whom do you get inspiration?

I love the bohemian glamour of the 60s and 70s; if I had a fashion icon pinup calender it would include Edie Sedgwick, Charlotte Rampling, Anita Pallenburg, Bianca Jagger and Jane Birkin. In terms of current inspiration, I cannot get enough of Karla Deras; she is a master of mixing beautiful vintage with a modern edge.

…[there] are not enough words in all of the languages to describe how deeply in love I am with the online sewing blog community. I have met some truly spectacular women who I am longing to meet in real life. We inspire each other, share knowledge and celebrate each others successes; I would be lost in a dark wood with the wrong needles and dull scissors if it weren't for them. Wanting to communicate with this community has strengthened my voice, my style and helped me to visualize where i want to take my sewing in the future. I stopped reading fashion magazines because I got weary of the rampant materialism but my Pinterest is like a curated Vogue so I'm never at a loss for interesting ideas. In terms of my fellow sewing bloggers, I have about a hundred people who inspire me on a daily basis but I love the way that Oona and Sallie have created really unique and individual voices with their sewing.




What is your dream sewing project?

I would love to dedicate a healthy chunk of time to making a couture dress from a vintage 1960s designer pattern. To be able to wear something I made designed by Balenciaga, Yves Saint Laurent or Givenchy? Nothing would give me more joy (except maybe time traveling back to the 60s in said dress).

What is the most frustrating and most rewarding thing about sewing for you?

The most frustrating thing about sewing for me is when I am trying to master a new skill and I have to seam rip a few times to get it right. But the tears and hair pulling are always worth it.

By far the most rewarding thing is being inspired by something, coming up with a concept, and then actually producing a garment as a result. Sewing your own clothes forces you to really define your personal style; as a result it ensures that the things you make and wear are utterly 100% unique and one of a kind – totally "you." There are not many hobbies that celebrate your individuality in such a clear and fulfilling way.




If you were to give a beginner one piece of sewing advice what would it be?

When I first started sewing I felt completely overwhelmed by everything I didn't know. Thankfully we live in a digital age and almost any question you will ever have has been answered with clear pictures and instructions on someone's blog. Start with a good book to educate you on the basics (like the BurdaStyle Sewing Handbook) and work with easier patterns until you grasp the fundamentals.

The beauty of this hobby is that anyone can learn to sew almost anything. It's a skill you can acquire, not an innate talent you either have or you don't. With every new project, your knowledge and ability is just going to get better and better; all it takes is a little time, patience and the willingness to Google anything you don't understand.
Don't forget to check out the gallery slideshow of heatherlou's member favorites.