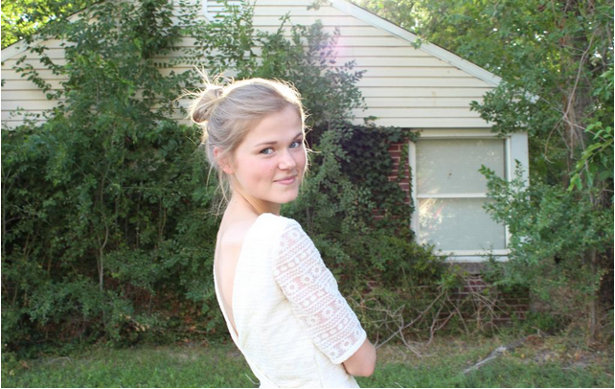 ShareThis
We're sew excited about our newest Featured Member, miss Haylee Atkinson! She first caught our eye as the chosen Member Project of the Week a few months back in a gorgeous red lace dress inspired by Valentino. Read our interview with her to learn more about when she fell in love with sewing, what she dreams of making someday and what inspires her.
Tell us a little about yourself.
I am a 22-year old student from the United States. I love New York City, chocolate oatmeal cookies, and being with my family.
Where are you from originally, and where do you currently live?
I've lived in Utah all my life, which, for those not from the USA is probably some random place that you've never heard of. haha so it's the Midwestern part of the United States, sort of near California.
Do you have a day job besides sewing?
I am currently a student at BYU studying Dietetics. I have two years left. Creatively, my dream job is to be a wedding dress designer or an event planner but I also am really interested in nutrition so I thought this would be a good (and more practical) route. Once I'm a dietitian, I hope to work with rare metabolic diseases. (For the geeks out there, Prader-Willi Syndrome, PKU, things like that totally fascinate me!)
How and when did you start sewing?
My mom taught me when I was little but I really didn't like it at first, I only got into it as a 16-17 year old. I had the best sewing teacher in high school who let me TA for her on top of taking all of her classes so by the time I was a senior, I was spending all my time in the sewing room.
Do you prefer to work from patterns, or draft your own?
I like to mix both together! Usually I'll find a pattern as similar to the dress as I can and then draft the pieces I need to to make it an exact match. It works well for me, but I have a sloper in my size that I draft from so that makes the process a lot easier. I go off this book, it's a great resource.
How would you describe your personal style?
I would say it's pretty feminine, though I kind of hate that word. ha but I love skirts and dresses and things like that. I'm drawn to light colors and simplicity. I'm not really one to go crazy on jewelry or anything.

Self drafted lace crop top using a basic sloper.
What's your sewing secret weapon?
I love glass head pins because they are so much easier to work with. Also, I'm a big fan of making an inspiration collage before you start working on a project. It helps keep your ideas together.
Here is an inspiration board for the dress Haylee is getting started on. (1, 2, 3, 4)
Who or what inspires you? Shop windows, magazines, vintage patterns…
Sarah Seven, Esther Boller, Elie Saab, so I guess mostly just people and their amazingness. I also get inspired by outdoor landscapes, product packaging and weddings (which is ironic because I'm not even sure I want to get married. But I love seeing all the beautiful work people put into something. And I love white dresses! haha in case you haven't noticed yet.)
What has been your favorite project?
Probably this midi dress I made out of crochet lace:
If you were to give a beginner one piece of advice, what would it be?
Do something fun while you sew. Often times, sewing can get kind of monotonous- especially when you're first starting out. I find that I enjoy the less-than-fun parts way more when I'm listening to podcasts or watching TV while I sew. My favorite TV shows include The Bachelor, Big Brother, Project Runway, This is Life with Lisa Ling, and Recovery Road. As for Podcasts, Thread Cult is excellent, as is Stuff You Should Know and Stuff Mom Never Told You.
If you had all the fabric, money, and equipment at your fingertips, what would be your dream garment to sew?
A beaded wedding dress, beading is not something I've ever done so this is a skill I'd really really like to learn.
Anything else you'd like us to know?
Since I know some of you are wondering, I was just born without my hand. haha I never was bitten by a shark and I'm definitely not a pro-surfer. (Though that would be so cool if I could say that!) Doctors aren't really sure what happened honestly, my mom sometimes thinks it could have been due to high levels of pollution the year she was pregnant. Who knows, I'm totally cool with it though. I feel like it definitely doesn't stop me from physical stuff, it's more the emotional aspect that comes along with being different that is hard to deal with sometimes. But I suspect we all have things like that so it's all good. :) I'm comfortable with it so you totally can ask any questions you have!
Thanks, Haylee! Make sure to check out all her BurdaStyle member profile here and her blog, Threaded.
Happy Sewing!