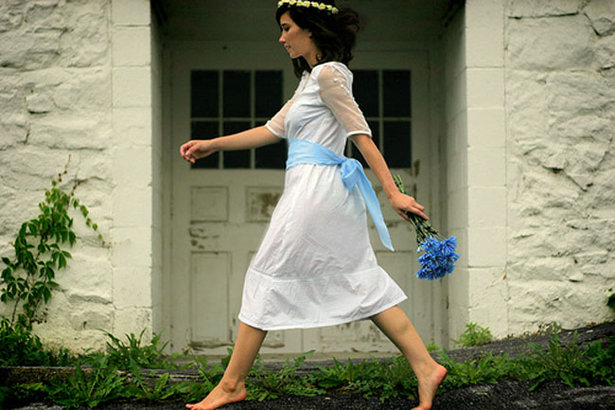 ShareThis
1. Where are you from and/or where do you live?
I am from Middletown, Pennsylvania- most infamously known for The Three Mile Island accident:) Interesting fact, I don't glow in the dark.
2. What was the 1st thing you made? How did you start sewing?
I sewed a lot of my own clothes in college just because I was short on money and really longed for some things I could not afford.
The first thing I sewed was a floral button down shirt and I was scared to death when I bought the pattern. Of course it looked like Chinese- all 9 point font and confusing diagrams. But I thought, if I just work through it and refuse to become frustrated I can do it. A few days later I was wearing my new shirt and a friend of mine complimented me on it. When I told her I had made it she truly did not believe me and asked to see the back of the collar to check for a label. That was the best compliment I could have gotten.
Then for a couple years after college I sort of stopped sewing clothes and mostly stuck to curtains, slipcovers and Halloween costumes. Around January of '08, I was having coffee with a friend who asked if I sewed. I had been reading a couple sewing blogs and all of sudden I just had this surge of inspiration. I said, yes, I do….and after that I went home and actually started really sewing again for my daughters Lily and Molly and then expanded my range to adult clothing a year later.
3. What role does sewing play in your life?
A very large one. I am currently a SAHM. When I'm not taking care of my daughters Lily, Molly and our newest addition Eloise, I'm sewing. There is something fulfilling in creating something that has a pleasing end result.
Before I was a SAHM I was a reporter for the city paper. I got something out of seeing my name in the print and having my work published and read. After that ended I guess I was missing positive affirmation in my life. Sewing has brought that back to me in a lot of ways.
4. What is your favorite and what is your least favorite thing about sewing?
Favorite: The end result
Least Favorite: Ripping out stitches. Man does that suck:)
5. If you could make something for anyone who would it be and what would you make?
Zoe Deschanel I LOVE LOVE LOVE her sense of style. She's always wearing something feminine but eclectic. Totally girly but not too cute and not too couture.
6. What are you looking for on our site? What do you think should be improved and what do you really like?
I love looking through your members creations for inspiration. I also REALLY love your free patterns and I love how the ones that do cost money are easily affordable.
I guess I'd love to have more free graded patterns. Not because I'm cheap but because when I do sew alongs on my blog I want as many people to be involved as I can get and making the pattern 'free' interests some people that might have cold feet about trying to sew a garment.
7. What is your motto?
Somewhere, something incredible is waiting to be known ~Carl Sagan
Grossgrain has put up some absolutely incredible creations (I mean, seriously, look at this and this!) and they just keep getting better! Stay up to date by reading her fabulous blog and be sure to check out her top 10- favorites slide show!