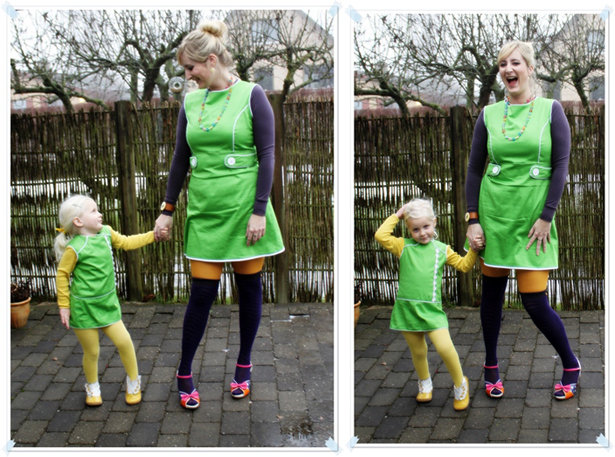 ShareThis
Where are you from and where do you live now?
I live in Denmark in a small town called Hobro with my husband and our 4 children, Luna (12), Albert (7), Bertram (5) and Wilma (4) – and I'm dreaming of at least one more child. I used to be a social worker (and before that I was a bank clerk), but when we had our fourth child I decided to look for another job which allowed me to spend more time with my kids. I'm now a child minder and open my own house as a sort of day care center every morning.

Groovymama with her kids!
How did you start sewing?
4 years ago I had never sewn!! (That is apart from the hideous jogging suit I created in 7th grade). My mom, who passed away 2 years ago, was an extremely creative woman – she could sew, knit, paint you name it. I remember falling asleep to the sound of my mom's sewing machine, the most calming sound in the world.
When our youngest daughter was newborn I found a very simple pattern and started sewing some pants for her. I can remember how proud I was when I presented the first pair to my mom and she encouraged me to go on. I got addicted to this sewing thing and my skills developed quickly, I think. It feels so natural to me, designing and creating – I love it. I have never taking any sewing lessons, so the Groovymama way might not necessarily be the right way. I feel I'm honoring my mom every time I sit down behind my sewing machine, and I know she would be so proud of me.
The favorite project in my BurdaStyle studio. Well, in fact I have 2. The first one is my walk-away dress. It started with the shoes. I had bought this wonderful pair and wanted a dress to match the shoes. And there you have it. My second favorite is Wilmas yellow dress. I simply love this mod dress and the photographs of her in the snow. I have made several versions of that dress.
Try to describe your personal style in 5 words or less!
Colorful, contrasts, mod, simple, retro

Matching Mother and Daughter
Do you have a style icon who inspires your sewing projects? Where do you go to get inspired?
I'm mad for Mod. I love the mod style – A line dresses, Peter Pan collars, bright colors, piping and oversize buttons. I find inspiration many different places. For instance vintage patterns. I don't necessarily use the patterns, but I'm often inspired by the pictures on the old envelopes. And then I'm inspired by the unpretentious and colorful minds of my kids. BurdaStyle is of course also one of my inspirational sources. If I have to name an icon it would be Mary Quant. She was a truly brilliant designer. I should also mention Twiggy, who looked stunning in Quant's designs.

Inspiration from Groovymama
What time of year do you find yourself most creative?
Hmm, the first that came to mind were spring and summer because of the colors, the sun and so on, but I'm not sure that is the truth. I live in a country where the weather is rather cold, rainy, snowy and windy 8 months or so a year, so in order for me not to get to depressed I sew a lot of bright and colorful clothing during these months.
What's your sewing experience like?
Usually I'm too tired to sew in the evening and I'm working in the morning, which leaves the afternoon for nerding. I sew when the kids in my daycare take their afternoon nap, and then I steal some minutes here and there during the afternoon when my own kids get home from school and kindergarten. And if I'm not too exhausted I also sew a little bit in the evening, that is if I'm not occupied with another obsession of mine, watching CSI. My sewing space is a corner in our livingroom and therefore never a quiet place. I don't listen to music when I sew, with at least 4 kids around me all the time there is 'music' enough.
What's your dream sewing project?
Right now my dream project is a summer coat for myself. Besides from that I would just like to fill my closet with homemade dresses.
How long have you been a member of BurdaStyle?
I've been a member of BurdaStyle for 10 months and I stop by several times every day. There is a great atmosphere here. The members are kind and encouraging and the project side is a great inspiration to me. I'm hooked.
What is the most frustrating thing about sewing for you? What is the most rewarding?
To be honest sewing is kind of an ambivalent obsession for me. I'm not a very patient person when it comes to this hobby of mine. I love to see results!! I find sewing very rewarding and almost therapeutic – but at the same time I have sooooo many ideas in my head and so little time, so I don't really let myself enjoy sewing; in my mind I'm already on to the next project even before I'm halfway done with the ongoing one. Wish I could finish 5 dresses a day!!
If you would like to improve your Danish skills or just want to see more of my creative work you are very welcome to visit my blog.
Click through Groovymama's top ten favorite member creations!
The Featured Member article will be published every Monday