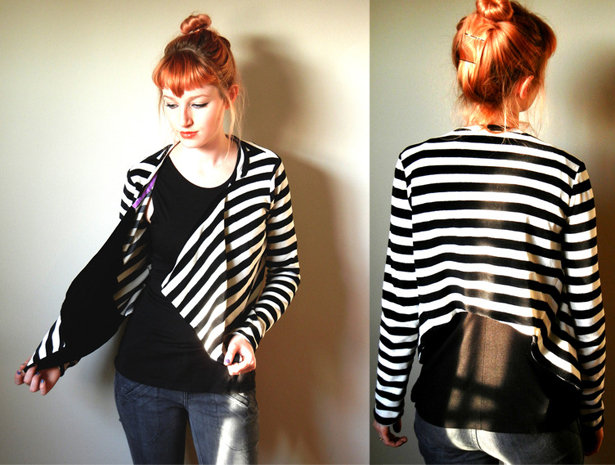 ShareThis
Where are you from? Where do you live?
I'm from Marietta, Ohio. A small river town that boarders West Virginia. I grew up in the same house my entire life, and I moved to Columbus, Ohio, where I currently reside, to attend Columbus College of Art and Design. I graduated with a BFA in Fashion Design in 2009 and I now work at Jeni's Splendid Ice Creams (the best ice cream in the world) by day, and sew my heart out by night.

"Photo of me and my little sister. (My mom says I dressed us both up like that)"
How did you start sewing?
I've been sewing for most of my life. My mom sews. She used to make teddy bears to sell when my sister and I were really little. She made us sun dresses until we were too proud to not wear them. She taught me to sew first by hand, then using her machine when I was very young, so that I could make doll clothes for my sister and I. I remember making felt dresses and embroidering them for American Girl Dolls when I was about 7. The project I'm most proud of in my BurdaStyle studio is the vinyl wallet that I made for Christmas presents this year. I drafted the pattern, figured out how to sew it all together, and it actually works! Inserting the zipper on it was extremely hard with my machine.
Try to describe your personal style in 5 words or less!
Quirky. Colorful. Peculiar.
Do you have a style icon who inspires your sewing projects? Where do you go to get inspired?
I spend a lot of time frequenting Stylesight when I'm in need of inspiration or current trends. Modcloth has been a great inspiration for my spring collection that I'm working on right now. I'm doing a line of shorts out of retro inspired fabrics. I find my best ideas always come from out of no where though. My favorite magazines are Zink and Surface.

"Images I've saved to my computer over the years for inspiration."
What time of year do you find yourself most creative? Why?
It's really hard for me to be creative in the Winter, but I've been forcing myself this year. I think I work better when it's around 60 degrees outside and I can have all the windows open. Something about that sort of temperature makes me feel productive and happy.
What's your sewing experience like?
I like to have some sort of background noise when I'm sewing. Sometimes it's music, sometimes I just put a dvd in or turn on the tv. It makes me feel like I have company. I share a one bedroom apartment with my boyfriend, who is also an artist, so we both work in the living room (that's where my sewing machine is), but our apartment is usually a whirlwind of projects and supplies.
A dream sewing project for me right now, is to make a quilt all by hand. I've had an idea for one for a while, but it's something that you can't rush and I know it may take me years to complete. So for now I just dream about it.

"My sewing space"
How long have you been a member of BurdaStyle?
I've been a member of BurdaStyle since 2008. A professor turned me on to the site for the fantastic free patterns! I'd have to say that's the feature I like the most, but lately there have been some fantastic tutorials. I loved the one about dying fabrics in the french press, and the retro fabrics lessons were great too! I try to visit BurdaStyle once a week.

BERNINA 3 Series The Fabulous 50s
What is the most frustrating thing about sewing for you? What is the most rewarding?
The most frustrating thing for me about sewing right now is not having enough work space. My sewing machine is sitting on a child size desk that I've had since I was 6, which is far less and ideal for sewing. My serger is on the kitchen table right now, and I usually iron sitting on the floor with one of those tiny college student ironing boards. The most rewarding thing, is defeating all of those circumstances and making something that I imagined come to life. I just made a size run of shorts and they turned out how I wanted. That's the most rewarding feeling.
Check out her top ten member projects slideshow!