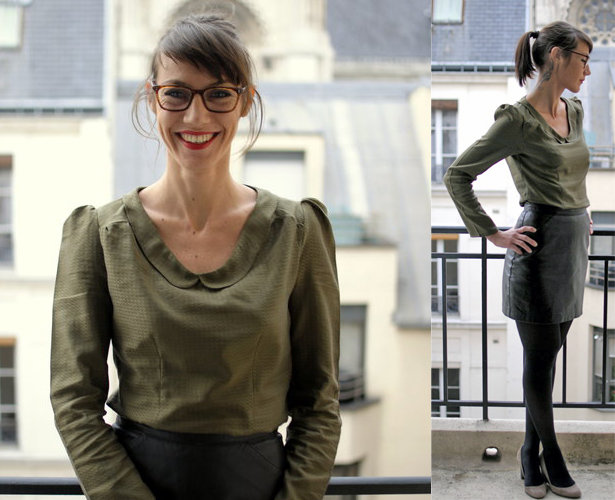 ShareThis
This week we share our interview with amazing BurdaStyle member Gigette.
Hello, my name is Angelique, I [have] lived in Paris for 5 years and I am a nurse. I love going to the movies, but I [have] little time at the moment.




Tell us a little about your sewing experience
I customized my clothes when I was in high school but I really started sewing in January 2011, I started a small bag and then I started to buy burda style magazines to learn well and to [challenge myself]…I have found that sewing, it calms me, I'm in my own little world. I really like [it]! What I like is when the fabric takes shape and becomes a garment … And it's really nice to sew [my own] wardrobe …

I listen to music while sewing, usually French varieties! I sew in my room, I have my sewing machine and serger on my desk! Depending on my motivation and how I work, I can sew at all times of the day!




How long have you been a member of BurdaStyle?
I registered on BurdaStyle a year ago. My username came naturally. People have called me Gigi since I was little, and the nickname followed me to Paris and soon transformed into Gigette by my friends!
What I like about BurdaStyle is to see all the projects, see multiple versions of a [pattern] and [reference] the "resources" posted. I'm usually on 2-3 times a day, when I'm not working and sometimes when I'm working!!




What's your sewing secret weapon?
At the risk of disappointing I have no secret weapon! I love my piping projects, [the piping] underscores the seams and it gives a style that I love.




What or who inspires your sewing projects
I do not really have an icon. I admire when finishes are perfect, I would like to improve my technical skills. I love sewing challenges … For inspiration I browse a lot Pinterest, the clothes in shops, and patterns I have.

What is your dream sewing project?
A dream project for now is a trench for my lover but… it makes me a little scared!




What is the most frustrating thing about sewing for you and what advice would you give a beginner?
The most frustrating thing is to block on a technical and not do it! … The advice I give is that you need to make things simple and once you are comfortable… and take your time.