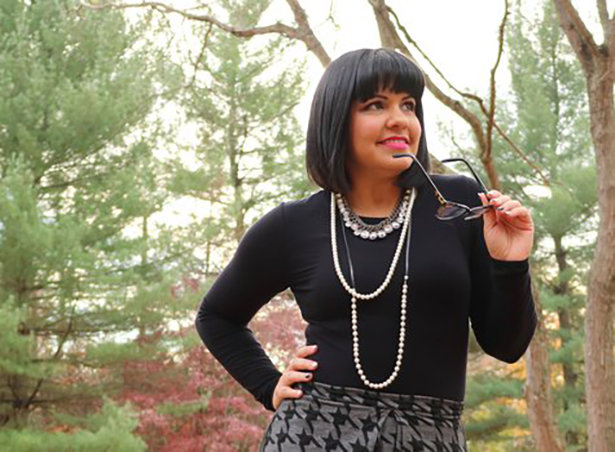 ShareThis
Today we are highlighting the sewing style of power member, Certified BurdaStyle instructor, and Member Model Challenge winner Elsie Verónica Morales Irizarry, aka Verónica! Read on to see what she made for her civil wedding, her past and present sewing studios, and her winning dress look…
Tell us a little about yourself.
Hola, my name is Elsie Verónica Morales Irizarry, aka Verónica. I'm 39, I have a dog, Wookie Chewbacca, most of the times featured in my photos-his choice. Recently married. My life is busy but exciting! My husband and I love to drive around and find new places, old towns, wineries and good eats. I love to take pictures of flowers and scenery in general. My passion is to create. I love to sew, make jewelry, make glass beads, leather purses, leather belts, and everything in between. One of my favorite things is to dress different from others and in most cases, say "I made it". I have participated and won first place in several sewing competitions locally and internationally. I even won in one I didn't even know it was a competition nor that I was participating!

Top: her temporary studio as she just moved; Bottom: her previous studio

Where are you from originally, and where do you currently live?
I am originally from Aguada, Puerto Rico. A coastal and painteresque town in the west side of the island. For the last ten years I've been living in Virginia, US. Right now in a small town named Bealeton.
Do you have a day job besides sewing?
I am a Physicist and Electrical Engineer during the day. Surprisingly I've been able to apply my sewing skills in my day job as well, which is a plus. It takes most of my day, but I always find time to sew, never to workout, but always to create.



How and when did you start sewing?
I think I started sewing when I was 11. I always wanted to be different and wear things nobody had, but there was no money to spend in "those" kind of clothes. I just learned by myself how to make hats and to "re-fashion" all my clothes. Paint, leather, lace, rhinestones, you name it, if it embellishes and changes the look of a piece it was all accepted. Before 11, I used to watch my mom sewing and there is evidence of me trying to use my mom's patterns, but I started sewing most of my clothing around seven years ago. I learned to sew just by following the instructions on patterns and figuring out the sewing machine. Nowadays, I've polished my skills watching classes in BurdaStyle Academy and Craftsy. Funny, I can say, I have learned a lot from Meg Healy.



The floral dress she made as one of the required projects in our Certification Course using this dress pattern

What made you sign up to be a Certified BurdaStyle Teacher?
First of all it was an opportunity too good to let it pass. Sewing is a skill that it was almost lost. I've been thinking on teaching classes and this course came up. I love Burda's patterns and techniques, so where else to learn?
What was your favorite take-away, either skill or experience of the course?
Wow, this one is hard. I learned a lot from Meg and from the other students. The fact that you ask something and the teacher or a person on the other side of the world answers is very helpful, refreshing and encouraging. But if I have to choose a skill, it has to be the facings. The BurdaStyle core technique to make and apply facings is very easy to follow. Now I'm not afraid of putting facings on anything. Now I can draft my own facings! As a self-taught sewist it was a cool technique to learn.



Veronica's jacket required project for the Certification Course

How would you describe your personal style?
I don't know, sometimes I'm classic, but I can be romantic, edgy, rocker. I don't follow trends. If I like it and it looks good on me, I wear it! I love to wear things out of the ordinary, if it's a trend this year I will wear it next year. As a physicist, I got to learn all the rules in science and just because of that I like to break all the rules. For example, I wear white in Fall and Winter, dark colors in Summer, put zippers from top to bottom, use upholstery fabric for garments, among many other.
What's your sewing secret weapon?
My sewing secret weapon is my Viking embroidery/sewing machine. I have all the feet there are which make my life easier. The fact that is an embroidery and sewing machine is the best there is. Been able to sew and embellish in one is super exciting. It gives me the opportunity of personalizing my styles even more.



Veronica's civil wedding look with her husband and dog Wookie – wearing the tank she made using this pattern

What has been your favorite project recently?
The veil and blouse I made for our civil wedding in December, those have been my favorite projects recently. The blouse was one of the tops included in the Certification course (Sleeveless blouse 118A,B).
Even more recent, my wedding dress and bridesmaids dresses for my wedding in the church in June. I always dreamed to make my wedding dress. Now I have the chance to do it. I went through every single Burda Style Magazine I own to find something different to use for my bridesmaids and for me, I did find a few, but with the time crunch I decided to go with a simple pattern I had among the infinite number of patterns we sewers have. I also enrolled in the Burda Style course: Wedding Gown with Bare-Skin Effect Level 1: Design and Sewing Course to have an idea of what I was getting into. That class was very helpful, learned a lot, from making a body form to manage bare skin like fabric and lace.
If you were to give a beginner sewist one piece of advice, what would it be?
"Don't be afraid", that's the advice I give to any beginner or experienced sewist. I am a risk taker person, I love to try new things, new challenges, but sometimes "fear" tries to take over. I tell myself and everybody, "as long as it doesn't fall apart while I'm wearing it, I'm ok".



The sweatshirt and skirt she made from patterns included in the Certification Course

If you had all the fabric, money, and equipment at your fingertips, what would be your dream garment to sew?
If I had all the fabric, money and gadgets at my fingertips I will make gowns, those red carpet gowns with expensive fabric, rhinestones and all kind of embellishments that you see in tv, movies, magazines and runways.
What is the next BurdaStyle pattern on your to make list?
Every single blouse in the 4/2018 BurdaStyle magazine! Specially 4/2018 119 B, it has deep, inlaid pleats at the sleeve caps that is driving me crazy.



The knit dress she made inspired by the fabrics I chose for my sample in our Knit Maxi Dress Sew-Along

You have also entered and won of our Member Model Challenges! What was that experience like?
Being a Member Model Challenge participant was an amazing experience, but being the winner was the coolest, most exciting thing ever! The whole process was fun and exciting. When I decided to participate I was not as good in sewing as I am right now, but it was a "new challenge" for me. Putting myself out there as a sewist, thinking that there are probably people that has been sewing since forever was terrifying, but I had nothing to lose and a lot to win!

Veronica's winning look for our Gathered Tube Dress pattern

Thank you so much Veronica! I love everything that you create and I realize we have similar facial expressions when photographing projects, haha. See even more of what Veronica has made and check out her studio here.
Also shop Veronica's top BurdaStyle pattern picks here!
Happy Sewing!