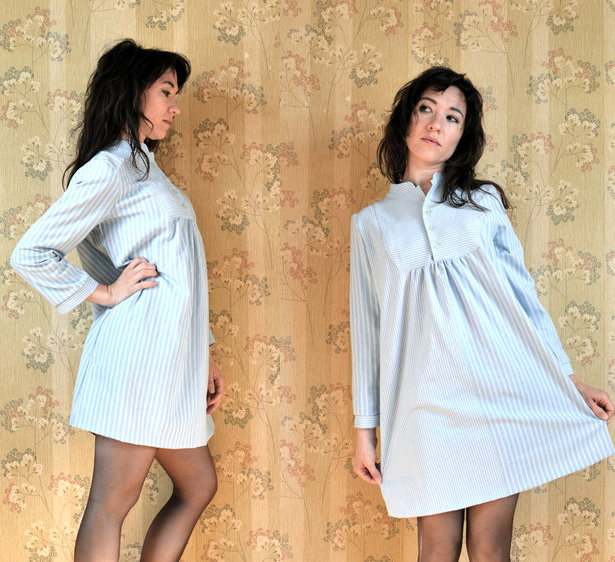 ShareThis
Where are you from and where do you live now?
I'm originally from the American Heartland. After getting an art history degree I moved to France to teach English and ended up marrying a kind French gardener. We now live in Alsace together.
How did you start sewing?
I started sewing in order to get to know my Mother-in-Law a little better. She speaks French with an Alsatian accent and I speak French with a Anglo Saxon accent, but somehow we understand each other perfectly when we sew! She received her couturier degree in the 1940's before World War II and she is a complete 86 year old wonder!

Eva Marie with her Mother in law
It took me a while to override an inner nagging that told me I shouldn't love sewing clothes, that it was a superficial pursuit. I've come to terms with it and can now say confidently that I love it! It's an art, a skill with integrity which holds the perfect blend of right and left brain stimulation. Working with fabric and color have been incredibly healing for me, too. I'm hooked and hope one day to be as skilled a seamstress as my Mother-in-Law. A favorite piece in my studio is the Borghese Gardens Dress. I employed rows of tucks for the first time. I'd like to master other detailing methods
Describing your personal style in 5 words or less!
Forest Nymph meets Hedonistic Etruscan

Flowering Bulbs Top
Do you have a style icon who inspires your sewing projects? Where do you go to get inspired?
Paul Poiret is straight-up inspiring. And Oscar Wilde because he designed fabulously eccentric clothes for himself and his wife according to what he liked, not by the fashions of the day. I get inspiration from fabric, from dreams, from a cool girl I pass on the street, from the internet, and especially from endless color patterns found in minerals, flowers, insects, and the sky.

Inspirations
What's your sewing experience like?
My sewing experience takes the form of private lessons at my Mother-in-Law's in the afternoons. She has a dedicated sewing room with a heavy duty wooden table. We use an old-school mauve singer and I keep my patterns in a wicker basket. Sometimes we listen to German Folk Music because she likes that.

Eva Marie's sewing machine
What is your dream sewing project?
My dream sewing project is anything involving exquisite fabric! I'd also like to learn heirloom sewing techniques and eventually how to make my own patterns.

Albarosa Dress
How long have you been a member of BurdaStyle?
I've been a member of BurdaStyle since 2008 and I love this community. Sharing projects that I've completed makes them more real to me. I especially like seeing members' results and interpretations of the Burda patterns.

Ikat Print Jacket and Liberty in Spring
What is the most frustrating thing about sewing for you? What is the most rewarding?
The most frustrating thing about sewing is my Mother-in-Law asking me why I've made such-and-such dumb mistake when I should have known better. She's an unforgiving perfectionist and it's sometimes hard to put my ego aside and swallow criticism. But it's always rewarding when I do.
Check out evamarie's top ten member project slideshow!