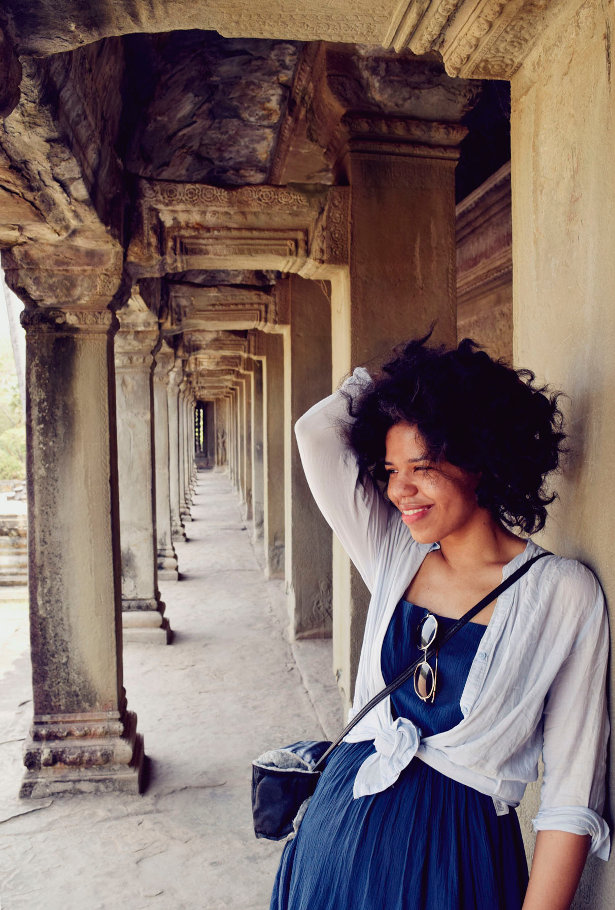 ShareThis
Etemi Otubu is our newest BurdaStyle featured member! In the last eight years she's made herself a London local and a sewing enthusiast who is hungry to learn more and challenge herself with harder and more exciting sewing projects. We caught up with her recently to learn a little bit more about her life behind the scenes of her blog, The Secret Costumier.
Tell us a little about yourself.
My name is Etemi Otubu, I live in London and I spend most of my waking hours sewing, thinking about sewing or blogging about sewing…when I am not working or cycling, of course!
Where are you from originally, and where do you currently live?
I was born in Budapest, Hungary to Nigerian and Hungarian parents, and spent my first 20 years there. I moved to London about 8 years ago and felt at home from the very first minute. I currently live in Peckham, South East London, which feels like living in a village in the middle of an over 8 million strong city. A very happening village, that is!
Do you have a day job besides sewing?
I work in a huge secondary school, dealing with admissions. I love the school environment, there is a relatively early finish, and it's a 25 minute ride from home, so it is pretty much perfect.

The vintage Toyota sewing machine my dad found on the street (left), and it's modern version that has been my main partner in crime (right).
How and when did you start sewing?
Surprisingly enough, I can't remember where the idea came from, but when I first moved to London, I bought myself a pretty cheap sewing machine (which I still love and use six years on). When I realized that I can't even figure out how to thread it on my own, I signed up for a two hour long course and learned how to make a cushion cover. My next project was a self-drafted, fully lined, backless dress that I made in about six hours, right before a birthday party. Looking at that dress now (especially how horrendous it looks on the inside!) makes me think about how much I've learned so far.

Self drafted bodysuit & trousers | Dior inspired self-drafted dress
Do you prefer to work from patterns, or draft your own?
I am very impatient, so I'll do anything to jump right to the actual sewing and skip as many steps as possible before I get there. So out of pure laziness, I started drafting simple patterns and copying existing garments. Having said that, nothing beats sitting down with your pattern pieces accurately cut out, following instructions and marveling at how cleverly the pieces go together. When you self-draft a pattern, you need to plan way ahead and sometimes it still doesn't work out. I have recently completed some pattern cutting courses and I am planning to go back for more, because it's always handy to know how to do minor modifications on your existing patterns.

Outfits worn during Me-Made-May 2016
How would you describe your personal style?
Quite feminine, a bit quirky and fairly colourful. I cycle everywhere, so anything I make has to allow me enough movement to pedal. Like most people who start out sewing, I have a rather big number of dresses that would be considered too formal for every day wear. Instead of starting to sew sensible clothing, I went with a style where pretty much anything goes. Trainers with cocktail dresses, heels with military jackets, they are all fine by me! I have been participating in Me-Made-Mays for the past three years, and it's always a good opportunity to be a bit creative with mixing up your existing pieces.

My first attempt at pattern matching: on the 7th try the lines are almost matching! | Adding tailoring techniques to a Burdastyle coat!
What's your sewing secret weapon?
The edge-stitch foot and the seam ripper. There is really no point trying to do it all with the same presser foot, when you can do it a 100 times better with the right aid. The same goes for the seam ripper. When I started sewing, I just wanted to have a finished garment by the end of the day, so I just kept on sewing, telling myself that the wonky seams were good enough, because I didn't want to spend time going back and correcting them. Sometimes it takes about a million takes to get it right, and even then it's just close enough to perfect, and you may not notice these things on store-bought cloths, but I can guarantee you that every time you put that perfectly pattern matched blouse on, you'll be oh, so proud of yourself!

In Vietnam, wearing one of the first dresses I have ever made.
Who or what inspires you? Shop windows, magazines, vintage patterns…
I use Pinterest a lot. Be it a vintage pattern illustration, lookbooks of high end designers or the creations of other sewists, it's a treasure trove of inspiration. I really enjoy collecting design details and using certain elements to modify basic patterns. The other major source of inspiration is traveling. I travel very light, so taking the most appropriate clothes has always been a challenge. Once I'm done planning the sights to see, food to eat and have a feel for the destination, I start planning a holiday capsule wardrobe, that's made up of mostly things I already own, with some new, to-be-sewn additions. Sewing these garments, and the backpacks to carry it all, has turned out to be my favorite part of getting ready for traveling. Whatever I make for a trip will always reminds me of the good times I had there, and so far I managed to make garments that work well in my everyday life too.

In the Guell Park with my self-drafted "Barcelona Bag" | In Bangkok, wearing my Burdastyle trousers.
What has been your favorite project recently?
Dismantling and putting together my winter coat, using tailoring techniques was the most challenging make since I started sewing, and I loved the process, but my current favorite project must be my Little White Dress, that I made out of a tablecloth. It was a very simple and quick sew and it just instantly puts me into a good mood whenever I'm wearing it.

The tailored winter coat. | The Little White Dress.
If you were to give a beginner one piece of advice, what would it be?
Aim high and use your seam ripper! I think most people would suggest you start with the simplest projects out there, but life is too short to make potholders when all you really want to sew is a ball gown. Go slow, read the instructions a hundred times if needed, but just go for it!

A Christening gown made of dupion silk and lace.
If you had all the fabric, money, and equipment at your fingertips, what would be your dream garment to sew?
I think the Holy Grail of sewing is either a wedding dress or the Chanel style jacket. I have recently made a little Christening gown which pretty much satisfied my need to sew a wedding dress (for now…), and I am planning on making a Little French Jacket by the end of this year, so if I could just sew something beautiful for the sake of it, I think I would make a 1930's backless, bias cut evening dress from the most beautiful silk out there, using an original 30's pattern.
If you could choose a lifetime subscription to any fashion magazine, what would it be?
I used to be so addicted to fashion magazines, I thought I would never be able to stop buying them! I haven't read any for about five years now… It's nice to see a dreamy image that gives you a very strong feeling about the mood imagined, but all I want to see now are the seamlines! When I started sewing, I started religiously collecting BurdaStyle magazines too, but in general I find that the styling in sewing magazines is very up to date and I love seeing the different versions of the same pattern totally re-imagined, so I would definitely go for a sewing magazine subscription. ☺
Stay in touch with Etemi on her blog, The Secret Costumier, and of course on BurdaStyle.com where she has been a member since 2013.
Thanks so much Etemi, we loved learning more about you!