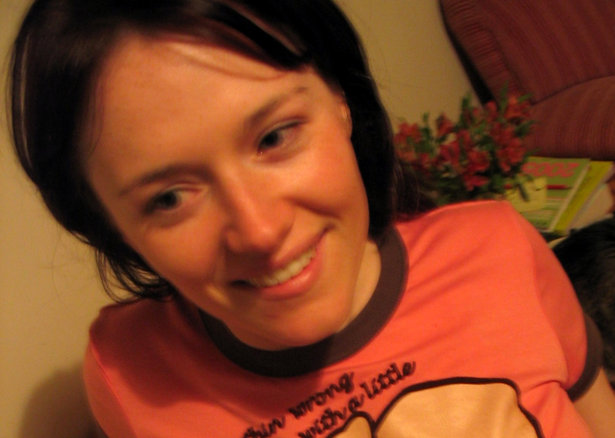 ShareThis
1. Where are you from and/or where do you live?
I'm from Melbourne, Australia, which seems to be a very crafty city- I've noticed there are a lot of BurdaStyle members who live here too!
2. What was the 1st thing you made? How did you start sewing?
The first thing I ever made was a ruched midriff-baring peasant top from a floral chintz fabric that in retrospect I think might have been designed with quilters in mind. It looked just as horrible as it sounds, though in my defense the whole Year 8 Textiles class had to make the same thing, and theirs looked just as awful. A couple of weeks after assessment my mum did up a batch of homemade jam and cut the peasant top up to make pretty lid-covers for the jars.
3. What role does sewing play in your life?
What role does sewing play in my life? Its a bit of a paradox in that it helps me unwind AND it keeps my mind going a million miles an hour! For awhile there I thought I might go into the fashion biz, so I did the fashion school thing, but while learning about mass-production I realised the joy for me is very simple, it's in the process of sewing and pattern-drafting- I love the fiddling-about of construction and creating things that are unique. While I have a real fascination with the stunning capabilities of the industrial "Fashion Machine", I can't help but think that in a world of contracting resources, we gotta be a little careful and we have to love our stuff longer- which happens naturally and beautifully when you make it yourself!
4. What is your favorite and what is your least favorite thing about sewing?
My favourite thing about sewing… sewing encompasses so much of what I love, its difficult to pick out one thing! I'm a fabricaholic (is anyone immune?), but I also nerd right out on the technical aspects- I LOVE patternmaking, and that was my best subject at school. I love reading about couture techniques and cool little hacks that make my sewing life easier. I'm also into collecting vintage sewing machines and notions, and trying to figure out how all the mechanical gizmos work is a lot of fun. As for what I hate… um, I'm not crazy about grading patterns once I've drafted them, and hemming is a drag. But that's it!
5. If you could make something for anyone, who would it be and what would you make?
If I could make something for anyone, it would be for my fella, and it would be something he could actually wear. That hasn't happened yet. I've made dozens of things for other people but for some reason the things I make for him are, like, jinxed or something. The first shirt I made him, the buttons all popped off and skittered across the room. I sewed them back on but he was still wary, so it ended up going to the op-shop. I knitted him a hat, and when he put it on, his normal, friendly face was immediately transformed into that of an armed robber. The next shirt I embroidered various cactuses onto. Yeah, I don't what came over me with that idea, either. Op-shop! I'm considering trying to make him the Jakob shirt, maybe that will break the curse?
6. What are you looking for on our site? What do you think should be improved and what do you really like?
The BurdaStyle site is kinda scary, cos it's like, the fulfillment of my very id or something!! It's got everything a sewing-crazy person could want- constantly-changing eye-candy in the form of members posting their creations, members helping eachother out, members admiring eachother's work (because as we know, while it's great when your friends and family compliment your creations, only another sewer REALLY knows the work involved). The free patterns are great. And whoever came up with the How To interface, can I hug you? it really is a gift!! I check the blog every day because I always find out something useful. The real strength of the site I think will be the forums, and once they get sorted out that'll be great. Sewers are in general, social, helpful folk and anything that aids their communication on the site will enhance the growth of community. And in particular, the BurdaStyle members are an exceptionally creative, energetic and friendly bunch! Everyone has something great to share.
7. What is your motto?
It isn't really a motto, but it's the simplest, truest and most useful piece of advice I've ever been given in relation to sewing: you've gotta press your seams as you sew! If you're not in the habit of doing it, start now and make it your mantra – it's the secret to having your creations go from looking 'homemade' to looking expertly hand-crafted!
For more info on Emily Kate, check out her profile. She has such awesome creations, and has taught us all how to make those wonderful cheeky panties