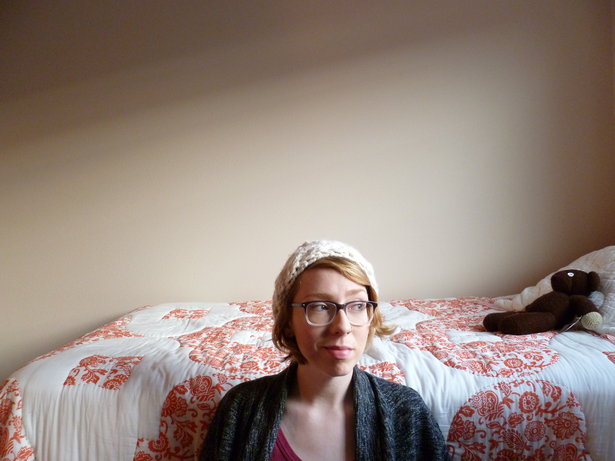 ShareThis
Where are you from and where do you live now?
I'm from and live in Bellingham, Washington, which is between Vancouver B.C. & Seattle. Right now I have the crazy luxury of doing this and that (I'm doing lots of alterations at the moment), but I'm getting ready to set up shop in the next few months.

Little emily-marie, being oh-so-cute!
How did you start sewing?
I believe I started sewing around kindergarten. I was a nosy kid and would always rifle through my mom's stuff. The day I found her fabric, needles & thread in the hope chest, it was all over. Or, it all began? I hand-stitched many a door sachet, then tired of that and demanded sewing machine lessons. By fourth grade I was making loads of cash by selling my peers custom Beanie Baby sleeping bags. (I was THAT cool.) I continued to sew through middle school with lessons at the sewing store and in home-ec class. In high school I took the one sewing class offered, and went on to receive a Bachelor of Arts in Apparel Design, studying in Seattle and London. I graduated in 2009, and it's official that London is my favorite place in the world!
Try to describe your personal style in 5 words or less!
Less is better. Well, usually.

flowery 40's top and /denim short II
Do you have a style icon who inspires your sewing projects? Where do you go to get inspired?
The only celebrity-type I constantly look to for great style is Michelle Williams. She looks so good and up to date in the most casual outfits. I also look to good print design, typography, fine art, illustration and music. A few years ago I discovered that watching music videos really helped me in the design process, too. My favorite big-timey labels are Viktor & Rolf and Band of Outsiders.

emily-marie's sewing inspirations
What time of year do you find yourself most creative? Why?
I seem to be the most productive when I'm excited about the coming season. My favorites are Spring and Fall, so I suppose I'm most creative and productive in late Winter/early Spring (now! good!) and late Summer/early Fall.

/high-waisted shorts
What's your sewing experience like?
On sewing days, I listen to podcasts and turn up cheerful or soothing music to distract me from any stressful sewing blunders (of which there are many). I run around the house with my cutting mat and drafting tools for no apparent reason. I have fully taken over the guest room as my sewing space, so I just shove everything in there when I'm done for the day. If I'm making something for myself, things can get pretty chaotic and experimental. Lately I've made a little business doing alterations and custom sewing for others, so that's an entirely different process. When I only have the measurements, pins and markings to go from, it's a little less creative, but much more sane!

emily-marie's sewing space
What is your dream sewing project?
It's totally strange to admit that I'd love to design and sew a full-on evening gown. Lots of them, even. Never thought I'd say so, because in college when everyone was making lavish evening dresses, I was the one doing denim day dresses and beach cover-ups. I might be too practical.
How long have you been a member of BurdaStyle?
I've been a BurdaStyle member for a little more than a year now, and try to visit every day. It's been an indispensable sewing tool in so many ways; motivating feedback and competitions, great patterns and a really supportive and fun community. The very best part of BurdaStyle to me, is that it never misses an opportunity to get its members excited about sewing!

/prairie dress
What is the most frustrating thing about sewing for you? What is the most rewarding?
The most rewarding part of sewing is seeing something you've dreamt up come into fruition, but on the other side of the coin, there's the getting there. Problem solving and tweaking can be really frustrating sometimes!

/wilma dress
Check out all of emily-marie's great creations!
See her Top Ten Member projects slideshow!