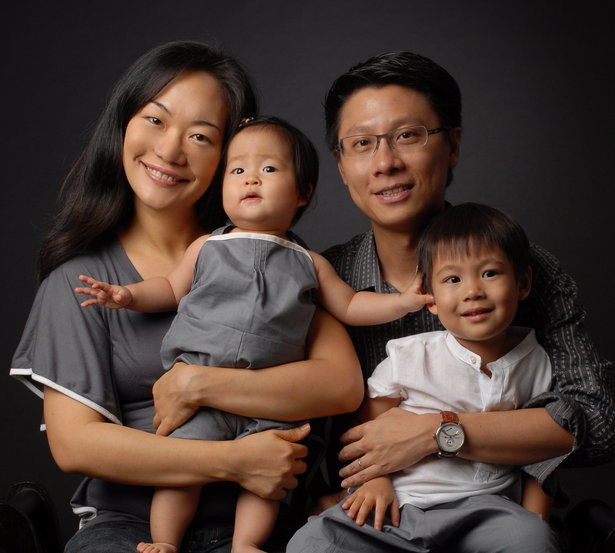 ShareThis
1. Where are you from and/or where do you live?
I am born and bred in Singapore, a tiny urban island in Southeast Asia. I lived in Brisbane, Australia for three years while pursing my postgraduate degrees and have been back in Singapore.
2. What was the 1st thing you made? How did you start sewing?
I learned to sew buttons to get my brownie badge when I was seven but the first item I made was a simple floral blouse for my home economic class in secondary school. I absolutely abhorred sewing then so my mum probably helped me with most of it.
Since I have always hated sewing, it has shocked anyone who knew me well that I now sew on a regular basis. Sewing has become an integral part of my life and it all began when I discovered that I was expecting a baby girl. Initially, I went crazy shopping for handmade dresses for her on etsy and then I decided I wanted to make outfits for her myself. I took up a 4 day (total 8-hours) sewing lesson from an American lady living in Singapore a few days before I was due in December 2008. I have been making clothes for my kids and only started sewing for myself regularly since May 2010.
My favorite project in my studio is my picnic macaron dress. I love this casual version and its standalone design. Whenever I wear it out, i noticed people taking second looks at it. My husband called it the cute retro dress and said I looked like a schoolgirl in it. Any dress that makes a woman look youthful is a good dress.
3. What role does sewing play in your life?
It plays a super-duper important role in my life! I find sewing to be therapeutic, relaxing and great for working my brains. I know it sounds contradictory but that's how it is. It's a fabulous creative outlet and I derive great satisfaction in completing a piece well. I also enjoy visiting sewing blogs for inspiration, exchanges and learning from others.
4. What is your favorite and what is your least favorite thing about sewing?
I love SHOPPING for fabric and matching fabric and pattern is fun! I also enjoy learning new techniques or trying new things such as sewing knits and using Japanese sewing patterns. My least favorite thing is when I have to use the seam reaper. Oh! I also hate it when I am dying to try out a pattern but can't find a good fabric for it!
5. If you could make something for anyone who would it be and what would you make?
As a little girl I used to accompany my maternal grandmother to her tailor to get her outfits made. She doted on me and I missed her. So, I wished I could turn back the clock and sew an outfit for her.
6. What are you looking for on our site? What do you think should be improved and what do you really like?
I am inspired by the works of many talented members on your site so I am always back to check things out. I am also frustrated when international shipping cost more than the patterns I purchased online so it is great to find so many pdf sewing patterns here which I can download! I do hope the diagrams in sewing instructions could be bigger and clearer.
7. What is your motto?
I would rather regret having attempted a task than to regret never attempting it.
Check out her blog, The Sew Convert