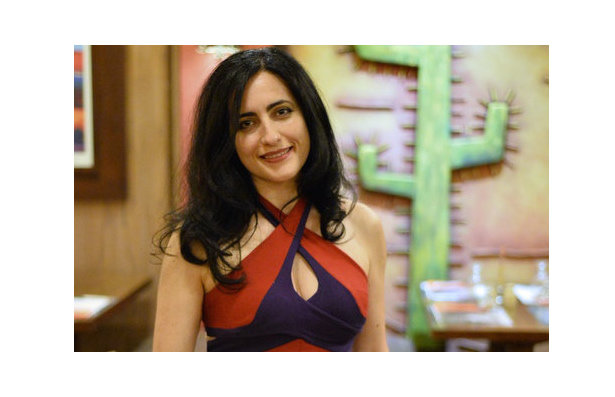 ShareThis
It's been awhile since we highlighted one of our special BurdaStyle members and we're so excited to bring it back with the addition of Elpida Kyriakou! She has been sewing up a storm over the past year and we love the artistic creativity that she beings to her garments. We're so pleased to have her as a part of our sewing community and now to know a little but more about her life.
Tell us a little about yourself.
My name is Elpida which is the greek word for HOPE!
Where are you from originally, and where do you currently live?
I was born in Athens and I've spent most of my life in this amazing city. I'm married to a crazy photographer and mother of two wild boys (16 and 14 years old). We live in an apartment and I have to sew in the living room while the boys study, watch TV or listen to their (unbearable) music. The room is a mess all the time with threads and shreds all around, we step on pins and sit on scissors but I won't risk my mental balance for a tidy house.
Do you have a day job besides sewing?
I'm a computer engineer and I work as an IT Director in a big hospital. I'm also trying to finish my MSc degree on Healthcare Organizations Management. I often work long hours, I have three men at home and I need time to sew, to paint and to dance (I'll upload photos one day). I'm not a superwoman and the situation is usually out of control!
How and when did you start sewing?
My mum learnt sewing in her forties. She started buying the BurdaStyle magazines and she taught me when I was a schoolgirl. I used to enjoy tracing the patterns and helping in all stages. At the age of 18 I left home and forgot all about sewing, although when I got married I bought a machine! One day, in May 2013, at the nice age of 43, I bought a Burdastyle magazine again. Yes, It's just like riding a bicycle…You never forget it…I started sewing for economic reasons but it soon turned out that it was something much "deeper". Now, I just can't stop….
Do you prefer to work from patterns, or draft your own?
I can't draft my own patterns yet… I must learn….It's my secret wish but at the moment I can't afford it…Maybe when the boys find their own way… If I'm not too old by that time…
How would you describe your personal style?
I don't know if I have a personal style. I adore colors, florals and garments with an ethnic touch. I like clothes that are somehow different and unique. I definitely dislike the "office look" and I'm really happy I don't have a dressing code at work.
What's your sewing secret weapon?
I wouldn't say it's a weapon but I do put a lot of dreaming and thinking in my sewing. Shapes and colors swirl in my head all the time, on my way to work, while washing the dishes, when I go to bed …. And after some time (it may take weeks) the new project takes shape. And as soon as it starts getting flesh and bones, I'm off for the next one.
Who or what inspires you? Shop windows, magazines, vintage patterns…
I visit my favorite fabric stores every Friday afternoon, after work (I can't imagine buying fabrics online). It' a whole ritual. I look at the fabrics again and again, I touch them and then I go home and study my magazines looking for the perfect match . And then the next Friday I may buy the fabric…
What has been your favorite project recently?
I love my seagull dress…I have put it on very few times but it is emotionally charged. It was last July, in the heart of the economic crisis, when we had to stand in the queue to get 50 euros from the bank… It was a really stressful period…And I felt so guilty to give 15 of my 50 € to buy the fabric while other people were empting the super market shelves. When I finished the painting I felt really happy and relieved.
If you were to give a beginner one piece of advice, what would it be?
Be patient and enjoy the whole process, the "marvelous journey". I don't sew because I need new clothes, not anymore…I do it because I love the late night hours by myself and my machine. It is pure "meditation". I may not even wear the clothes I make…
If you had all the fabric, money, and equipment at your fingertips, what would be your dream garment to sew?
I'd like to make a thematic collection inspired of my favorite artists. I would make a Frida Kahlo dress, a Matisse coat, a VanGogh tank…..It's not a matter of fabric, money or equipment. The only problem is that I'll never wear them!
If you could choose a lifetime subscription to any fashion magazine, what would it be?
That would be definitely Burdastyle simply because at the moment I don't know any other! Every month I'm looking forward to the Russian early preview and then the German preview. When the magazine comes to my hands I've already made my decisions! And my list is soooooo long….What would I do if I had more magazines to look at?
You sometimes hand paint your fabric. Were you first an artist or a sewer? What inspired you to combine the two?
I've always been painting. When I had enough pictures hanging on the wall, I started painting the bed, the tables, the curtains (you can see them on the background), the sofa pillows and then came the clothes. I don't know what I'll paint next…maybe my shoes?
Anything else you'd like us to know?
I love traditional dance as well. It's a passion I carry for many years…One day I may upload photos, when I make a costume myself!
Thank you so much, Elpida! If you want to see more of Elpida's projects, head on over to her member page here.