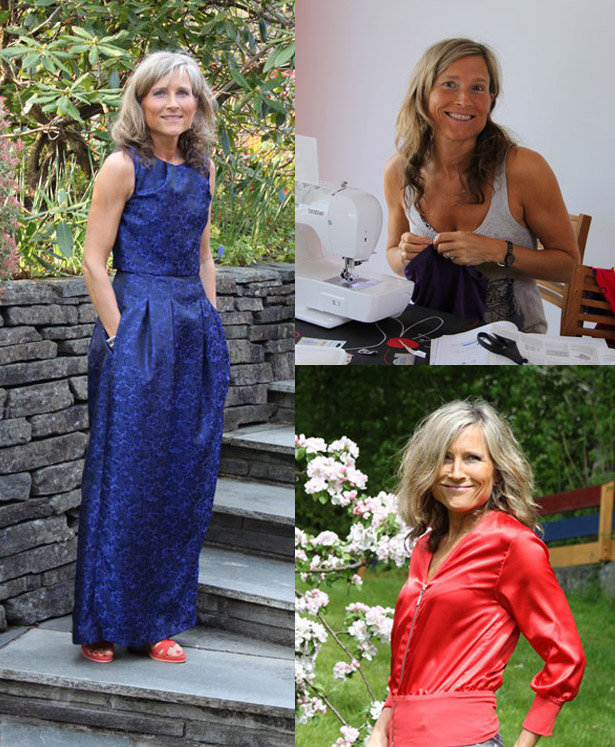 ShareThis
Our latest featured member, Ellen Hatteland, also known as Ellen4260 is one of BurdaStyle's most prolific sewers! Read on about her sewing style, high energy life, and how she has more than 125 finished projects in her Burda studio.
Tell us a little about yourself.
Hello, my name is Ellen and I'm a sewing enthusiast!

Ellen Hatteland at her sewing machine
Where are you from originally, and where do you currently live?
I grew up on Karmøy, on the west coast of Norway in a family with 7 kids, so we couldn't afford buying clothes for every occasion. We had a lot of homemade garments.
Now I'm living on the country side in Nedre Vats (close to Haugesund) together with my husband and our four boys.
What's your day job, besides sewing?
I'm working in our company in the administration at www.hatteland.com.

Ellen Hatteland's four sons in new Christmas coats when they were young
How and when did you start sewing?
I started sewing clothes for my dolls when I was a little girl, and I was so happy to borrow my mom's old sewing machine! When I was studying in Stavanger, my girl friend and I had a passion for coloring garments, and we collected a lot clothes from my grandmother and my aunt and had a lot of fun!
I was lucky to get two non-expensive tops with long sleeves from my mum when we were shopping, and then I got the idea; I made headbands of the long neck and leg warmers of the sleeves and tank tops of the body, so I just cut it and zig-zag around the neck and sleeves. I was so proud of myself.
Then I started cutting around my T-shirt on the floor, and my sister told me that it could be smarter to try a pattern. Then I bought Miss B and this opened up my sewing world! At the beginning I tried the easiest pattern I could find, but after a while I challenged myself with more difficult patterns. My mother-in-law is a seamstress, and she has given me good advice and showed me how to solve difficult things.
Do you prefer to work from patterns, or draft your own?
My favorite patterns are BurdaStyle and when I receive a new magazine I want to start right away! If I'm happy with a garment that I have bought I sometimes draw a pattern from it and make it my way, and I also like to make retro dresses of a mix with old garments and new fabric.
There are no limits – and that's what makes it so interesting with sewing!

Holiday Outfit and Jumpsuit from the 90s, both with 1990s patterns.
How would you describe your personal style?
I do not have a special style, but for sure; I love colors! It makes me so happy sewing with colorful fabric :) Of course it depend on the mood, and if I'm sewing for a special occasion.
What's your sewing secret weapon?
When I'm sewing the most important thing is to have the iron right beside me and I love my little sewing measure which is very easy to use. (Enclosed a photo)
Who or what inspires you? Shop windows, magazines, vintage patterns…
I have different favorite fashion magazine that I like to buy, e.g. Costume, ¡Hola! Moda, and Marfy if I'm lucky to find these.
Since we have the business we have been travelling a lot and I could stay in a shop for more than an hour just looking at all different styles, models etc. and getting ideas!
What has been your favorite project recently?
If I should mention one of my favorite projects it must be my birthday dress ♫♪

Brocade birthday dress with pockets
If you were to give a beginner one piece of advice, what would it be?
Since I have started from scratch, without any sewing courses, it took me a while to find out how to sew things an easy way. But for a beginner, I would highly recommend to start with patterns from Burda Easy Fashion. It's a fabulous magazine with patterns you can cut out in the size you need and you can follow the instructions step by step with drawings.
If you had all the fabric, money, and equipment at your fingertips, what would be your dream garment to sew?
I do not have any dream garment to sew. I have a lot of fabric in my stash, and I have told myself not to buy any more for a few years….! I'm not sure if I'm able to keep that promise. :)
Anything else you'd like us to know?
Beside the sewing I'm singing in a choir, and I've been singing since I was a little girl. By the way, our choir will have a Country concert in October, and it would be so nice if someone could help me find some pattern for cowboy costumes we can use. I would be very thankful!
I also have my workout program I'm using 3 times a week. Since we are living in the country side it's the easiest way to do it at home before going to work (since I'm a morning bird…).
I love taking photos as well, but my husband is so kind taking all the pics for my projects, so I'm very lucky!

Colorful Red Blouson Jacket and Wrap Tank with Embroidery
You're a prolific sewer… how do you manage your sewing time?
I have a lot of energy and I take it out on my sewing machine…. so I'm early up in the morning and sometimes I'm drawing patterns before going to work, and when we're watching the news or a movie I'm cutting the patterns, so it can be very late in the evening before I meet the pillow! I normally use weekends and holidays for sewing, but it's in my mind (even in my sleep) that I'm thinking about projects I want to make. I love sewing dresses, and since we have only boys I have been sewing for my nieces instead, and as long as they like what I'm sewing it makes me happy!
If you could choose a lifetime subscription to any fashion magazine, what would it be?
As you know, I am a big BurdaStyle pattern fan, and of course I have no doubt; it would be the magazine of my lifetime :)
I'm also a fan of the BurdaStyle web page… it is Fabulous! It's like a whole sewing world is open for me, and I love to be a part of this!
This is a very interesting forum for sewing enthusiasts like me. I appreciate all the effort and work BurdaStyle are doing. It's very encouraging and educative to see both the forum and to share and get inspiration from other member projects.
It is also fun to get in touch with so many nice and great seamstresses all over the world and to share our passion for sewing at BurdaStyle.
Thanks so much for chatting with us! It's always the members that make BurdaStyle so great. Hopefully we get some cowboy patterns for your concert in the comments…