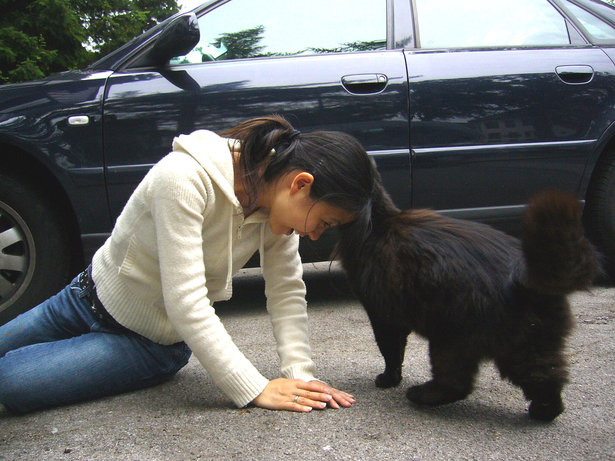 ShareThis
Where are you from and/or where do you live?
I'm originally from New York, but have moved around quite a bit and currently live in Aachen, Germany. I can walk to Belgium and the Netherlands in half an hour from my apartment!
What was the 1st thing you made? How did you start sewing?
I started sewing dresses for my Licca doll at the age of about 6
(sound familiar?). My mother dressed me in the ugly hand-me-downs of a very frumpy family friend and the other kids made fun of my clothes :) I lived vicariously through my dolls by constantly making ball gowns for them. Since then I've mostly sewn craft projects and occasionally clothing that almost always looked homemade and didn't fit well because I'm so short and skinny. I only started sewing clothing "for real" a few months ago, when I met my friend Johanna who makes beautiful, stylish clothing for herself. She showed me her clothes and introduced me to Burda Modemagazin (aka. Burda WoF), and I decided it was time to learn to sew using proper techniques and methods.
What role does sewing play in your life?
To be perfectly honest, in addition to being a fun and addictive
hobby, sewing pads my ego and my vanity. Regardless of whether I'm sewing for myself or others, when something turns out well, it makes me feel like I am AWESOME (I hope everyone feels that way when they make something nice.) And it allows me to treat myself to luxurious, well-fitting clothing while feeling productive rather than guilty- you don't get that from shopping for velvet coats at the mall :)
What is your favorite and what is your least favorite thing about sewing?
I like most aspects of sewing, but I especially appreciate the stage in sewing a garment when it starts to bear a real resemblance to the thing I designed in my imagination. That first glimpse of the object I'd previously seen only in my head is very satisfying. My least favorite thing is laying out the pattern pieces and cutting the fabric. I don't know why it annoys me so much. Maybe I'd like it better if I had a rotary cutter. Or someone to do the cutting for me :)
If you could make something for anyone who would it be and what would you make?
I love seeing my family and friends wearing things that I've made for them, but if we're talking about fantasy, I'd want to make ornate tutus for the New York City Ballet in the luxurious and uncompromising style of the legendary costume designer Karinska.
What are you looking for on our site? What do you think should be improved and what do you really like?
I troll the creations for inspiration – I get so many ideas for things I want to make by seeing the fantastical designs from ParaNoire, the elegant, wearable pieces from Jj and Lilo, the playful and trendy designs from Myk, and so many other talented and creative hobbyists. I always see a detail or a line or a color in people's creations that I want to steal to use in my own sewing, and that I would never have thought of myself. I know you can't judge people by the way they dress, but I also feel like I get to know and appreciate the other community members in a way by seeing the products of their imagination and what they have to say about them, so that is a nice unexpected bonus. And although I have not yet had the chance to make a BurdaStyle pattern, I also love the philosophy of BurdaStyle; what a resource to have such stylish and wearable patterns available to anyone- I download all the instruction PDFs and imagine how I'd make them if only I had more time! What should be improved? I don't know… you could all drop by my profile page and post a hello—I think I'd like that :)
What is your motto?
My sewing philosophy is that if I'm going to expend the time, effort and resources to make something, it should either be something spectacular and uncompromising, or a huge blazing failure (preferably the former, as the latter is expensive and wasteful). I know I should make practical, pretty things, but I never have an urge to sew a cute cotton tank top as a quick afternoon project even though I'm sure I'd use it a lot!
If you want to learn more about Elainemay, check out her beautiful member profile