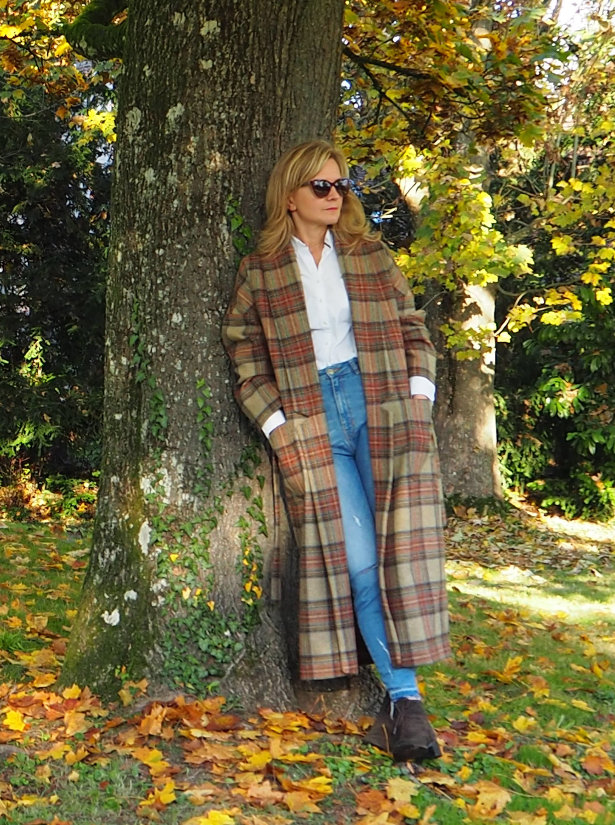 ShareThis
We're so excited to introduce or latest featured member, Ekaterina Kazakova! While she's only been a member for a year and a half, Katya has been an incredibly sweet, stylish and inspirational addition to our sewing community and loved getting to know her better. Read our interview with Katya to learn what inspires her, where she learned to sew and how she makes garments unique to her.
Tell us a little about yourself.
My name is Ekaterina (or Katya shortly), I am Russian by origin but now live with my family in France. I am a passionate museum goer and I never miss an interesting exhibition in Paris. I love sewing and I admire beautiful fabrics. I guess I can be considered a fabricoholic as I enjoy buying interesting pieces and always bring home new cuts of fabric from my travels. Besides sewing, I like painting with oils and drawing in color pencil. I almost never part with my camera and love playing tennis.

Katya's latest project, a maxi coat in Harris tweed from BurdaStyle 08/2016
Where are you from originally, and where do you currently live?
Prior to moving to France 11 years ago, I studied and worked in Germany and Canada. Now I live with my family in a lovely historic village near Fontainebleau, not far from Paris.

Katya is seen here wearing a trench coat that she made last fall. She added a lot of details to achieve its redingote look.
Do you have a day job besides sewing?
I studied International Relations and Languages and I have a degree in Museum Studies. For the moment, I do not have a daily job as I am a mom of two kids – my daughter is 10, and my son is 5 years old. I am glad I can spend my time with them and to have time for my creative projects and for travelling.
How and when did you start sewing?
Growing up in Russia, I was lucky to learn the first basic sewing skills at school. I still vividly remember my very first neon yellow skirt with a ruffle on the hem that I made in class when I was 14. But I think it was my Mom's example that really developed my passion for sewing. A very creative and talented person, she made amazing clothes for her kids and she dressed very stylishly herself. So I grew up watching her creating beautiful new things during her free time and loved to participate in that creative process.
And then it was Burda magazine that played an important role too. I was 10 years old when Burda magazine came to Russia which was a very significant event for the country, for the women and our immense sewing community. We loved browsing through the fresh issues of the magazine with my friends and were keen to learn making those beautiful clothes ourselves. I still cherish the first issues of Miss B and Burda Kids which I find most inspiring even so many years later.
Like herself many years ago, Katya's daughter gets to wear beautiful hand-made clothes. White dress made by a mother for her daughter.
Do you prefer to work from patterns, or draft your own?
I love Burda patterns and with this variety that we get every month I have not looked for any other patterns. However, I like to personalize my creations. In most cases, I use the ready patterns as a base and then add on some new elements or get rid of some features thus obtaining a unique piece.
I would love to learn pattern drafting one day but so far I find it is more convenient to alter the ready patterns that I have in my disposal.

For this fur coat for Katya's daughter, she altered the pattern of a light spring coat and added a few more details.
How would you describe your personal style?
I find that I have been always drawn to classic elegance with some modern twist. I want the clothes that I make to stand the test of time and look well even a few years later.
I am all about flattering dresses, romantic blouses, elegant coats. I like feminine bows and gathered skirts, ruffles and pleats. At the same time my lifestyle is quite active and on a regular day you are most likely to see me wearing a pair of blue jeans and a white shirt. So now and then I like to make a sporty shirt or a checked skirt to add to my wardrobe.

Katya made this coat last spring. It is based on pattern by Gabriele Strehle published in BurdaStyle 10/2012.
What's your sewing secret weapon?
I think it is all about the fabric. It is the fabric that makes a beautiful piece. In my opinion, even a simple model can look stunning when it is made of quality fabric. I love the unique texture and feel of different type of fabrics and enjoy seeing the variety of prints. To me, holding a new fabric is starting a new adventure, and making a new piece is telling a new story.
My patience is another secret that helps to achieve rather interesting results. I take time to finish my projects as I would only take pleasure wearing well-made clothes. If one of my projects becomes time-consuming or if I must wait to get a special lining or buttons, I start working in parallel on something else to avoid rushing to fast solutions with the slow project.

A set consisting of a jacket and a yolk skirt made in light brocade with a shiny gold thread.
Who or what inspires you? Shop windows, magazines, vintage patterns…
I find inspiration everywhere in my everyday life. It can be a dramatic painting exhibited in Grand Palais in Paris, a portrait of a prominent person in a fresh issue of New York Times, a print on a blouse at a children's clothing store, a movie, a passerby in the street… I find that forests and nature as well as beautiful historic architecture in the area where I live have also a strong influence on my creativity.

Shift Dress from BurdaStyle 11/2012 N122

A pleated tartan skirt for Katya's daughter inspired by JP Gaultier Junior Collection.
What has been your favorite project recently?
I was very happy with my small collection of dresses that I made for the past summer. And I especially enjoyed making a dressy set in peony color and discovering the new technique of dying the fabric. This light set consists of a peplum top, a skirt on a yolk and a large bow-belt and is made of a light blend of silk and cotton. Looking for a matching lining, I decided to dye the white cotton mousseline. I loved the artistic process of dying the fabric and have used it in several other projects since then.
As to the most recent projects for the fall, I am in love with my new maxi coat in Harris tweed. The pattern was a pleasure to work with, and I love the relaxed yet sophisticated look of this coat. It was also such a big success with my friends – I made one in a solid color for my friend.
If you were to give a beginner one piece of advice, what would it be?
Do not be afraid to try new more difficult and challenging projects. Just like with simple projects we start and we move forward step by step. And it is always better to take your time to make correction to your project if it is necessary in the process of sewing. That will ensure that when it is finished, your piece will fit well and will be a pleasure to wear.
If you had all the fabric, money, and equipment at your fingertips, what would be your dream garment to sew?
I love beautiful dresses…A couple of years ago, I visited the exhibition "Little Black Dress" (I dedicated a post to it on my blog) which featured about 50 amazing dresses by different designers over the past century. All of them were outstanding creations and if I had an opportunity, my dream would be to recreate one of them.
If you could choose a lifetime subscription to any fashion magazine, what would it be?
I regularly buy and read a lot of magazines. Whenever I travel, or simply wait for an appointment, I like to browse through the fresh (and not so) press. But despite the vast geography and a huge variety over the years, I have been loyal to one magazine. And I hardly missed a single issue of it. So my answer would definitely be – Burda magazine.
Thank you, Katya! Please be sure to follow along Katya's sewing journey at her blog Katya's Gallery and her projects page on BurdaStyle.com!