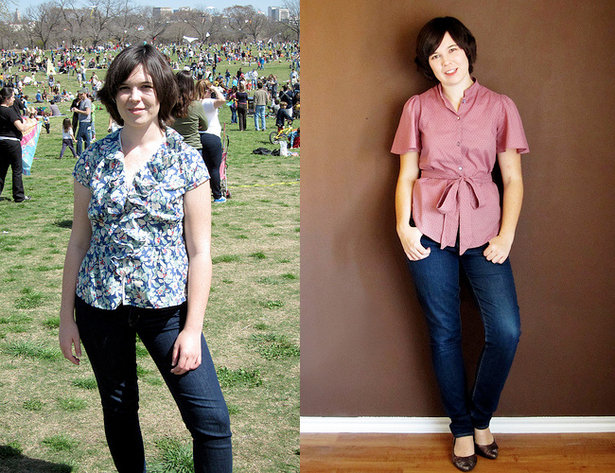 ShareThis
In celebration of this week's SXSW events in Austin, Texas – we are excited to profile a BurdaStyler and an Austin native!
Where are you from and/or where do you live?
I'm from Austin, TX and right now I'm a video editor for a website but I like to make sewing and designing more of a full time gig.
How did you start sewing?
I began sewing in high school but didn't start working with patterns until college after a few bad experiences turned me off from clothes sewing (who knew reading the pattern directions could be so helpful?). My favorite project in my studio so far is probably my Striped Tulip Skirt, not because it is especially intricate or a masterpiece but because it took me multiple attempts to get it right and I'm glad I stuck with the pattern and finally found a fabric that worked for it.
Try to describe your personal style in 5 words or less!
I think my style is only limited by my skill set and the amount of time I have to devote to a project so I'd describe my style as simple but classic.

Download dixiediy's free pattern for her T-Shirt Mini Dress!
Do you have a style icon who inspires your sewing projects? Where do you go to get inspired?
Trying to find a style icon is difficult for me because I am influenced by so many places, eras in history and people. As a film fanatic I love the style of Faye Dunaway's characters because her movies embody my favorite time periods – classic femininity in the 1930s with Bonnie and Clyde and Chinatown, mod 60s with The Thomas Crown Affair and modern uptown 70s with Network.

Faye Dunaway Inspiration
What time of year do you find yourself most creative?
I'm most creative when seasons are changing. I get excited for new styles and looks that are coming out and want to recreate them.
What's your sewing experience like?
Right now I have taken over the dining room in my apartment as a sewing space. I'd love to have a dedicated room where I could have a permanent spot for a cutting table, sewing table, and ironing board instead of constantly moving sewing machines and having the ironing board block the hallway. I mostly sew after work and on weekends until I have to force myself to go to bed. I have a weakness about always wanting a project to be finished at this very second. I need to learn tell myself that it is ok to stop and I can work on it tomorrow.
What is your dream sewing project?
Someday I'd love to have a small RTW collection that I design and make myself to sell. One of these days…
How long have you been a member of BurdaStyle?
I started out as a lurker on BurdaStyle about a year ago before I finally uploaded some of my own projects. Now I'm addicted and after Facebook I probably visit this site the most.
What is the most frustrating thing about sewing for you? What is the most rewarding?
Unlike most sewers I am more excited about the finished project than the process of making it. This isn't to say I don't like sewing but I'm just so eager for the end result that sometimes I want to cut corners or make things easier for myself. Maybe I'm just lazy. To me it is frustrating to be working on a project more than a couple days. Sometimes I lose interest if I work on a project too long but eventually I'll come back to it and it is always rewarding to finally wear the fruits of your labor!